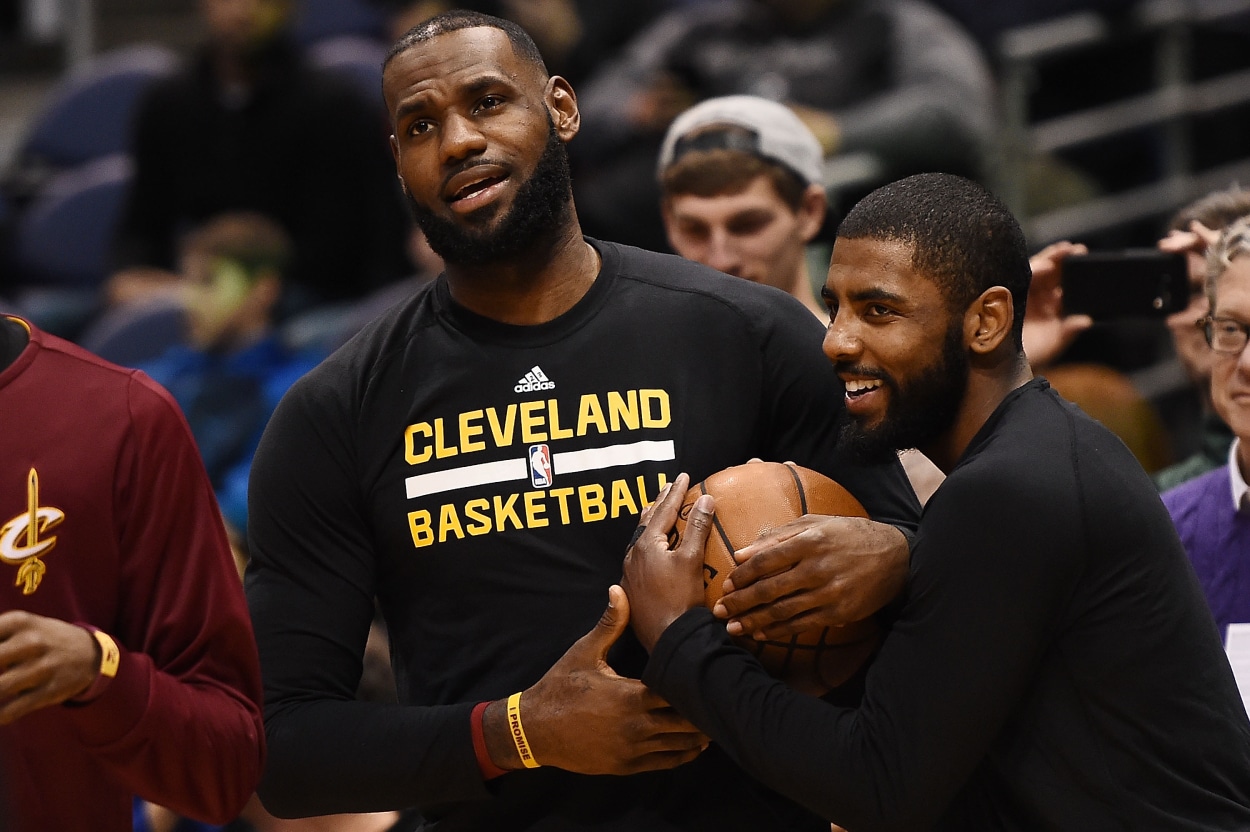 Los Angeles Lakers: Kendrick Perkins Calls for LeBron James-Kyrie Irving Reunion
Everyone has been coming up with random NBA trade ideas, and former player Kendrick Perkins recently called for a LeBron James-Kyrie Irving reunion.
Their season is over, but everyone is still, unfortunately, talking about the Los Angeles Lakers.
Earlier this week, ESPN's Stephen A. Smith said he believed the team should move LeBron James. Various talking heads have since thrown out hypothetical trade ideas, and Kendrick Perkins may have just had one of the most ridiculous (yet also intriguing).
Perkins wants LeBron to reunite with Kyrie Irving in LA. The two, of course, played three seasons together on the Cleveland Cavaliers.
So, how would the Lakers pull this off? He wants them to trade Anthony Davis to the Brooklyn Nets.
Kendrick Perkins wants the Los Angeles Lakers to trade for Kyrie Irving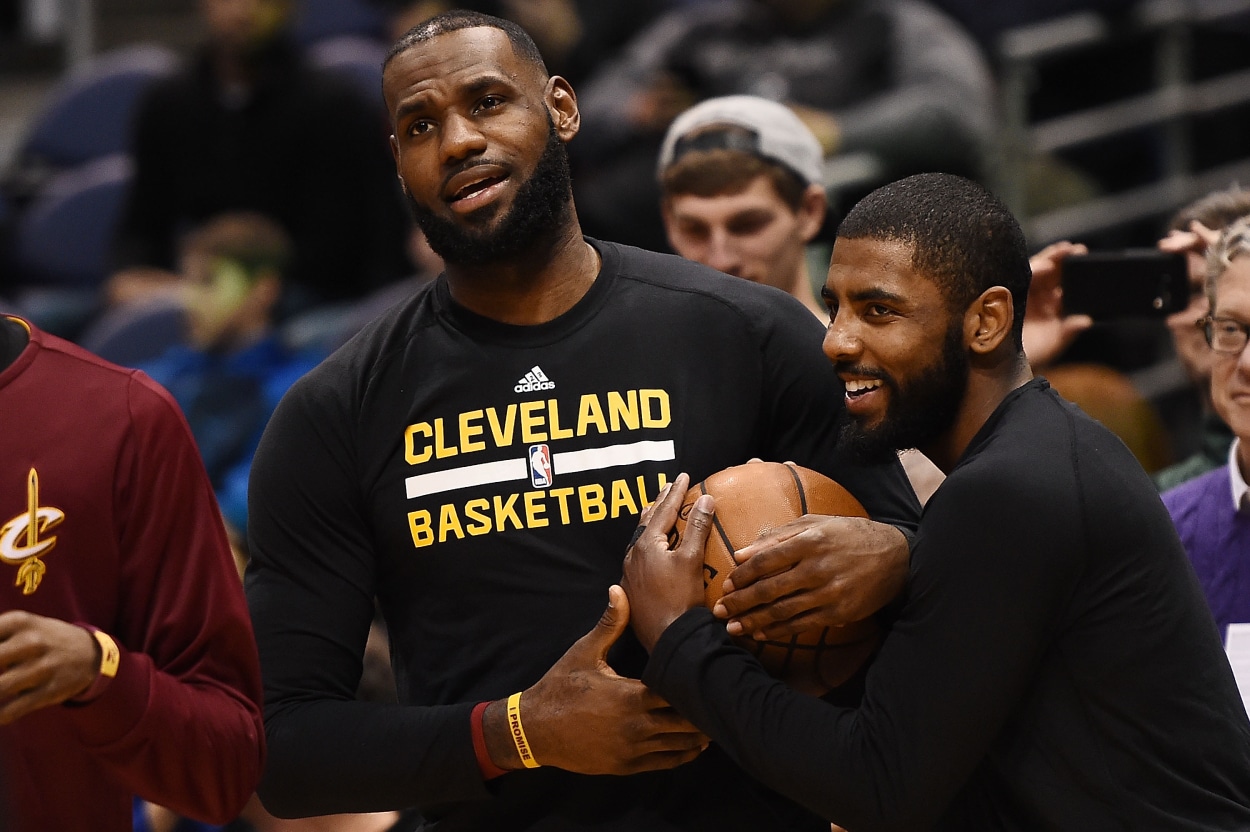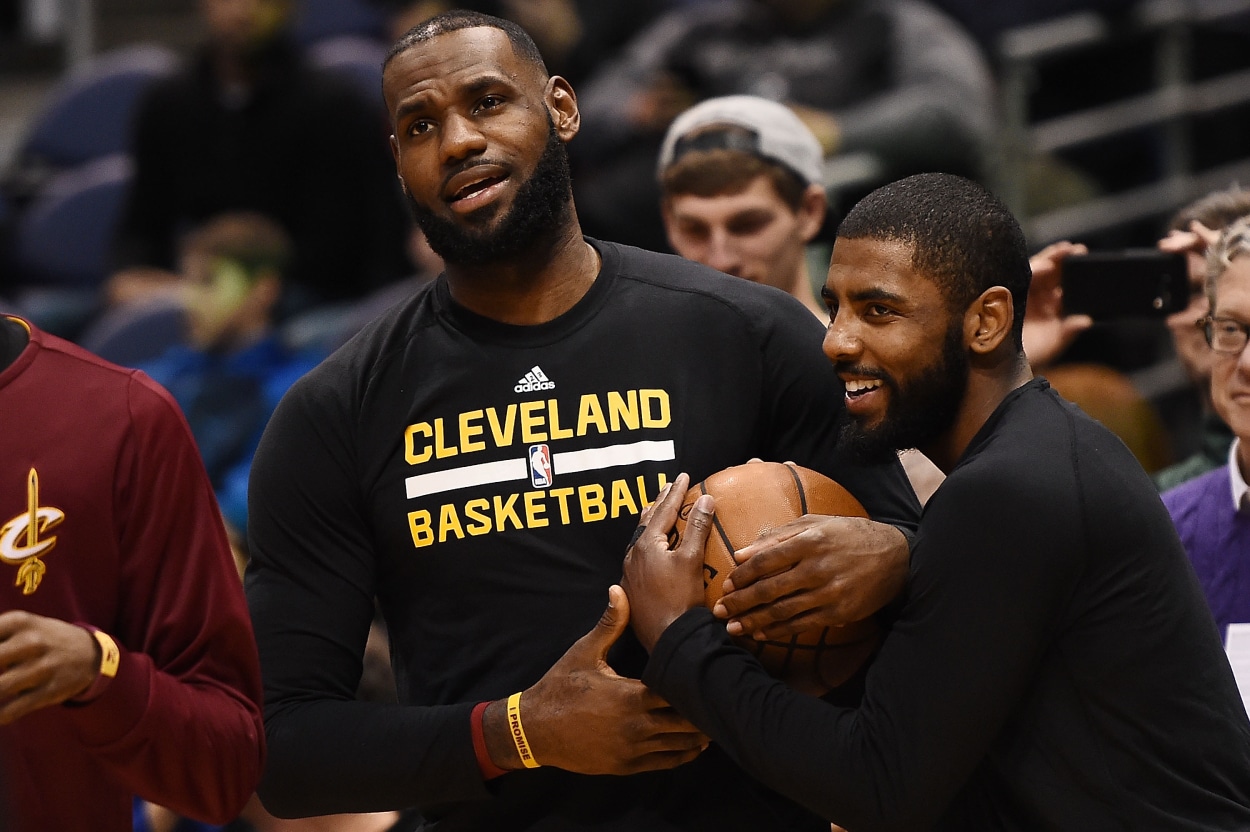 Former NBA player Kendrick Perkins appeared on the May 6 episode of First Take, and while discussing the Lakers with Stephen A. Smith, Perk gave his eyebrow-raising trade idea.
"If I'm the Lakers, I would really consider trading Anthony Davis for Kyrie Irving," said Perkins, who played with Irving and LeBron James on the Cavaliers in 2014-15. "… I think that it's time for both franchises, the Los Angeles Lakers and the Brooklyn Nets, to get a new change. Both of them. And I think the players need a new change. I wouldn't mind seeing Kyrie Irving back with LeBron James, a guy that he went to Finals with and won a championship, had one of the greatest runs to a championship in NBA history. And I also wouldn't mind seeing Anthony Davis team up with Kevin Durant in the Eastern Conference."
Perkins then looked at how the majority of Eastern Conference contenders have dominant big men. The Miami Heat have Bam Adebayo, and the Philadelphia 76ers have Joel Embiid. He also mentioned the 6-foot-11-inch Giannis Antetokounmpo on the Milwaukee Bucks, although the Greek Freak is somewhat of an unconventional big man considering he can bring the ball up the court.
OK, but why would the Lakers want Kyrie?
"When I look at the Lakers, I'm like, 'Hell, we won the championship with AD; we know how a lot of the fans around Laker Town feel about him,'" Perkins added. "Give him a change of scenery. Bring Kyrie Irving back (with LeBron) … I think it's a win-win for both organizations."
A Kyrie Irving-LeBron James reunion on the Lakers would never happen
Kendrick Perkins is on to something, to a degree. The Lakers have a justified reason to want to get rid of Anthony Davis, and the same goes for the Nets with Kyrie Irving.
Yes, LeBron James won a championship with AD in 2020, but the latter has missed at least 50% of the team's games in each of the last two seasons. Irving, on the other hand, has created numerous headlines the last two years, and Brooklyn has failed to make it past the conference semifinals with him and Kevin Durant.
However, there are numerous reasons why the Lakers wouldn't want to acquire Irving and the Nets Davis.
If LeBron and Kyrie decided to break things up the first time while on the Cavs, why would they want to play with each other again? The Lakers also always have drama surrounding them, so Irving would just add to that with his polarizing personality. Oh, and none of this considers that LA would have to find a trade partner for Russell Westbrook (he and Irving play the same position), and Kyrie would have to opt into his player option for next season or sign a contract extension with the Nets for this to work.
For Brooklyn, why would the franchise take a risk on Davis, who can't stay healthy longer than two minutes? Perhaps his fit with Durant wouldn't be as natural as some would think, either.
Yes, an Anthony Davis-Kyrie Irving swap would be intriguing, and Kyrie Irving and LeBron James had tremendous success together on the Cavaliers (three Finals appearances and one championship). But there are too many concerns for either team to want to pull this trade off.