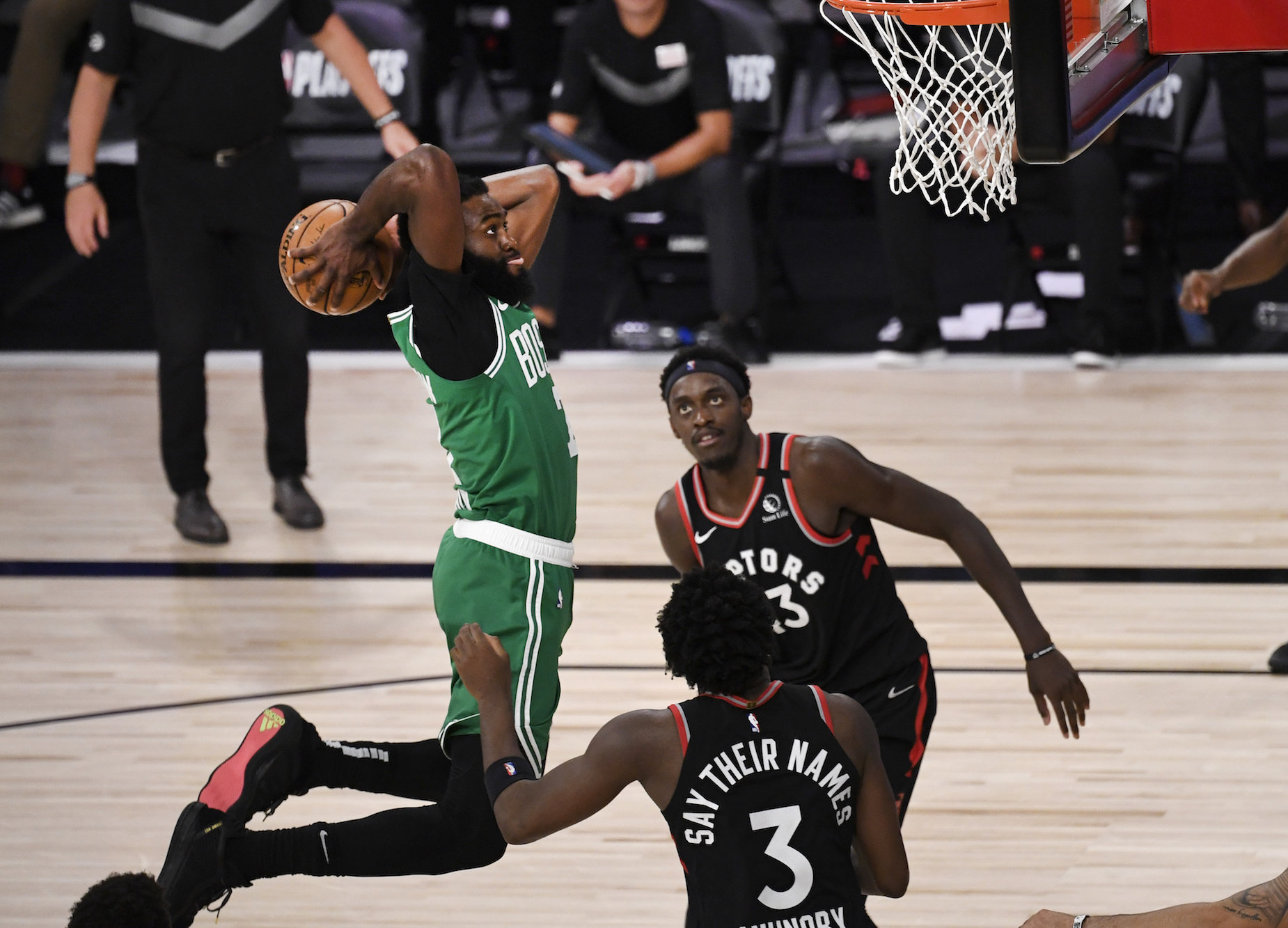 Jaylen Brown Was Once Considered 'Too Smart for the League' By an NBA Executive
Ahead of the 2016 NBA draft, at least one executive had an issue with Jaylen Brown: he feared the forward could be "too smart" for the league.
During their illustrious history, the Boston Celtics have had plenty of NBA legends on their roster. While it's too early to consider Jaylen Brown one of those greats, the small forward is already making quite a name for himself. Heading into the 2016 NBA draft, however, not every executive was convinced the young prospect was worth picking.
Although we now know that Jaylen Brown has what it takes to be a legitimate pro, at least one NBA executive was skeptical of how he would fit in with a professional organization. Apparently, there were some concerns that the forward could be considered "too smart for the league."
Jaylen Brown's road to the NBA
Normally, the top tier high school basketball prospects are snapped up by blue-chip programs in one of the power conferences; they then spend one season on campus before entering into the NBA. Jaylen Brown, however, did things a bit differently.
Brown grew up outside of Atlanta, Georgia, and made a name for himself on the high school basketball scene. By the time he reached senior year, the forward had become one of the nation's top recruits; that gave him his pick of NCAA program.
Rather than heading to Kentucky or North Carolina, though, Brown enrolled at the University of California, Berkley, and joined the Golden Bears. While the move raised some eyebrows at the time, the forward made the most of his time on campus.
During his freshman campaign, Jaylen Brown averaged 14.6 points, 5.4 rebounds, and 2 assists per game, earning a place on the all-conference team and taking home Pac-12 Freshman of the Year honors. On the back of that campaign, he entered into the 2016 NBA draft.
Too smart for the NBA?
When each year's NBA draft rolls around, it's expected that fans, teams, and analysts alike will break down each player's skill set. Ahead of the 2016 draft, though, Jaylen Brown had another potential issue.
Coming out of college, Brown had the physical tools and the skills to become an NBA player. His personality, however, seemed like it could give some teams pause.  "No, this is not your typical 19-year-old, Marc J. Spears wrote in The Undefeated at the time. "This is the kind of 19-year-old NBA draft prospect who, for instance, chooses to enter the draft without an agent, a young man who one NBA executive said could be deemed 'too smart for the league."
So what does "too smart for the league" actually mean? Another executive gave some insight into those comments.
"[An unnamed] NBA assistant general manager also said that Brown's high level of intelligence and inquisitive nature could intimidate some general managers and coaches," Spears explained. "He added that [Brown] is a good kid who 'doesn't fit the mold of a so-called basketball player."
"He is an extremely intelligent kid," the NBA assistant general manager continued. "He took a graduate school class at Cal in his freshman year. He is a person who is inquisitive about everything. Because he is so smart, it might be intimidating to some teams. He wants to know why you are doing something instead of just doing it. I don't think it's bad, but it's a form of questioning authority. It's not malicious. He just wants to know what is going on. Old-school coaches don't want guys that question stuff."
Jaylen Brown has since grown into a legitimate NBA player
In a Bleacher Report Youtube video, Jaylen Brown confirmed that Spears' reporting was accurate. Despite concerns over his intelligence, though, the forward landed an NBA job and has become a legitimate pro.
Brown, of course, joined the Boston Celtics as the third-overall pick of the 2016 draft. While he hasn't followed a uniformly upward trajectory—the forward improved as an NBA sophomore, but regressed a bit during the 2018-19 campaign—he seems to have taken another step forward this year. The 2019-20 season was far from conventional, but Brown posted his best numbers to date, averaging 20.3 points, 6.4 rebounds, and 2.1 assists per outing.
If Jaylen Brown's recent behavior is any indication—he rejected a contract offer from the Celtics in 2019 before earning a larger deal and headed to Atlanta to protest earlier this summer—the forward has no interest in simply being a rank and file basketball player. Based on his on-court performances, it's unlikely anyone will have a problem with that.
All stats courtesy of Sports-Reference and Basketball-Reference