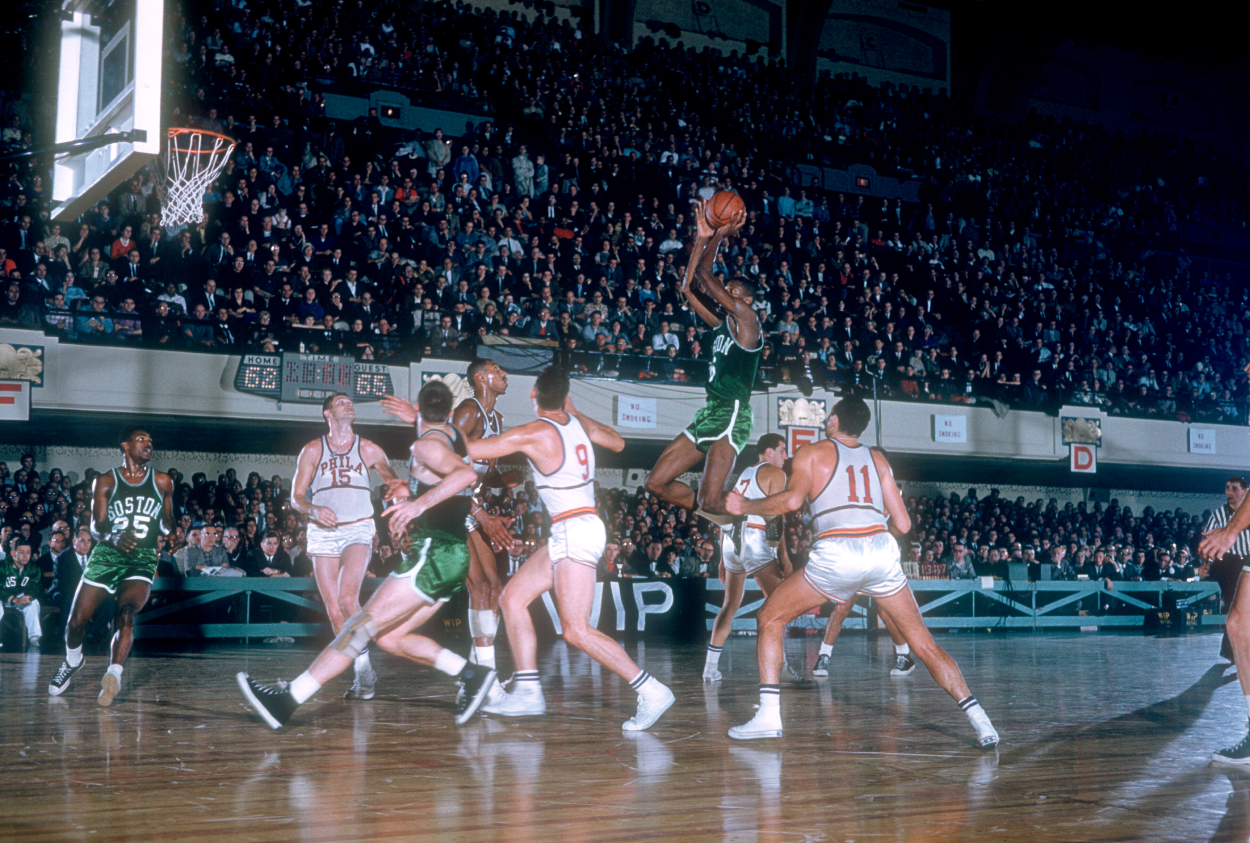 For Boston Celtics Legend Bill Russell, NBA Success Was Built on Something Bigger Than Scoring, Rebounding, and Defense
Bill Russell had all the physical skills to become a Hall of Famer, but his biggest tool was his mind.
Bill Russell could do it all on the basketball court. One of the best NBA centers of all time, Russell achieved greatness mainly because of his defensive game. Although he averaged 15.1 points per game during his 13-year career with the Boston Celtics, he put up 22.5 rebounds per game and was one of the game's most feared shot blockers. Although Russell was well-rounded on the court, his success was based on much more than his physical skills.
Bill Russell won 11 NBA titles in 13 seasons with the Boston Celtics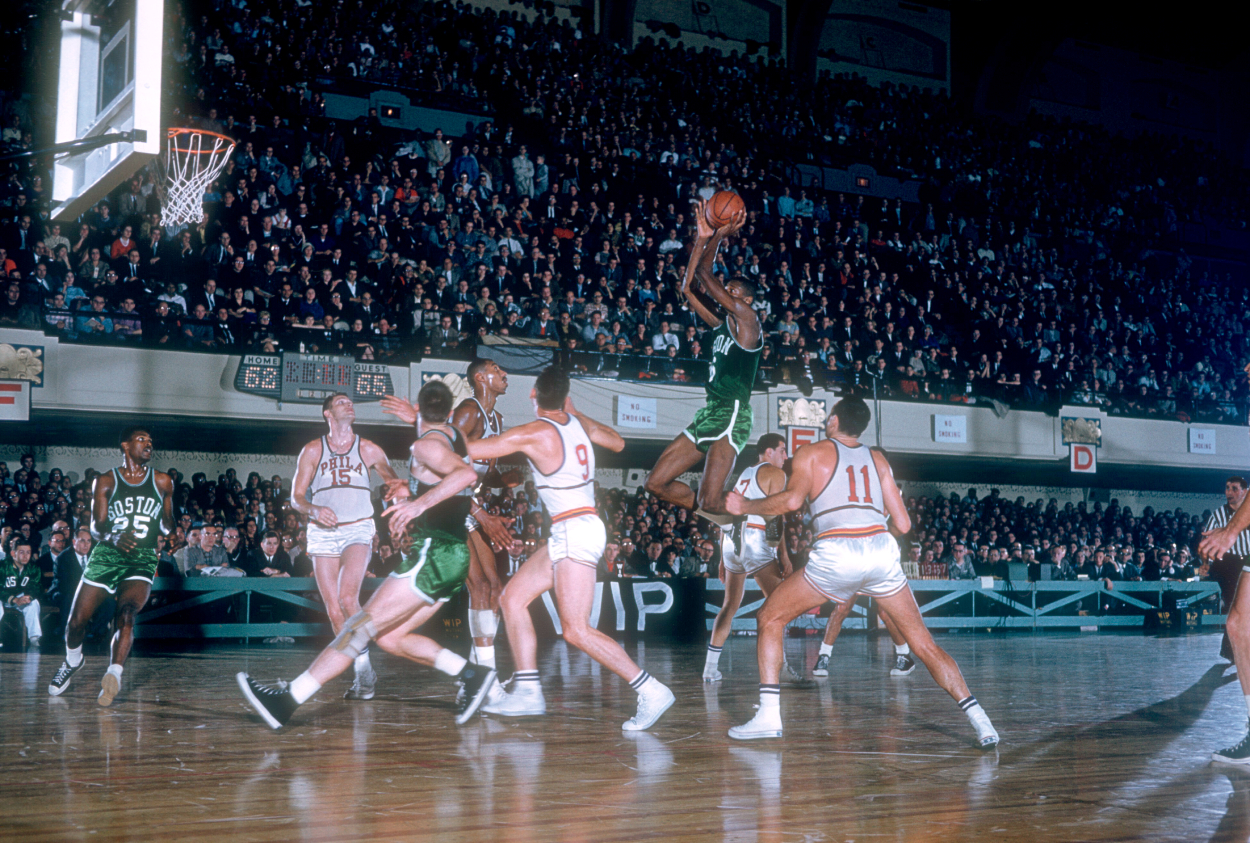 Russell played 13 seasons for the Celtics and did nothing but win. A 12-time NBA All-Star, Russell ruled the paint, bringing defense to the forefront when the NBA was dominated by offense. He was the leader of a dynasty that captured 11 championships during his 13 years.
At 6-foot-10, Russell was a presence on both sides of the ball. Although he wasn't considered a great shooter, he still averaged better than 16.5 points per game for six straight seasons. In the 1961-62 season, he put up a career-high 18.9 points per game while pulling down 23.6 rebounds per contest.
Rebounding and defense, however, were his strengths. The five-time MVP also led the league in rebounding five times, including his first three seasons. He collected a career-high 24.7 rebounds per game during the 1963-64 season. Russell also intimidated opponents by swatting away their shots.
Blocked shots didn't become an official stat in the NBA until the 1973-74 season. According to Bleacher Report, several referees who worked Russell's games believe the big man averaged somewhere between six and eight blocks per game.
Bill Russell relied on psychology as much as his athletic ability
Although Russell had all the physical gifts to become a Hall of Fame player, he had a far greater tool. Sure, he could jump and rebound with the best of them, but he believed the mental part of the game helped get him to where he was. During his playing days, he preached the psychology of the game. As his career wore on, the more of it he used.
"Basketball is a game that involves a great deal of psychology," Russell said during the early part of the 1963 season, according to Sports Illustrated. "The psychology in defense is not blocking a shot or stealing a pass or getting the ball away. The psychology is to make the offensive team deviate from their normal habits. This is a game of habits, and the player with the most consistent habits is the best. What I try to do on defense is to make the offensive man do not what he wants but what I want."
The weakest part of Russell's game was his shooting. He believed that being a great shooter was overrated.
"In my modest opinion," said Russell, "shooting is of relatively little importance in a player's overall game. Almost all of us in the NBA are All-Americas. We became All-Americas by averaging 20 points or more a game, so by the layman's standards, all of us can shoot. It's the other phases of the game that make the difference." 
When Russell wasn't outsmarting his opponent, he focused on defense
Russell was a game-changer on defense. He worked hard at it, knowing it would give him the upper hand. His recipe for success was a mix of psychology and his strong defensive ability. He also added a pinch of intimidation to "demoralize" opponents, according to former teammate Tommy Heinsohn.
"What Russell really does," Heinsohn told sports Illustrated in '63, "is demoralize. The other players are afraid to take their normal shots. Instead, they're looking to see what Russell will do."
Former St. Louis Hawks player Bill Bridges confirmed that during his playing days.
 "Russell told me I better bring pepper and salt to the next game," Bridges once said. "He told me I was going to eat basketballs."
Russell labeled defense a "science" that takes time to perfect.
"Defense is a science," Russell said, "not a helter-skelter thing you just luck into. Every move has six or seven years of work behind it. In basketball, your body gets to do things it couldn't do in normal circumstances. You take abnormal steps, you have to run backward almost as fast as you can run forward.
"On defense, you must never cross your legs while running, and that's the most natural thing to do when changing direction. Instead, you try to glide like a crab. You have to fight the natural tendencies and do things naturally that aren't natural."
If he never made it in basketball, Russell would have been the perfect psychologist.