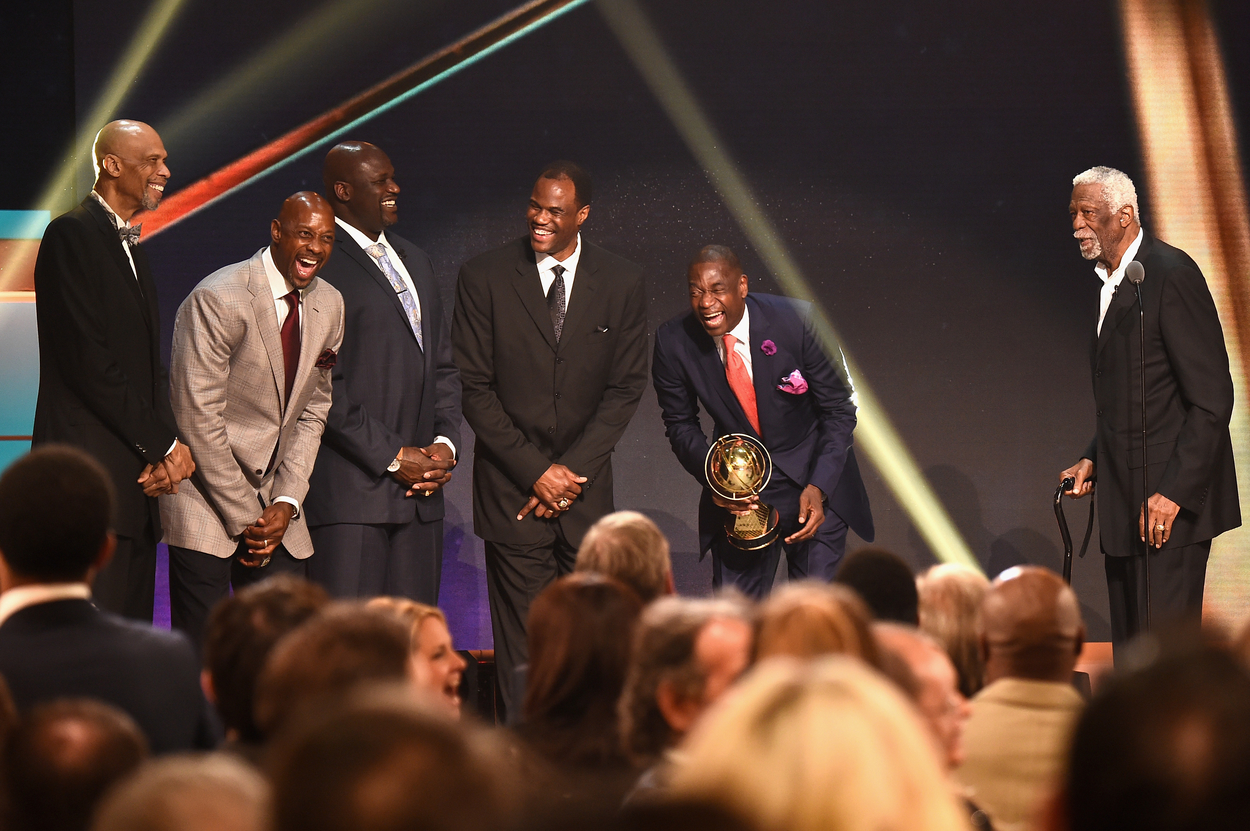 An 83-Year-Old Bill Russell Said 5 Words to Prove He Was the Greatest Center of All Time
Bill Russell received the first NBA Lifetime Achievement Award at the 2017 NBA Awards Show, but the first five words of his speech were the highlight of the night.
You can make a strong case that no sport has an ambassador as great as Bill Russell.
The 11-time champion is one of the greatest players in NBA history. But he's also a staple at events like the NBA Finals, where he presents the aptly named Bill Russell NBA Finals Most Valuable Player Award.
Russell is seen as NBA royalty, but the Boston Celtics legend also has a great sense of humor. At the 2017 NBA Awards Show, while receiving the Lifetime Achievement Award, Russell put that humor to use at the expense of five of the greatest centers in basketball history.
Shaquille O'Neal and Kareem Abdul-Jabbar were two of the five centers honoring Bill Russell
In 2017, the NBA held its first annual awards show at Basketball City at Pier 36 in New York City. The event, which was aired on TNT, featured Russell Westbrook winning the NBA Most Valuable Player Award, Giannis Antetokounmpo seizing the Most Improved Player Award, and Malcolm Brogdon taking home Rookie of the Year Award honors. But in the middle of the ceremony, the NBA took a break from honoring its present players and shifted its attention to a player from the past.
Five of the game's all-time best centers — Kareem Abdul-Jabbar, Alonzo Mourning, Shaquille O'Neal, David Robinson, and Dikembe Mutombo — took the stage to present Russell with a Lifetime Achievement Award, the first of its kind in league history.
"Combining a point guard's quickness with a big man's size, Bill's talents refined this sport," Abdul-Jabbar said on stage. "He showed how basketball could be won on the defensive end of the court, using his mind, as well as his body, to out-think and out-smart opponents."
Kareem also praised Bill for all of the off-the-court achievements that made him deserving of recognition.
"Whether it's his lifetime commitment to civil rights, or his role as founder of MENTOR, a national youth mentoring organization, Bill's legacy is as profound as it is thrilling."

Kareem Abdul-Jabbar
Russell then took the stage to accept his award, but it wasn't long before he created the highlight of the evening.
Bill Russell let the fellow Hall of Famers know who was the best among them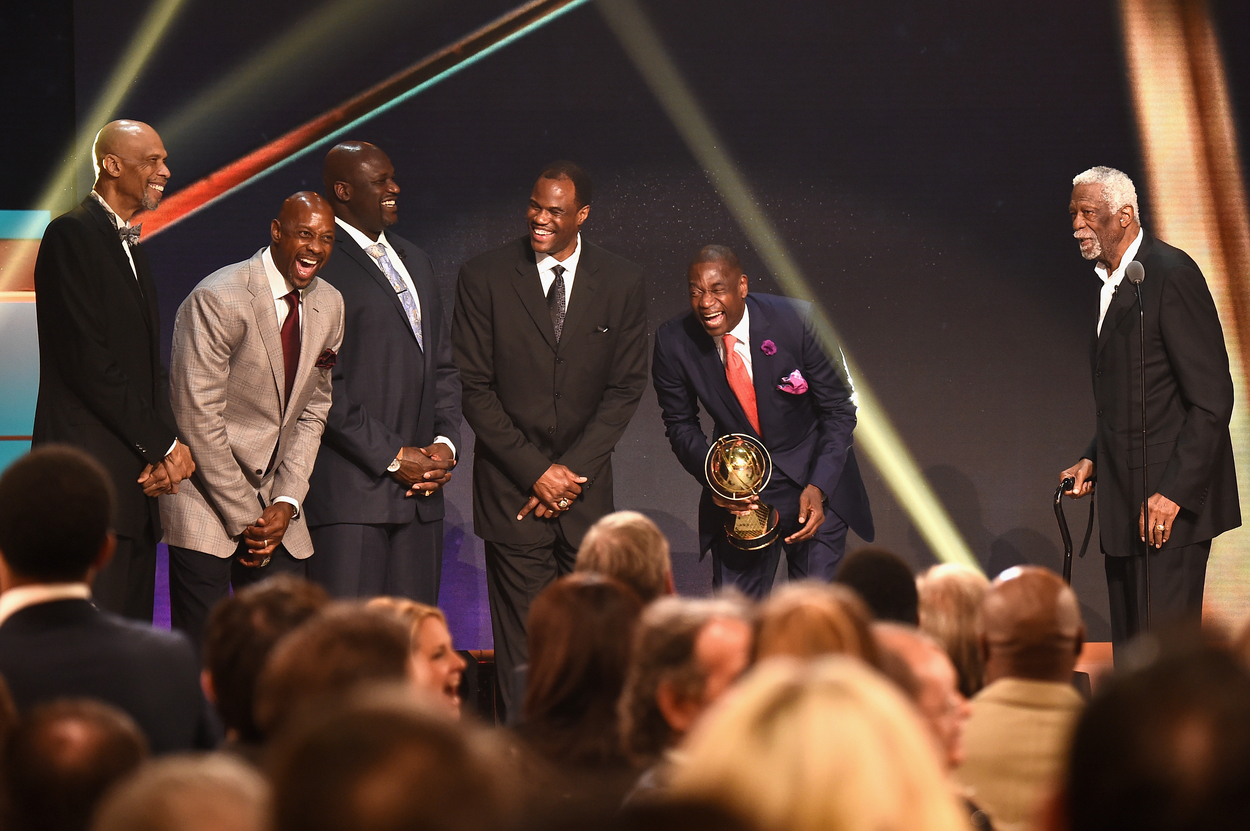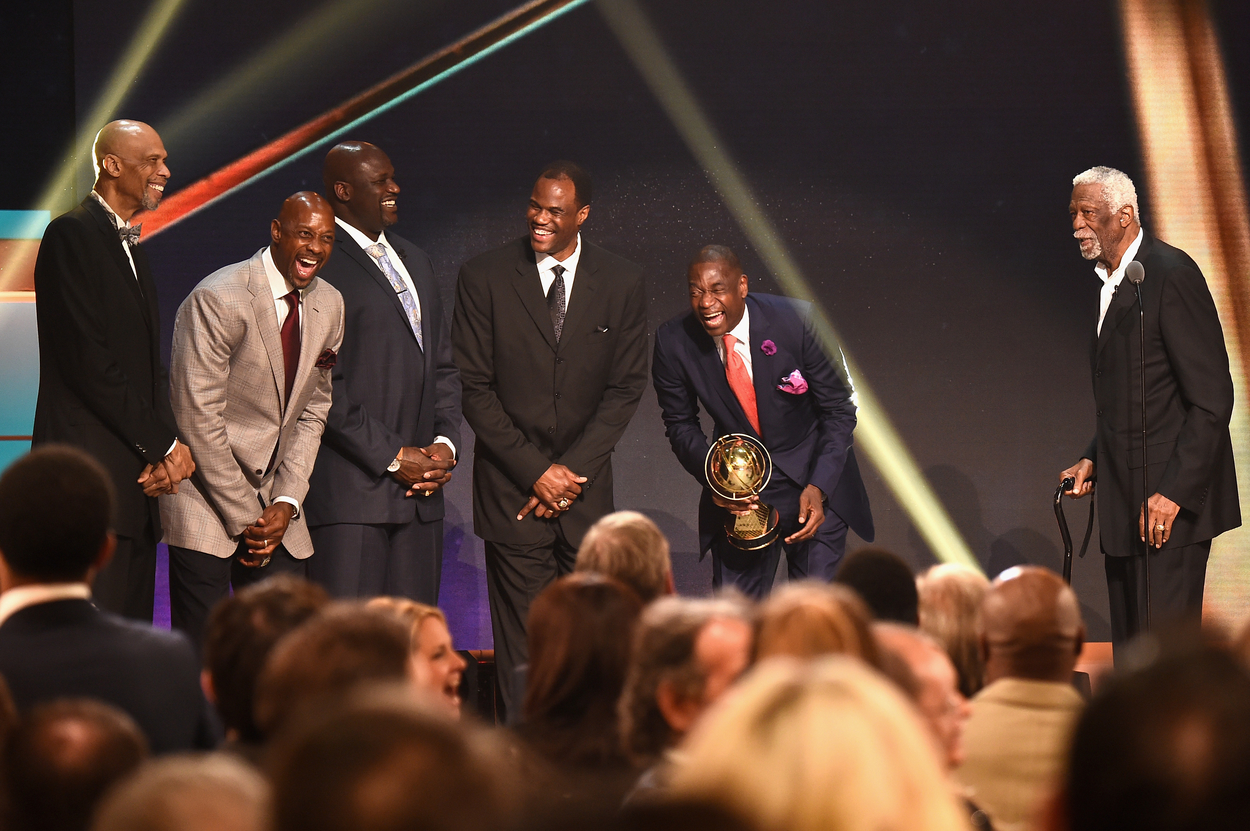 With his cane in hand, the 83-year-old Russell shook the hands of each of the centers on stage presenting his award. He then handed his award to Mutombo before beginning his acceptance speech.
In total silence, Russell looked to his right. He began pointing at each NBA great, going down the line one by one. Then, Russell uttered five words that brought the house down:
"I would kick your a–."
All five centers on stage laughed hysterically while the audience gave another standing ovation. Russell was quick to show his sincere appreciation, however.
"Thank you, you have no idea how much respect I have for you guys," Russell said after his joke. "Because you did it in your own time, in your own way, and I appreciate that. And it made me proud to have played this same game as you guys."
Russell was the perfect choice to win the first Lifetime Achievement Award
We'll never know whether Russell actually would've been able to kick all of their you-know-whats. But the Hall of Famer was without question the best choice for the first Lifetime Achievement Award, later given to Oscar Robertson, Larry Bird, and Magic Johnson.
Russell is a 12-time All-Star, 11-time All-NBA selection, and five-time MVP. But his firsts are arguably more impressive. Bill was the first Black head coach in North American professional sports when he became a player-coach for the Celtics in 1966. He also became the first player to win an NCAA championship, NBA championship, and Olympic gold medal, doing so in a span of around 13 months.
Bill's achievements on and off the court make him one of the game's best and most important players. And, as it turns out, his sense of humor isn't too bad, either.
All statistics courtesy of Basketball Reference.