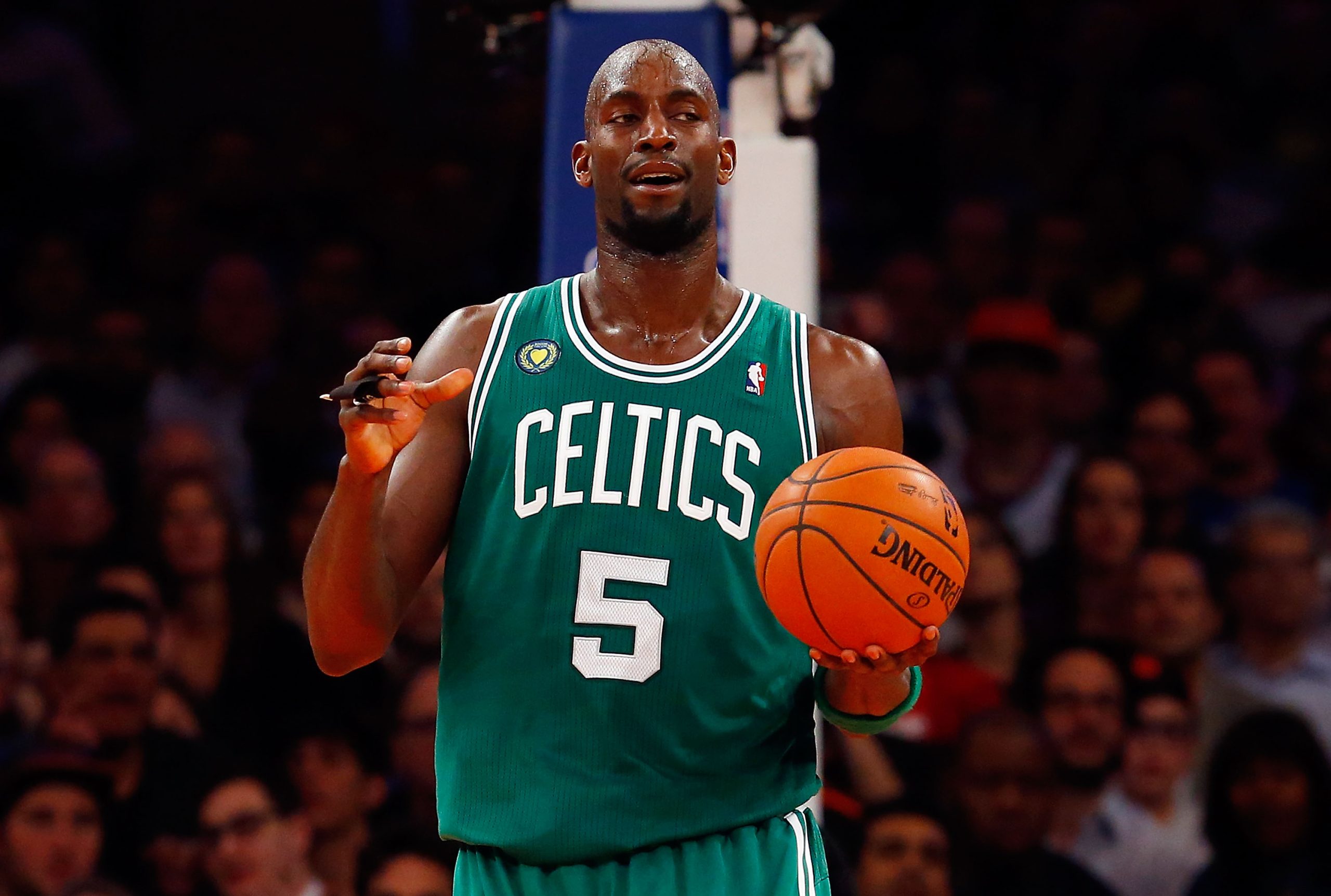 Boston Celtics News: Yes, There Were Boos at Kevin Garnett's Jersey Retirement Ceremony
Kevin Garnett's ceremony Sunday was a success even though there was some booing involved.
The Boston Celtics had a Garden party Sunday afternoon as Kevin Garnett had his No. 5 jersey sent to the rafters. Garnett played just six seasons with the Celtics but had such an impact that he will be forever linked to Celtics greats like Bill Russell, Larry Bird, and Dave Cowens.
Cheers were prevalent throughout the event, peaking when Garnett, Ray Allen, and Paul Pierce shared a hug. Celtics fans, however, did show their true colors when they actually booed during one part of the ceremony.
Kevin Garnett and Ray Allen made peace as the Boston Celtics honored KG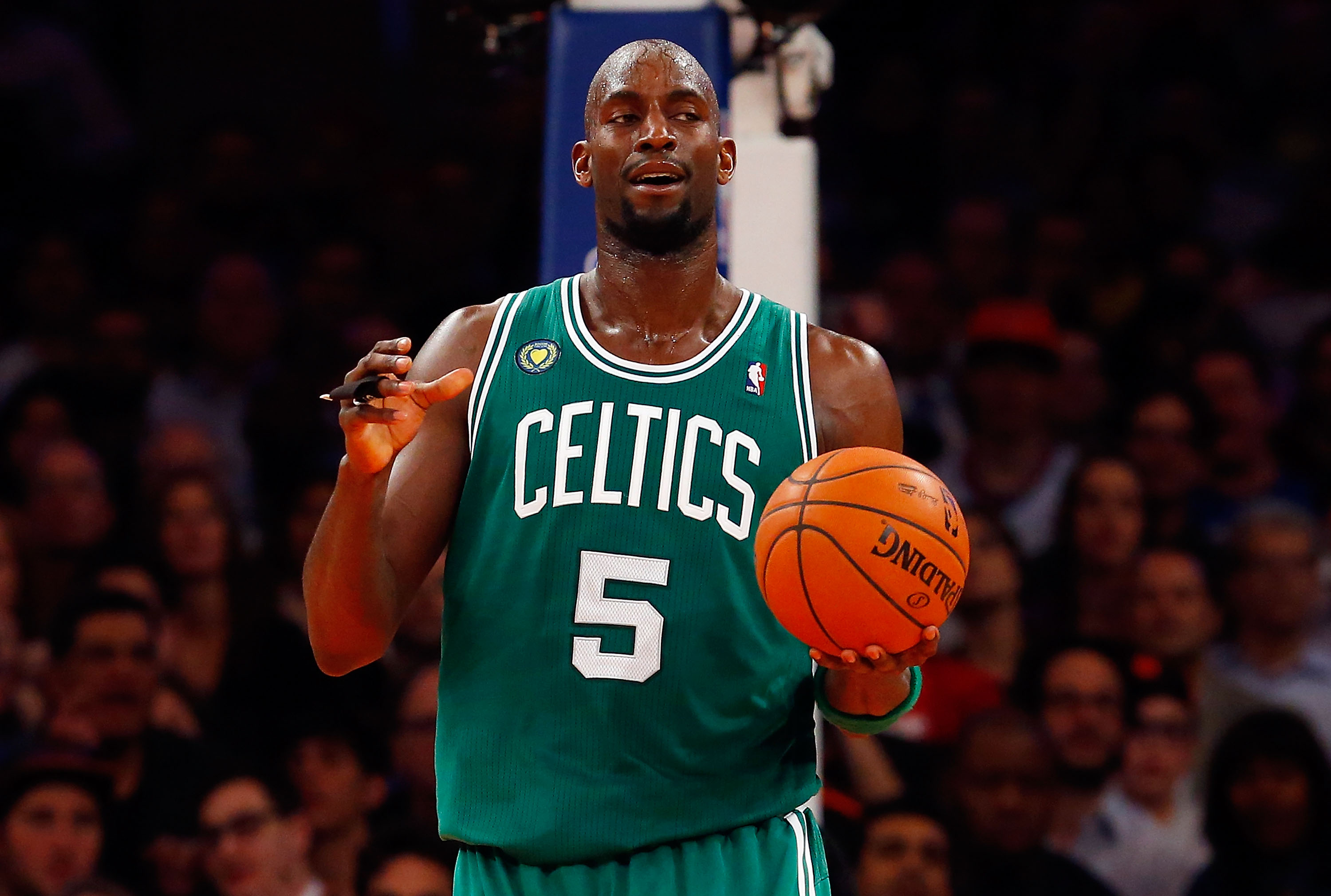 The soured relationship between Garnett and Allen was well known. Allen and Garnett came to Boston via separate trades before the 2007-08 season. In their first year together, they guided the Celtics to a championship. Two years later, they returned to the NBA Finals, losing to the Los Angeles Lakers in seven games.
The Celtics were bounced from the playoffs by the Miami Heat the next two years. In 2012, Allen, a free agent, declined an offer from Boston to re-sign with the team. Instead, he elected to join the Heat.
Allen's decision angered several Celtics players, including Garnett, Pierce, and point guard Rajon Rondo. Garnett seemed to hold a grudge, admitting as much in 2020.
"I've been very vocal on my distaste for what Ray did, that was real for everybody that was involved," Garnett said, per The Boston Globe. "That's real life. We was in a real beef with Miami at the time and very similar to if someone was to go from the Lakers to the Celtics, and vice versa."
Allen did make it a point to show up for Garnett's big day. His appearance made an impression on KG, who called out Allen, and the two hugged things out during a standing ovation.
"It's good to see Ray Allen here," Garnett said, per ESPN. "Real s***. It's good to see you, man. You next, dog." 
Boston Celtics fans did some booing at Kevin Garnett's event
During the ceremony, players, coaches, and fans reminisced about Garnett's six seasons in Boston. The year before Garnett arrived, the Celtics finished with a 24-58 record. In the 2007 offseason, the Celtics shook things up and had one of the most remarkable turnarounds in NBA history.
Boston traded five players and two first-round draft picks to bring in Garnett. The Celtics also acquired the sharp-shooting Allen for that 2007-08 season, creating Boston's biggest Big Three since Larry Bird, Kevin McHale, and Robert Parish.
With Allen and Pierce on hand, the ceremony was filled with highlights of the championship year, laughter, and good times. Former players and coaches were on hand to celebrate Garnett in green. With Garnett, the Celtics never had a losing season after having two straight sub-.500 years prior to his arrival.
Although it was an afternoon of cheers and celebration, it wouldn't be Boston if there weren't any boos in the Garden. Sure enough, it happened.
During a video presentation that showed Garnett accepting congratulations from players and coaches, fans showed their true passion for the Celtics. When former nemesis Isiah Thomas was shown on the screen congratulating his good friend, boos filled the arena.
"I love it that you guys booed Isaiah. That was awesome," said Mike Gorman, the Celtics' play-by-play announcer and emcee of the ceremony.
Isiah Thomas and the Detroit Pistons were never well received by Celtics fans
Maybe it was jealousy, or maybe it was their physical play that bordered on dirty. The Boston Celtics didn't like the Detroit Pistons during the Thomas days.
The Celtics had won titles in 1981, 1984, and 1986 but were also in the NBA Finals in 1985 and 1987. After '87, the Pistons took over as kings of the Eastern Conference. Detroit went to the Finals three straight seasons from 1988-90, winning in '89 and '90.
Thomas was part of Detroit's "Bad Boys" that also included Dennis Rodman, Rick Mahorn, and Bill Laimbeer. Laimbeer was never a fan favorite in Boston for his play that many players, including Bird and Robert Parish, called dirty. Laimbeer was an instigator, and Parish had enough of his antics during Game 5 of the 1987 Eastern Conference Finals.
As play was going on in the paint, Parish lost control and decked Laimbeer. Amazingly, Parish wasn't tossed from the game. He did, however, admit to losing his cool.
"In the heat of the battle, it was the first time I had lost control of my emotions and my temper," Parish later told Maxwell on The Cedric Maxwell Podcast. "We had exchanged a few unpleasantries toward one another and a few elbows. I couldn't believe I lost my composure like that. That's the first time ever."