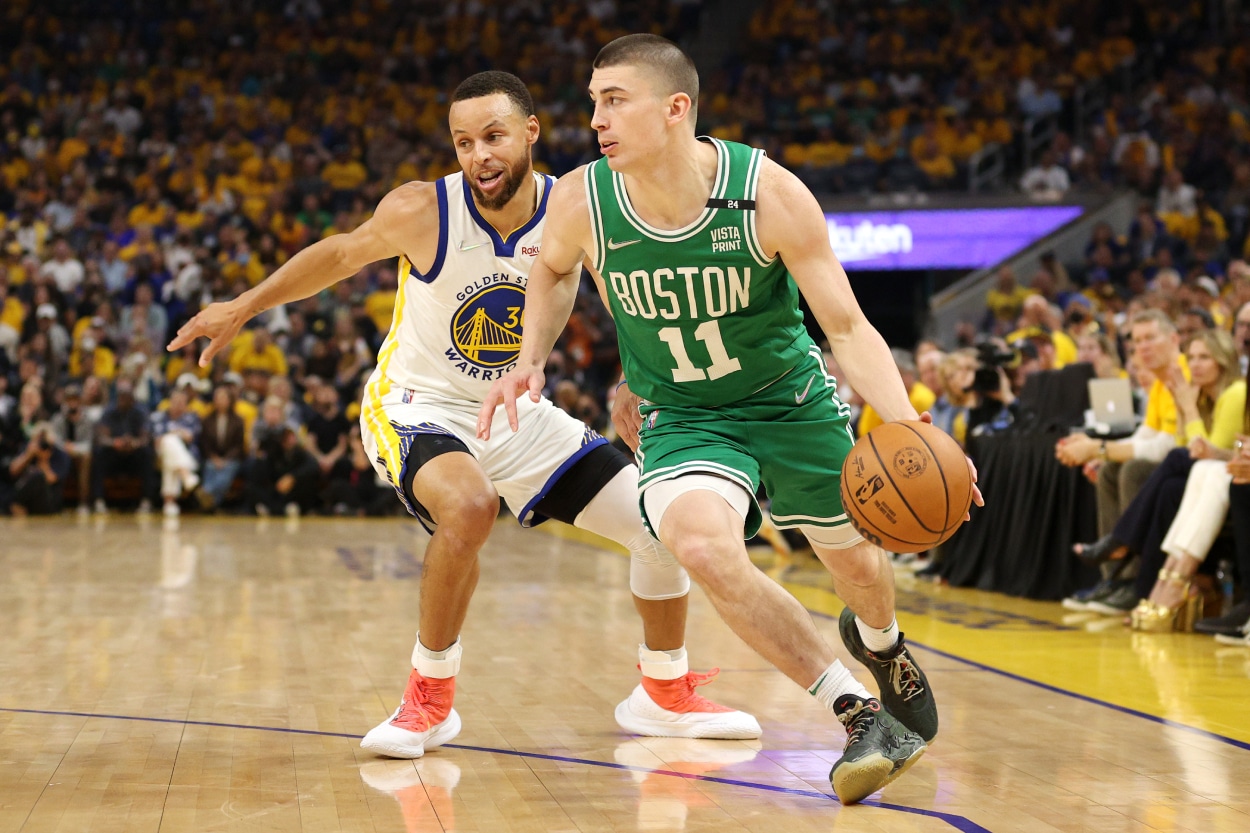 Boston Celtics: Payton Pritchard Made His Move at the Trade Deadline
Payton Pritchard needed an opportunity and finally got one in February with the Boston Celtics.
It's clear Payton Pritchard can score. A pure shooter, the 6-foot-1 guard made the most of his opportunity during his second season with the Boston Celtics. Although he saw his minutes decrease from his rookie season, Pritchard had plenty of quality time on the floor during Boston's journey to the 2022 NBA Finals.
Pritchard needed an opportunity. Brad Stevens provided it for him. In his first year as president of basketball operations, Stevens cleaned things up at the trade deadline this season, paving the way for Pritchard to make an impact off the bench.
Payton Pritchard is a proven scorer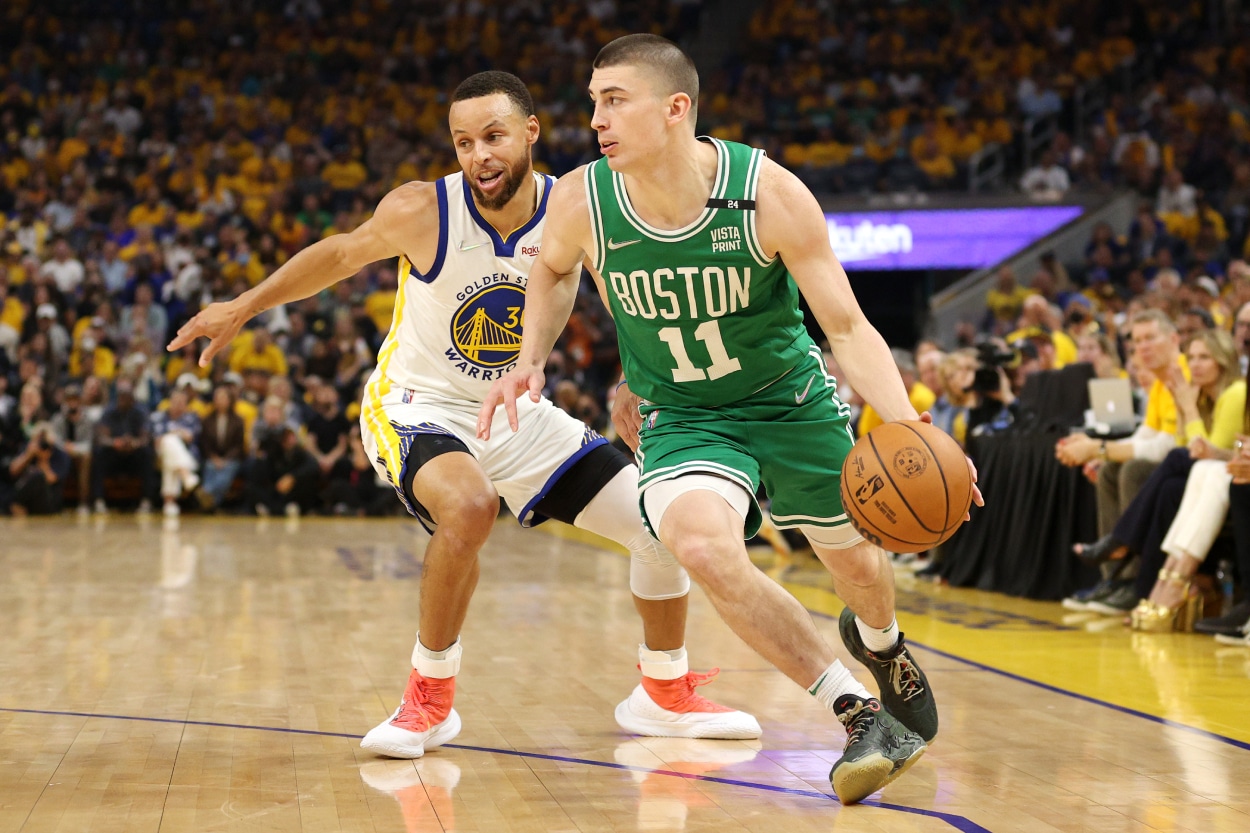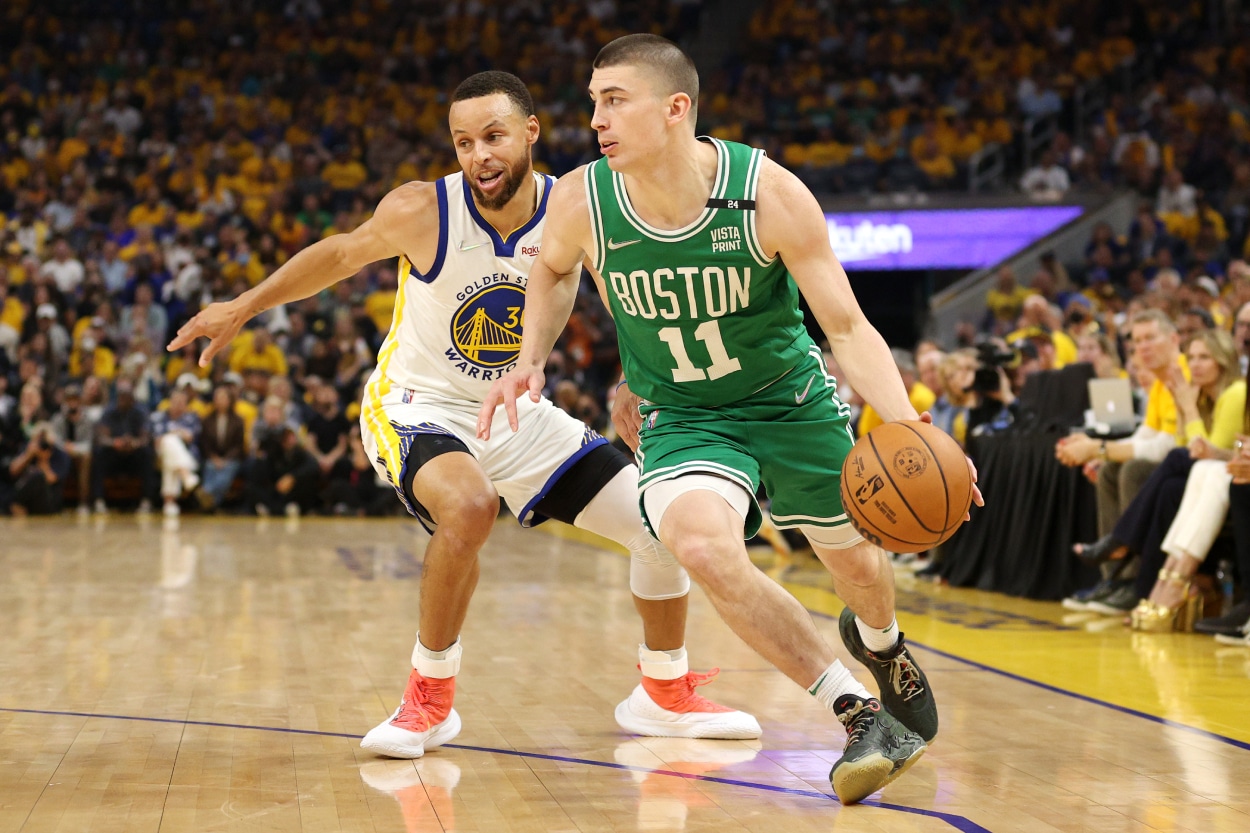 The Celtics selected Pritchard in the first round of the 2020 NBA Draft after he played four years at Oregon. As a senior with the Ducks, the sharp-shooting Pritchard connected on 46.8% of his shots from the floor and hit 41.5% from three-point land. He averaged 20.5 points and 5.5 assists in his final college season.
Last summer, Pritchard showed just how prolific a scorer he can be. During last year's summer league in Las Vegas, Pritchard averaged 20.3 points and 8.7 assists. With a few weeks until training camp, Pritchard left Vegas and then took part in a pro-am game in Portland, Oregon.
He put up 92 points in that game. Yes, 92. According to MassLive, he flew from Vegas to Oregon to attend a friend's wedding. Before the wedding, he played in the game. He said video from his 92-point effort went viral, but he was too busy to take it all in.
"It was crazy; it was nuts," Pritchard told MassLive just before the start of this Celtics season. "(The video) was picked up, and it went viral. I didn't know what was going to happen. I had a wedding that day, too, so I went to my homie's wedding. So I didn't really look at it at all."
Pritchard said the game was played on a high school court, so the three-point line was a bit closer. He said there was still plenty of talent on the court.
"We were playing on a high school court, so the 3-point line was a little smaller," Pritchard said. "Still playing against a lot of talent there. … But for me, it was just going back and just trying to go out there and compete and put on a show for the city."
Pritchard capitalized at the trade deadline this season with the Celtics
The Celtics did some serious condensing when it came to the trade deadline, and it proved beneficial for Pritchard. Stevens only made a pair of under-the-radar deals at the deadline, but they were extremely effective.
In two separate deals, Stevens brought in Derrick White and Daniel Theis. In exchange, the Celtics shipped out seven players.
Adding White and Theis was perfect for Boston. White played a major role off the bench as a strong two-way player. Theis, in his second stint with the Celtics, gave Boston some quality minutes down the stretch in the regular season when Robert Williams went down with a knee injury.
Pritchard, however, benefited from the roster movement, earning more playing time off the bench. He provided the Celtics with an offensive surge during their postseason run to the NBA Finals.
"This season has probably been one of my biggest growths mentally," he said during his Boston Celtics exit interview. "I wasn't playing at all for like the first 60 games. Then the trade deadline happened, and I got an opportunity to play.
"For me personally, just got to be better next year. Come in and try to be in the best shape of my life. I think it's going to be a really important year for me. I'm going to do everything in my power to be the best that I can be to help the team, and I think everybody is taking that same mindset."
Like Sportscasting on Facebook. Follow us on Twitter @sportscasting19 and subscribe to our YouTube channel.