Derrick White Overcoming His Growing Pains With the Boston Celtics
Derrick White has been a major contributor to the Boston Celtics since he came over at the trade deadline.
The Boston Celtics were relatively quiet at the NBA trade deadline. The focus was on shedding some payroll and setting themselves up a little better for the future. The Celtics struggled through the first 50 games of the year, going 25-25 during that stretch. Were they buyers or sellers?
At the deadline, they started to break away from that .500 mark, winning six straight. Little did they know how hot they'd get. In his first year as president of basketball operations, Brad Stevens brought in two players, veteran guard Derrick White and center Daniel Theis, and shipped out seven.
Theis returned for his second stint with Boston. White came over in a deal with the San Antonio Spurs. Both have made significant impacts, but White is finally overcoming those early growing pains with the Celtics.
Derrick White and Daniel Theis have been key additions to the Boston Celtics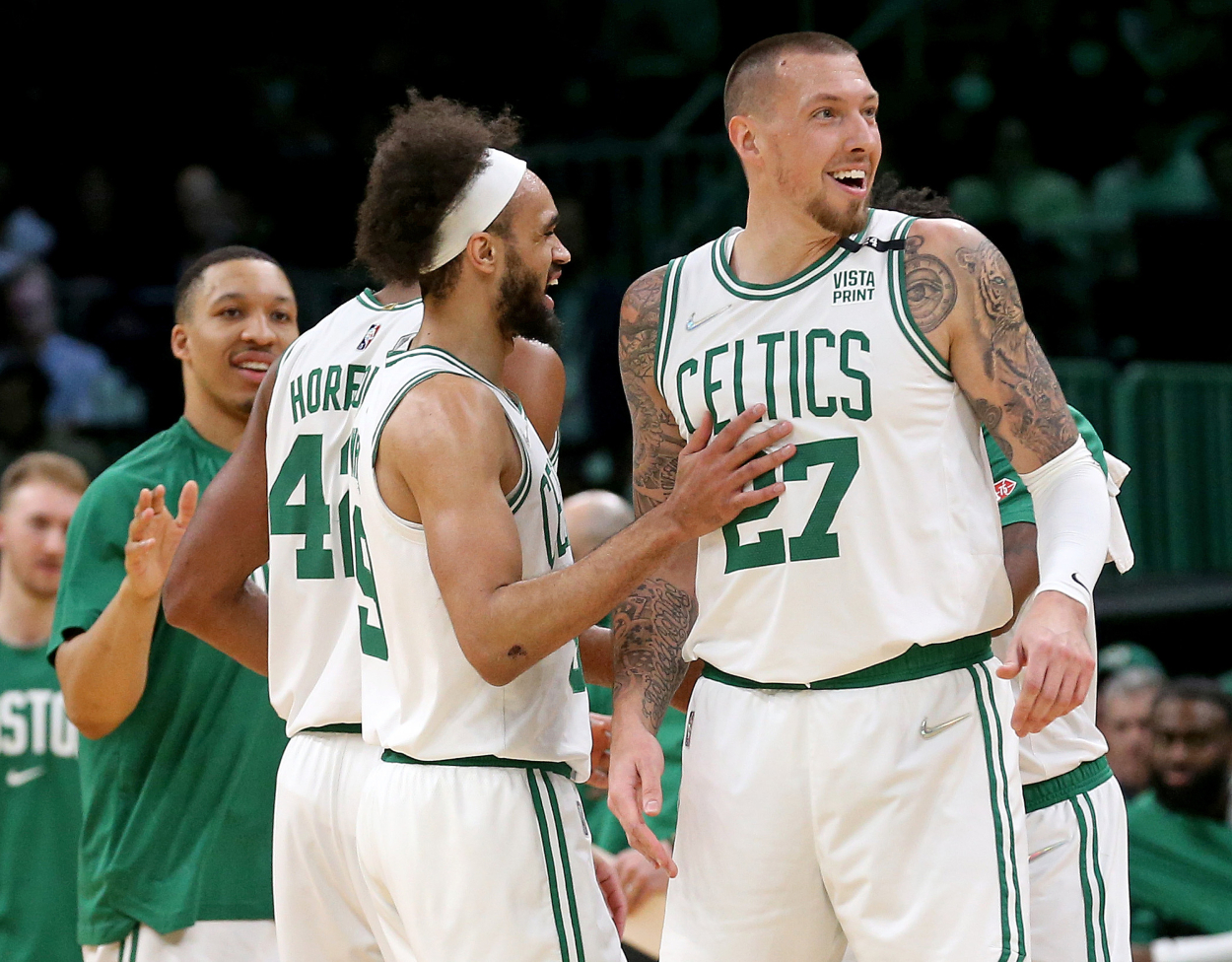 Boston's work at the deadline wasn't eye-popping. It brought in a couple of reserves and helped shorten the rotation. White and Theis have contributed more than most expected.
Theis has been thrown into the fire since starting center Robert Williams went down with a knee injury. He's proven to be a valuable asset in Williams' absence. In 18 games with the Celtics, he's started three and is averaging 16.9 minutes. In a 115-112 overtime loss to the Toronto Raptors, a game the Celtics played without four starters, Theis played 41 minutes and had 13 points and 10 rebounds.
White has appeared in 23 games for Boston, starting three, and is averaging 10.8 points and 3.6 assists in 27.5 minutes off the bench. He's struggled with his long-range shooting, connecting on just 28.6% of his three-point shots.
Where White has made a difference is on the defensive side of the ball. He's the second unit's version of Marcus Smart. He's helped the Celtics shore up their defense, making them one of the league's best on that side of the ball.
White and Theis were under-the-radar moves for Boston, but they have played a significant role in their turnaround that has them sitting at 49-30 with three games to go in the regular season.
Derrick White feeling more comfortable in his new surroundings
Theis knew what to expect when he headed back to Boston at the deadline. He played for the Celtics in the first four years of his NBA career.
White came from a small market in San Antonio to one of the biggest in Boston. He knew he had a role to fill. He knew Jayson Tatum and Jaylen Brown were the stars. The Celtics just started to find their groove as White joined. His job was to keep the ball moving on offense and try to keep that momentum flowing.
"It's just fun to play that way," White said, per Mass Live. "Everyone is involved and everyone is touching it and everybody is moving, cutting, stuff like that. It's been fun just to be here and obviously, JT and JB are getting a lot of attention. But for us other guys, it's just to get the ball and attack right away, not hold out and make the right play."
White's shot is coming along now, and he's feeling more at home.
"It's new, just coming in in the middle of the year, something they have already done and played well together," White said. "But now I feel pretty comfortable. I know where I'm supposed to be, where the coaching staff wants me to be, and how to play off my teammates. So I'm feeling good."
White and the Celtics getting ready for their second season
The regular season ends Sunday. Then, the second season begins. Boston has worked its way up the standings and is the No. 2 seed in the Eastern Conference. The Celtics have three games remaining — all on the road.
White and the Celtics have positioned themselves to have a first-round series beginning at home. It's a far cry from three months ago when the playoffs weren't even a certainty.
He isn't focused on that right now. The way he sees it, he has three more regular-season games to keep finding his rhythm and getting more comfortable.
"Just trying to get my rhythm right, just getting more and more comfortable with the team each and every game, and just understanding what the big plan is and the big picture," White said. "So each game is an opportunity to get better and get more used to it and get more comfortable. So that's how I'm taking it."