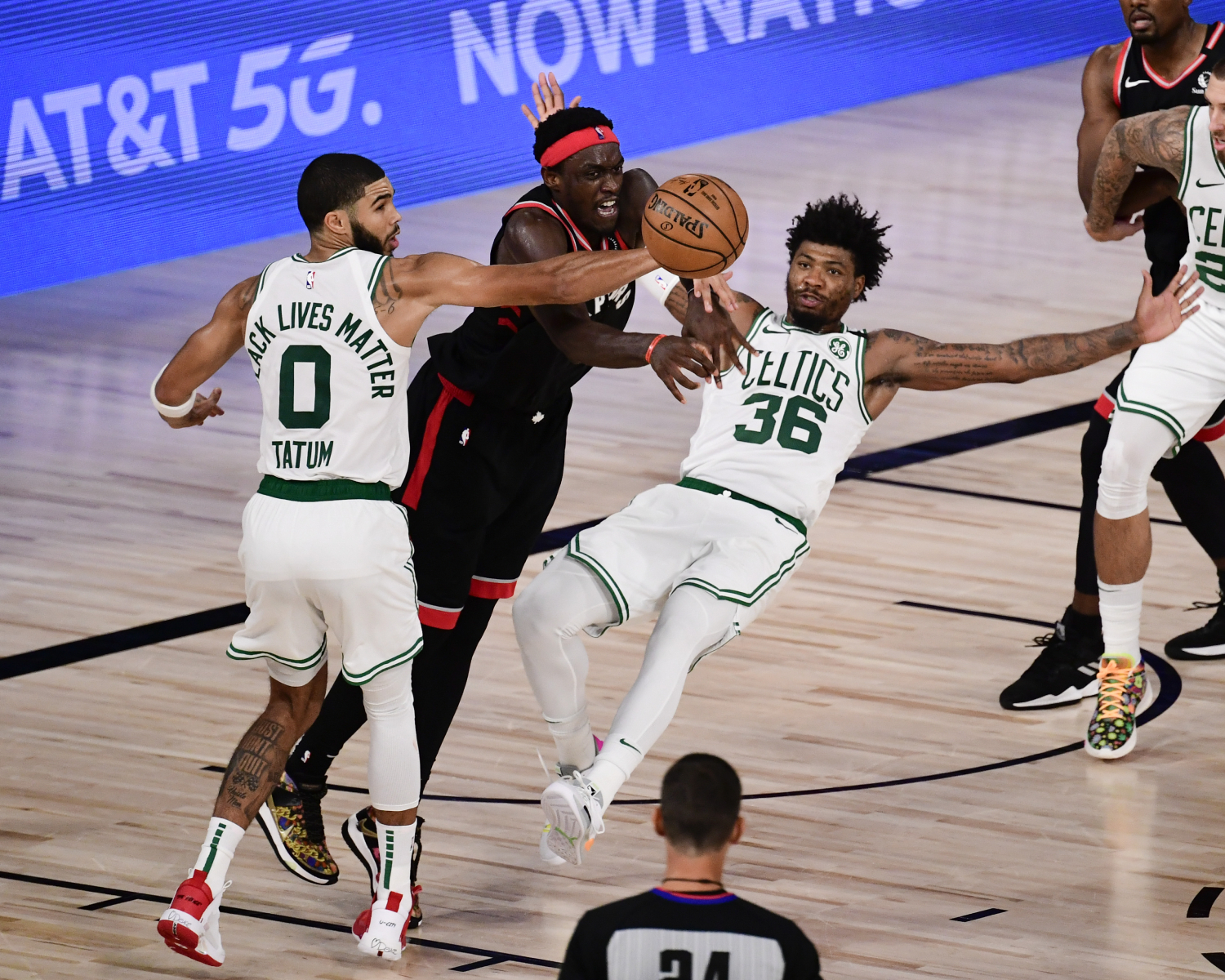 Marcus Smart May Lead the NBA in Flops, but He's the Heart and Soul of the Boston Celtics
Marcus Smart may lead the league in flops, but he has always been the heart and soul of the Boston Celtics.
If he's not on your team, you probably don't like him. Marcus Smart probably won't care. He may lead the NBA in flops, but nobody plays the game any harder than Smart. Smart may not be the most talented guy on the Boston Celtics, but he's definitely the guy that gets them going.
Marcus Smart's NBA career
Marcus Smart played his college basketball at Oklahoma State and was a first-round pick in the 2014 NBA draft. The Boston Celtics selected the 6-foot-3 point guard with the sixth overall pick. For much of his career, Smart has provided that spark off the bench, and that spark usually ignites a fire under his team.
Smart will never lead the league in scoring, rebounding, or assists. But he will lead his team. His all-out hustle will result in a steal. He'll be the guy that will draw the charge, flop or not. Smart brings energy. He brings hustle. He brings the will to win.
Back in 2018, Smart missed six weeks with a thumb injury. Celtics coach Brad Stevens couldn't wait to get Smart back on the floor. "You can look at stat sheets all you want, with Marcus it just doesn't tell the story," Stevens said to The Boston Herald. "It's . . . it's his energy, it's his emotion, it's little plays that turn out to be game-changing plays like diving on the floor."
Smart has come up big for the Celtics in the playoffs
Marcus Smart is known for his energy and hustle, but he has also shown he's capable of hitting the big shots when needed. He just doesn't get the respect from his opponents. In Game 2 when the Boston Celtics defeated the Toronto Raptors 102-99 to take a 2-0 series led, Smart came up big down the stretch.
Smart hit five 3-pointers in the fourth quarter alone to spark the Celtics' victory. While the Raptors were likely focused on not letting Jayson Tatum, Kemba Walker, or Jaylen Brown beat them, Smart hit the daggers that put the Raptors in the hole.
Raptors star Kyle Lowry seemed to be in disbelief that Smart knocked down five 3-pointers in the fourth quarter alone. Lowry was asked if thought the Raptors let one get away. The Raptors' guard laughed and said, "I mean, Marcus Smart made five straight threes," Lowry said. "That was one that was just — it's tough, it's tough to give up five threes."
Former teammate Kyrie Irving used to watch Smart highlights for fun
Marcus Smart is fun to watch. He never takes a play off. His strength is defense, and teammate Jaylen Brown said if there's a loose ball, he'll bet on Smart coming away with it. "Defensively, you see some of those crazy plays," said Jaylen Brown to The Boston Herald in 2018. "If it comes down to it, I had to put my money on anybody — no matter who it is, any sport — I'm putting my money on Smart coming up with that ball."
Former teammate Kyrie Irving said there are times when he just sits in front of a TV and watches highlights of Smart. "I just watched some of (Smart's) highlights in college, as well as some of his playoff highlights, defensively and offensively, and it's just unmatched," Irving told NBC Sports back in 2018.
"So, yeah, in my downtime I watch Marcus Smart highlights," Irving said.