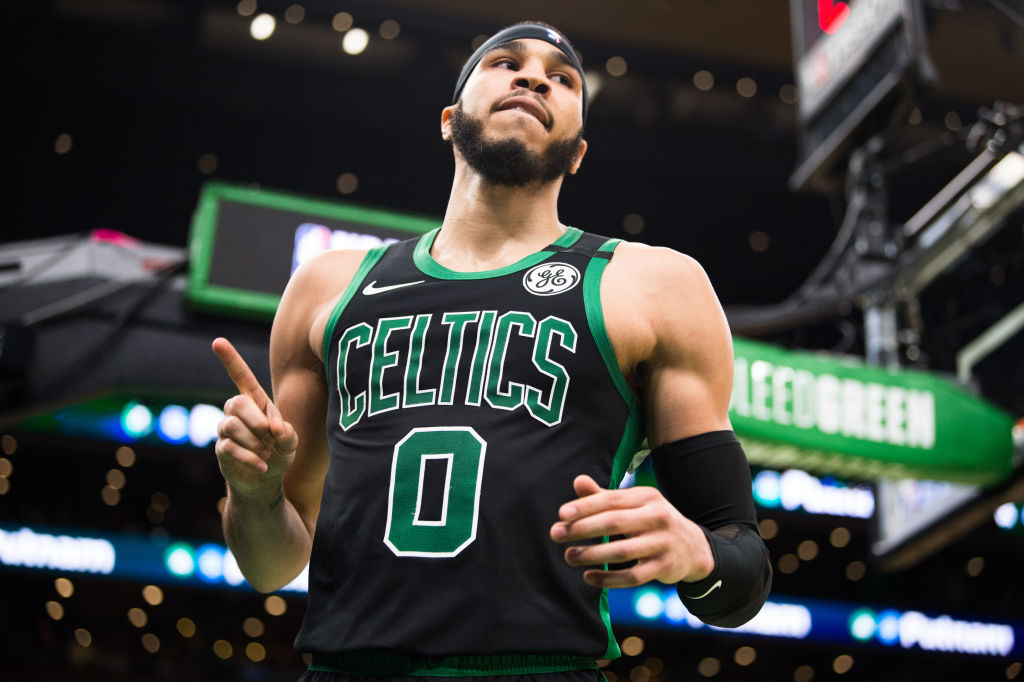 What's Missing From Jayson Tatum's New Tattoo?
Boston Celtics star Jayson Tatum has numerous tattoos. His latest ink is attracting attention for the wrong reason.
Jayson Tatum is having a better year than his tattoo artist. Then again, the Boston Celtics standout is having a better year than a lot of people on the basketball court, so the 6-foot-8 forward may be in a forgiving mood regarding the unfortunate error in his fresh ink.
Jayson Tatum has stepped up his game
A third-year player out of Duke, Jayson Tatum has been a full-time starter and indispensable player for the Boston Celtics, who landed him with the third overall pick in the 2017 draft after trading down from the No. 1 position.
Tatum is having a breakout season for the Celtics, averaging 22.5 points and 7.0 rebounds a game. He's on his way to career highs in scoring, rebounding, assists, steals, and blocked shots playing alongside Kemba Walker and Jaylen Brown. The only 2017 draft pick scoring at a higher clip than Tatum over the first three seasons is Donovan Mitchell of the Utah Jazz.
The fast NBA start for Tatum, who as a rookie became the youngest NBA player to score 20 points in four consecutive playoff games, is an extension of his days at Duke. He averaged 16.8 points and 7.3 rebounds as a one-and-done for coach Mike Krzyzewski.
Before that, he was a scholastic star who led his school to a Missouri state championship as a senior and scored 18 points in the McDonald's All-American Game, where he won the skills competition. He capped his high school career by being selected the Gatorade National Player of the Year.
Tatum is a noted tattoo enthusiast
Many college and pro athletes are fans of body art, but Jayson Tatum's influence came from seeing his father's tattoos. Tatum celebrated the end of his rookie season with the Boston Celtics by getting a thigh tattoo depicting him in a St. Louis Cardinals uniform and holding his infant son.
He also has a tattoo of his mother on his calf, and Tatum added to his collection early last year with an image of his high school and college jerseys overlapping on his calf.
A glitch while celebrating a career milestone
Jayson Tatum is coming off his first appearance in an NBA All-Star Game. Tatum logged only 13 minutes but did contribute six points and three assists on a roster loaded with stars including LeBron James, Kawhi Leonard, Anthony Davis, and Chris Paul.
Tatum added a tattoo to celebrate his All-Star Game appearance – and it's every bit as imposing as the muscular power forward is. He debuted it with 28 points and 11 rebounds in a 127-117 victory.
The tattoo spanning the back of Tatum's rather broad shoulders says "Gods Will." It's a nod to Proverbs 3:5-6, which reads, "Trust in the Lord with all your heart and lean not on your own understanding; in all your ways submit to him, and he will make your paths straight."
It's a powerful statement of religious faith, but Tatum is going to need to roll out version 1.01 of the tattoo at a later date after some touch-up work. If you look closely, "Gods" is missing an apostrophe.