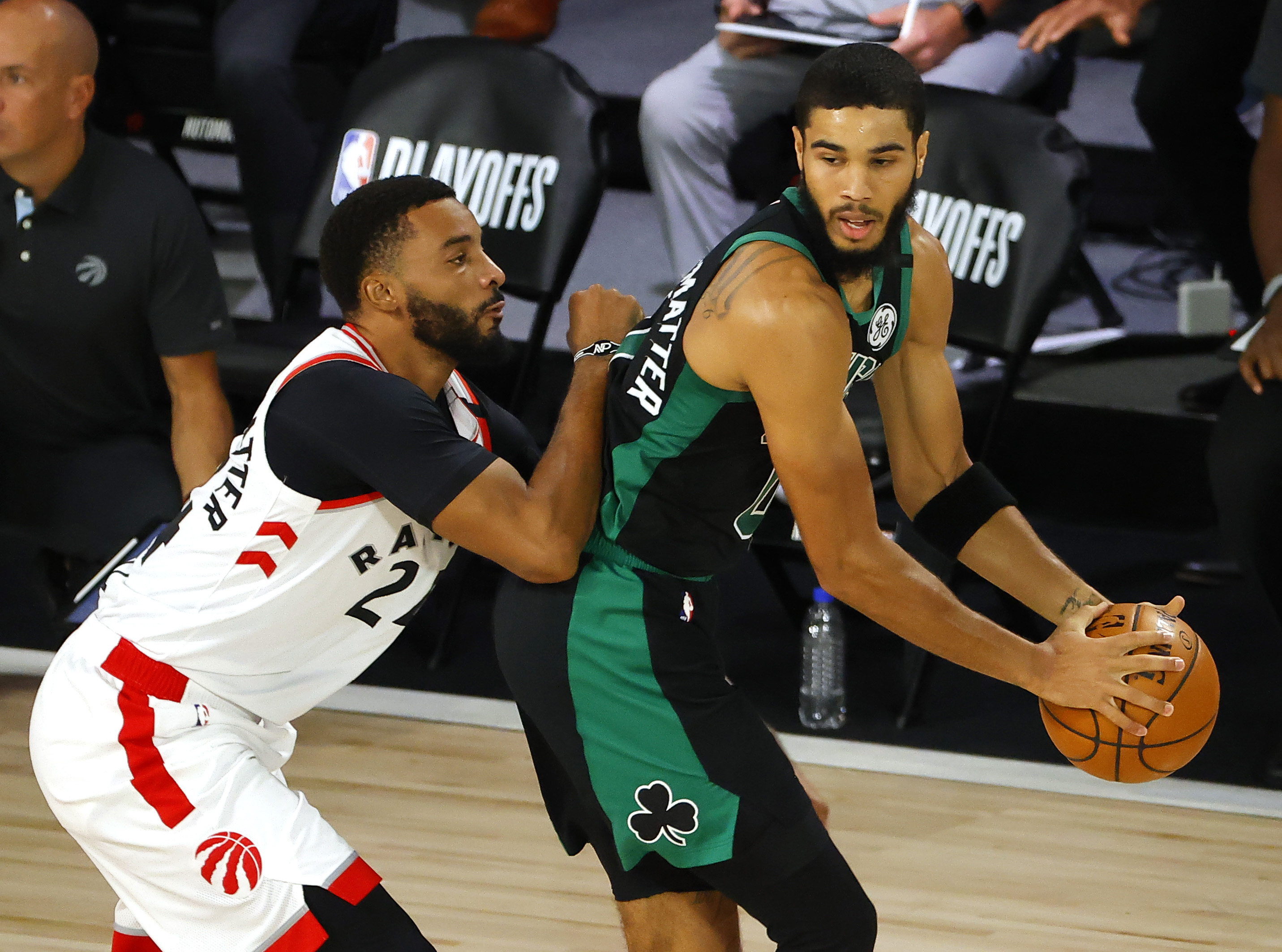 Jayson Tatum Could Be the Best NBA Player Very Soon Says One College Coach
Boston Celtics young star Jayson Tatum might be the best player in the NBA very soon, according to one college coach.
He's only been in the NBA for three years, but young star Jayson Tatum already has some making bold predictions. Tatum is the best player on a young Boston Celtics team that has a very bright future. Once college basketball coach said Tatum could be the best player in the NBA very soon.
Jayson Tatum's rise to stardom
At least two of the Boston Celtics rivals are kicking themselves. Back in 2017, the Philadelphia 76ers had the first pick in the NBA draft and selected Markelle Fultz. The Los Angeles Lakers picked second and grabbed Lonzo Ball. The Celtics followed at No. 3 and scooped up Jayson Tatum.
With apologies to Donovan Mitchell, Tatum has gone on to become the best player in that 2017 NBA draft. The 6-foot-8 forward has emerged as a legitimate superstar in the NBA. His improvement every season has seen him averaged 13.9 points in a solid rookie campaign to 23.4 points in an NBA All-Star season this year.
Tatum has become Boston's go-to player in just his third season. He's becoming more comfortable with the role. His opponents are taking note. "He's more assertive," Los Angeles Clippers star Kawhi Leonard told ESPN after Tatum scored 39 points in a thrilling Celtics win over the Clippers this year. "They are trusting him and he is trusting himself."
Jayson Tatum is about to cash in with the Boston Celtics
The Boston Celtics have a nice core of young players, highlighted by Jayson Tatum and Jaylen Brown. Brown was drafted one year ahead of Tatum and the two have blossomed together. Throw in Marcus Smart and Kemba Walker and Boston's future is extremely bright.
In October, the Celtics extended the contract of Brown, and Tatum is next on the list. Brown signed a four-year extension worth $115 million. Brown's deal came after he averaged 13 points and 4.2 rebounds during the 2018-19 season.
Tatum is coming off his first NBA All-Star season. He put up a career-high 23.4 points per game while averaging seven rebounds. He's put up multiple 30-plus-point games in the postseason this year. Tatum will likely be signing a max deal with the Celtics.
One college coach thinks Tatum will be the NBA's best very soon
Back in Jayson Tatum's hometown of St. Louis, Travis Ford, head coach of St. Louis University, thinks Tatum could be the league's top player in the near future. Ford believes Tatum certainly has the talent, but it's his dedication to the game that sets him apart.
"I think in 2-3 years, we're probably going to consider him maybe the best player in the league," said Ford to the St. Louis Post-Dispatch. "I really believe that, I do. I really believe that.
"I know how hard he works at it. I've seen him in our gym in the summertime. I've seen him working out, so to see somebody who works at their craft and who has already made it to the NBA, but wants to continue to get better every day? And work on his skills? It's very exciting. So really, none of this shocks me. He's obviously turned into a franchise player. He's the type of player you can build NBA teams around. I still think he's got so much growth (in him) to even continue to get better."