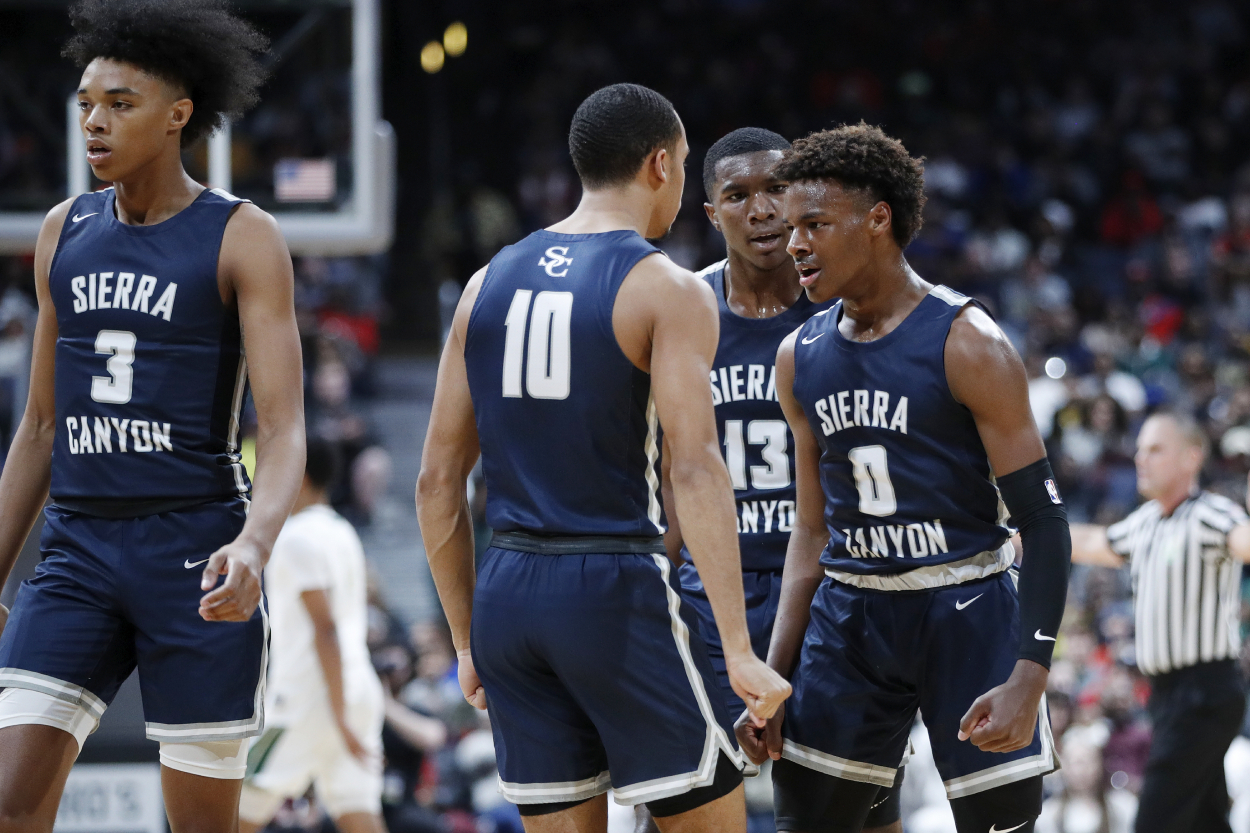 Bronny James' Status in Limbo After Devastating Knee Injury
Bronny James, the son of Los Angeles Lakers star LeBron James, suffered what appears to be a season-ending injury.
Those wanting to watch Bronny James, son of Los Angeles Lakers star LeBron James, continue his high-profile high school basketball career will have to wait. Multiple sources have confirmed to The Los Angeles Daily News that Bronny James recently had surgery and is resting comfortably after suffering a knee injury. The incident reportedly took place three weeks ago and his status is up in the air.
Bronny James is a rising star
Bronny James is in his sophomore year at Sierra Canyon School and has been under a microscope since he walked through the door. Being the son of LeBron James will attract a crowd and Bronny has so far been able to handle what comes with being the son of one of the greatest NBA players of all-time.
As a freshman, Bronny wasn't the star by any means. Sierra Canyon is a national power, but he managed to play 15 minutes per game, according to ESPN. The 6-foot-2 guard averaged 4.1 points per game a year ago.
According to 247Sports.com, James is a five-star-rated recruit for the class of 2023. He is ranked 19th nationally — regardless of position. He also is the No. 4-rated combo guard in the country.
Bronny James has been highly scrutinized
Being the son of an NBA legend has its perks. It also has its downfalls. For someone who didn't average five points per game a year ago, Bronny James hs heavily followed.
"He's a great young man, he doesn't let anybody faze him," said Bronny's Sierra Canyon teammate Ziaire Williams in an article in the Hartford Courant in January of 2020. "You'd be surprised all the stuff he has to go through. It's not fair, but he doesn't let it faze him."
As a 14-year-old, Bronny was unfairly drawing comparisons to his father. Bill Landis of The Athletic wrote, "He's similar to his dad with his apparent calmness in overwhelming moments and in his ability to facilitate, but he's totally different physically. Where LeBron is a bruising point forward who can realistically play five positions, Bronny is a slighter 6-foot-2 guard who keeps his game mostly resigned to the perimeter."
James' status is uncertain after tearing his meniscus
Bronny James has been the talk of high school basketball because of his play on the court. Now he's the center of attention because he's been forced off it. According to The Los Angeles Daily News, Bronny suffered a torn meniscus and has recently had surgery.
The injury reportedly occurred three weeks ago and is believed to be season-ending. Because of the coronavirus (COVID-19), Sierra Canyon hasn't been able to play any basketball games this season but is hoping to play a spring season. While playing video games, Bronny announced the injury on his Twitch channel.
According to ESPN, LeBron James and partner Maverick Carter are producing a docuseries on Sierra Canyon's 2019-20 season, "Top Class," featuring Bronny and his teammates.