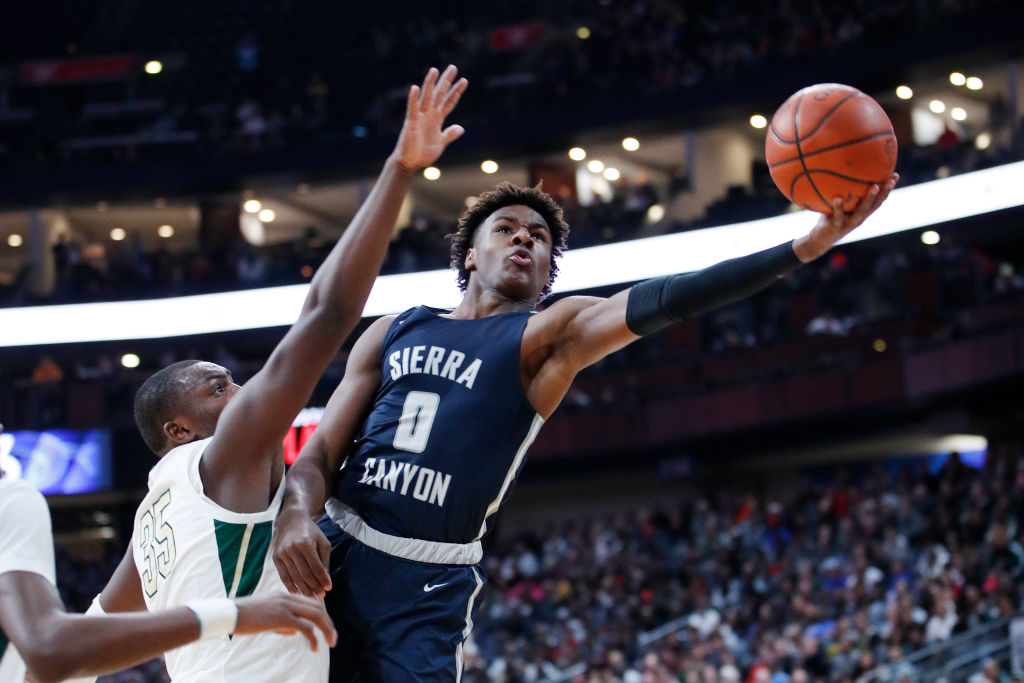 It's so Unfair to Compare Bronny James to LeBron James, but It's Happening
It's so unfair to compare a 15-year-old Bronny James to his father, NBA legend LeBron James, but it's happening.
You have to feel for Bronny James. Yes, he's the son of LeBron James and has more perks than most 15-year-olds, but the expectations are high. He's got a very bright future ahead of him in the basketball world, but will he ever be good enough? The hype is there and so are the scouts. So are the reviews. The world was out to see him during his high school freshmen season and the crazy reviews were in.
LeBron James has set the bar high
The positive for Bronny James is that he gets to learn from one of the best players to ever take the court in the NBA. The negative is that he will always be compared to his father, LeBron James. LeBron is in his 17th season in the NBA and is still going strong at age 35. He, along with Milwaukee Bucks star Giannis Antetokounmpo, was a co-favorite to win the MVP this season.
LeBron James came into the league in 2003 when he was the first pick in the NBA draft. Drafted right out of high school, James made an immediate impact, winning Rookie of the Year and averaging 20.9 points per game. Every season since his rookie year, James has been an NBA All-Star.
LeBron James, always included in the NBA's GOAT talk, is a four-time MVP and a three-time NBA champion. He was the league's scoring champion during the 2007-08 season when he averaged 30 points per game. Defensively, he's been a standout. James has been named to the NBA's All-Defensive Team in six seasons.
Bronny James under the microscope
Bronny James was thrown right into the fire. He knew the attention would be there. He knew there would be media scrutiny, but he has handled it well. "He's a great young man, he doesn't let anybody faze him," said Bronny's Sierra Canyon teammate Ziaire Williams in an article in the Hartford Courant in January. "You'd be surprised all the stuff he has to go through. It's not fair, but he doesn't let it faze him."
Playing for Sierra Canyon, a private school in Los Angeles, and being the son of an NBA legend, Bronny played in front of packed houses throughout his freshman year. While Sierra also had two top-10 high school prospects on the team, along with the son of Dwyane Wade, the fans were there to see Bronny.
What Bronny does have going for him is his poise. Whether he was that mature for a 14-year-old freshman or whether he was just used to growing up with a famous father, Bronny played it cool. "He's a very normal kid, a very mature kid," said Tarek Fattal, who covers Sierra Canyon for the L.A. Daily News. "Despite everyone wanting to be here for him, he understands it's bigger than him."
Bronny's unfair comparisons to LeBron
Last May, Bronny James participated in a highly anticipated U15 tournament in Indianapolis. The place was jam-packed and filled with scouts and recruiting experts. Here's what some of them had to say, according to an article in USA Today.
"While Bronny was by no means the best player on the floor, he showed a high level of skill for a 14-year-old," said Pat Forde of Yahoo! Sports. "The 6-foot-2 guard doesn't have his father's imposing size or overpowering athleticism, but he does possess a smooth shooting stroke and handle. Bronny scored 11 points while forcing nothing." Bronny shouldn't have his father's imposing size because he was a 14-year-old at that time of assessment.
Here's another from Bill Landis of The Athletic: "He's similar to his dad with his apparent calmness in overwhelming moments and in his ability to facilitate, but he's totally different physically. Where LeBron is a bruising point forward who can realistically play five positions, Bronny is a slighter 6-foot-2 guard who keeps his game mostly resigned to the perimeter." The fact that both compared Bronny to LeBron's size is just pure craziness. The hype will always be there for Bronny, but luckily he's above that.