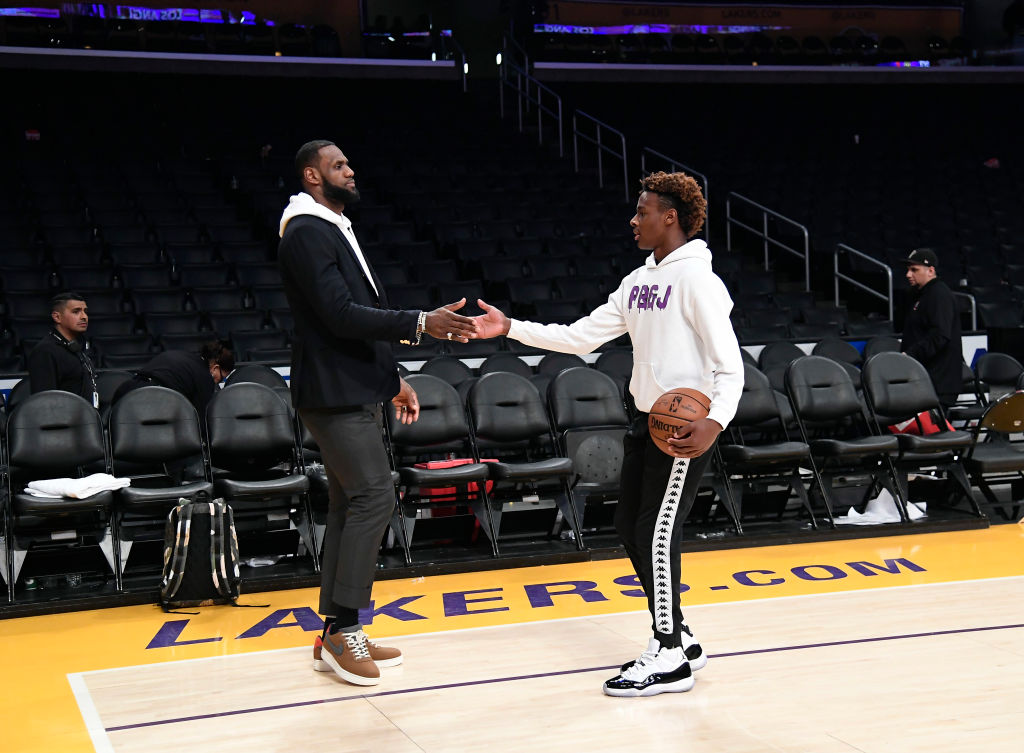 Lebron James Regrets Giving His Son Bronny Such a Distinctive Name
LeBron James' life seems pretty perfect but even he has some regrets. The Lakers forward wishes he didn't name his son Bronny after himself.
From afar, LeBron James seems like he's leading a pretty perfect life. On the hardwood, he's arguably the biggest star since Michael Jordan; away from the court, he's worth hundreds of millions. Even King James, however, has some personal regrets. One of them relates to his son, LeBron Jr., more commonly known as Bronny.
While Bronny has already become a star in his own right, LeBron wishes that he could have done things differently. In fact, he regrets giving his son his distinctive name.
LeBron James' basketball and personal success
Growing up in Ohio, LeBron James faced adversity from an early age. While he "saw drugs, guns, killings," he would emerge from the situation as one of basketball's brightest stars.
Once James hit the hardwood, however, he became a star. During high school, his games became appointment viewing on ESPN; after the Cleveland Cavaliers selected him with the first overall pick in 2003, he became an Ohio hero.
Although there may have been some missteps along the way—The Decision rubbed Cavs fans the wrong way—King James has lived up to his crown. When the 2019-20 campaign was suspended, James was wrapping up his 17th professional season; he's won three titles, four MVP awards, and is still going strong at age 35.
As you'd imagine, LeBron has also found plenty of success off the court. He's made more than $300 million in salary; he's also an investor, a businessman, and has a lifetime deal with Nike. On a personal level, he's also a family man with a wife and three children.
LeBron regrets giving Bronny his distinctive name
Despite his star status, LeBron James has the same emotions as every other parent. Even though he's one of the greatest basketball players of all-time, he still stresses out watching his children's basketball games.
"I'm sitting there, and I'm watching the game, and I feel my hands just start sweating, I feel my chest start sweating," James said on a 2018 episode of The Shop. "I'm like, what is this? 10-year-olds out here hooping, why you feeling like this? Then it went from just sitting there … then it went from me sitting on the bench to me getting in an argument."
The conversation then turned to the pressure that LeBron's children face; basketball is more than a game when you're related to a living legend. That prompted LeBron to make a surprising revelation about his son Bronny.
"I still regret giving [Bronny] my name because of that [pressure]," LeBron explained. "When I was younger, I didn't have a dad, so my whole thing was when I have a kid, not only is he gonna be a junior, I'm gonna do everything that this man didn't do. They're gonna experience things that I didn't experience."
Bronny James is already living up to his father's legacy
Lebron went on to explain that, "The only thing [he] can do is give [his children] the blueprint, and it's up to them to take their own course whenever that time comes." While it's not clear what that blueprint is, it's safe to say Bronny James is following it to a tee.
Handling high school is already hard enough, but Bronny is doing that while playing in front of sold out gyms and ESPN cameras. Despite that pressure, he's receiving rave reviews from both scouts and teammates. "You'd be surprised by all the stuff Bronny has to go through," Ziaire Williams, a five-star recruit on the Sierra Canyon squad, explained. "It's not fair, but he doesn't let it faze him at all."
For better or worse, Bronny James will live the rest of his life bearing LeBron's name. Thankfully, he seems well equipped to deal with any issues that might bring.