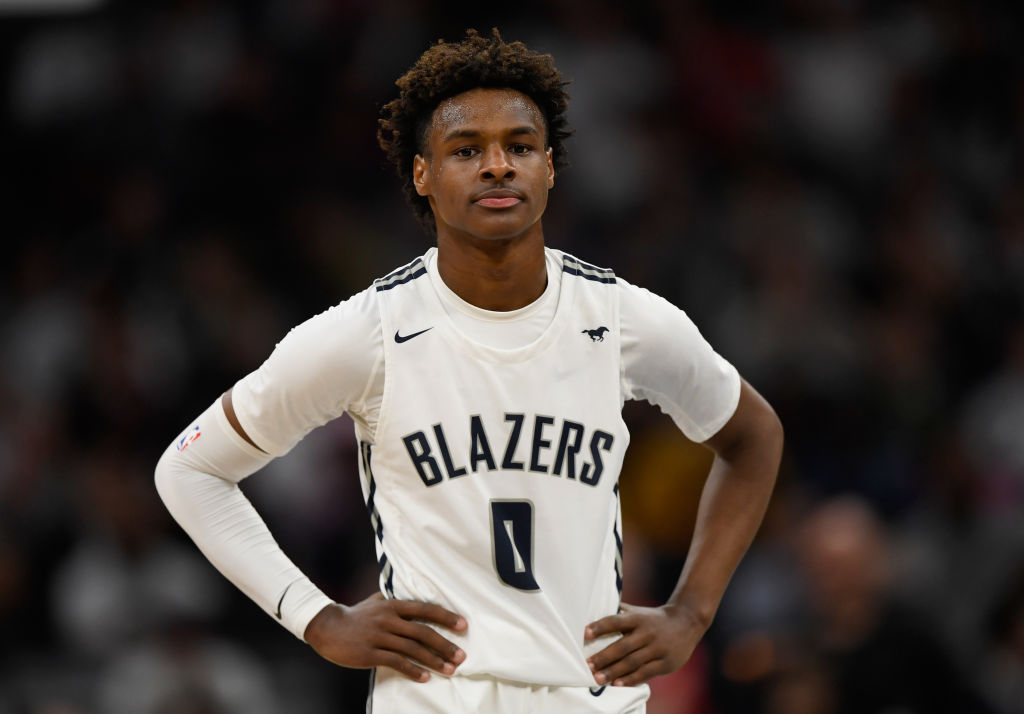 1 Lakers Legend Believes That Bronny James Can Be a Better Player Than Lebron
Bronny James is still in high school, but one Los Angeles Lakers Legend thinks that he can be a better NBA player than LeBron.
Whether you're a fan of the Cleveland Cavaliers, Miami Heat, or Los Angeles Lakers, it's hard to argue with LeBron James' place in the basketball pantheon. While you might take issue with some of the forward's decisions, there's no denying that he's one of the best players ever to hit the hardwood. But what if King James isn't even the best player in his own family? Bronny James could be gunning for that crown.
LeBron's son, Bronny, might only be in high school, but he's already garnering national attention. In fact, one Lakers legend thinks that the teenager is already better than his dad.
Bronny James is already a big name on the basketball court
While it might seem like an eternity ago, LeBron James first burst onto the national stage during his time in high school. Bronny James is already following in his father's footsteps.
Bronny only turned 15 in October, but he already has quite the basketball resume. The teenager has been winning school and AAU tournaments for years and garnered national attention with a highlight reel in 2014. He already has at least one scholarship offer on the table, and several other schools are interested in his talents.
James currently suits up for the Sierra Canyon School, playing alongside Zaire Wade, son of LeBron's former teammate Dwyane, and two other five-star recruits. Their team will appear on ESPN 15 times this season and is already playing in front of thousands of fans, but Bronny doesn't need any more exposure. With 3 million Instagram followers and a pretty famous father, he's already on his way to stardom.
Just how good is Bronny James?
Predicting how athletes will develop is never easy, but it seems like a safe bet that Bronny James will grow into a capable basketball player. While the stats aren't always there, the teenager is already impressing plenty of scouts.
In December, Paul Biancardi, ESPN's National Recruiting Director and NBA Draft analyst, tweeted that Bronny's jumper is better than his dad's shoot was during his time high school; LeBron agreed with the assessment in a tweet of his own. Other observers, however, have noticed something less tangible.
"I first saw him last summer and was struck by his poise and ability to navigate all the craziness around him," Eric Bossi of Rivals.com explained. "That poise is still there and Bronny has now grown to 6-foot-2, has a great frame, is a budding athlete and has the game to play at the point or shooting guard position.
Magic Johnson thinks a new King James could be coming to power
Few players in NBA history possessed the talent and showmanship of Magic Johnson. The Lakers legend knows good guard play when he sees it; he even thinks Bronny James could become a better player than LeBron.
"I think [he could be better]," Johnson told TMZ Sports. "You hope so, anyway. Normally what happens is sometimes with all that skill and talent that LeBron has, it passes to his son."
"I think that he has a chance to be unbelievable and either just as good as his dad or a little better," the Lakers legend continued. "But, that's big shoes to fill though. LeBron is playing awesome right now. MVP of league right now."
As Magic righty explained, it's tough to project how a teenager will develop. Bronny, however, has plenty of talent and some impeccable genes; if he turns out to be even half the player LeBron is, he'll still have quite the NBA career.