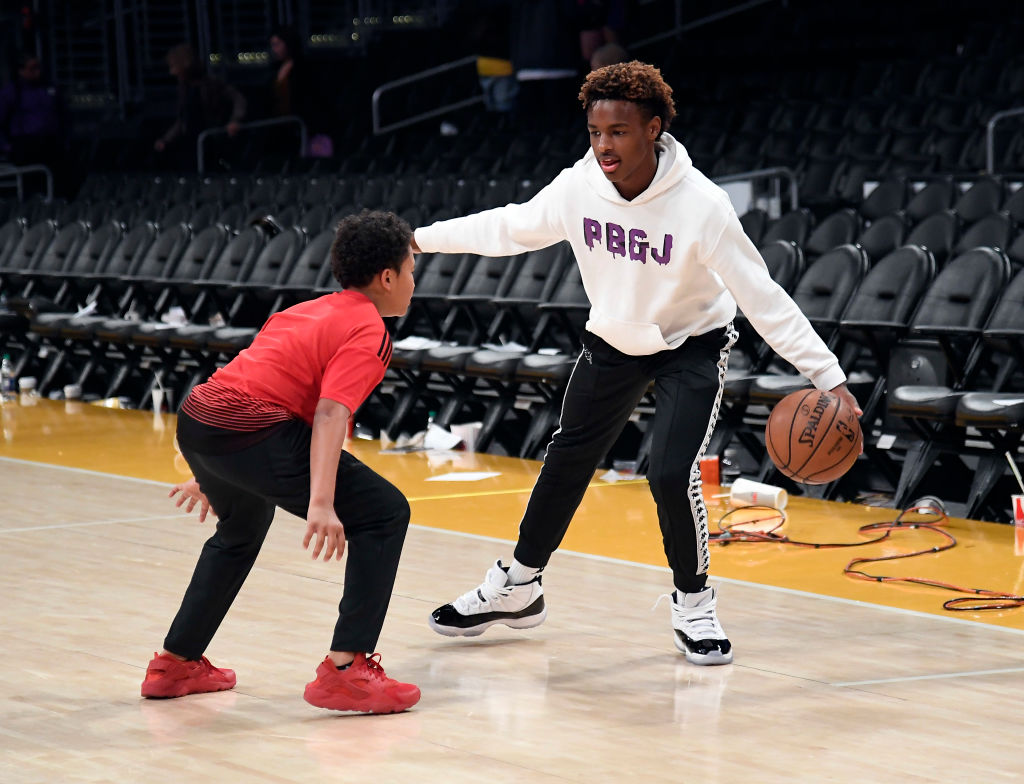 Is Bronny James Already a Better Shooter than LeBron?
Bronny James is already making national news. Could the teenager already have a better jump shot than his dad, LeBron?
During his time in the NBA, no one has been as dominant as LeBron James. No matter who else burst onto the scene—whether it's a sharpshooter like Steph Curry or a young stud like Luka Doncic—LeBron always seems to retain the crown as the league's top dog. Someone could be coming for that title, however: his son, Bronny James.
While Bronny is only in high school, he's already making news with his basketball prowess. Could he already be a better shooter than his dad?
Bronny James' young basketball career
While it's easy to write "like father, like son" off as a cliche, Bronny James seems pretty intent on following in LeBron's footsteps. He might be young, but there's no doubt about his pedigree or potential.
Despite only turning 15 years-old in October, Bronny already has an impressive basketball resume. He's been winning tournaments, both with his school teams and in AAU competition, for years; he first garnered national attention with a highlight reel in 2014 and has only increased in stature since. He's also reportedly been receiving college scholarship offers since 2015, which LeBron apparently didn't appreciate.
Bronny is currently hitting the hardwood for Sierra Canyon School, where he's teaming up with Zaire Wade, son of LeBron's former teammate Dwyane, and two other five-star recruits. Based on that star power, the team will appear on ESPN throughout their season, but Bronny doesn't need any help making headlines; he already boasts over 3 million Instagram followers and a pretty famous father.
Bronny's impressive shooting touch
Bronny James might be young, but his talent is already apparent. While he's more than capable of throwing down a massive dunk like his dad, one aspect of James' game is also catching the eye.
Bronny is also capable of stepping out onto the perimeter and knocking down an outside jumper. While that makes sense—right now, he's only listed as a lean 6 feet, two inches tall and simply doesn't have the body to dominate the paint—it's still encouraging to see. In the modern NBA, even big men need to stretch the floor; if Bronny is already developing a shooting touch, that's one fewer adjustment he'll have to make as he develops.
Paul Biancardi, ESPN's National Recruiting Director and NBA Draft analyst, has already taken notice of Bronny's jump shot. In a recent tweet, he stated that the younger James is a better shooter than LeBron was during his time high school; the senior James even chimed in, saying both Bronny and his third son, Bryce Maximus, are both deadly from the outside.
Will any James be better than LeBron?
Based on what we've seen so far, Bronny James looks set to have a quality basketball career. Outdoing LeBron, however, is a different matter; while we might take the senior James for granted, he's one of the greatest players of all-time. There's no shame in failing to live up to his standard.
Bronny's shooting touch, however, does bode well for his future prospects. If there was any knock on LeBron during his early career, it was his mediocre outside shooting; if his son has already honed his knock-down three, defenders will have to respect that all the way through the high school, college, and professional ranks.
When you're comparing high school careers, Bronny is a better shooter than LeBron. Outdoing him as an overall player, however, will be a different story.