Is LeBron James Having the Best Age 35 Season in NBA History?
To say LeBron James has had one of the best careers in NBA history is no stretch, but what he's doing in his age 35 season is historic.
With Anthony Davis teaming up with him, LeBron James is having an extraordinary start to the 2019-20 season, while leading the Lakers to the best record in the West. When we did our analysis on the Los Angeles Lakers hiring Frank Vogel as their new head coach, we understood that he would bring a sense of urgency to the defensive end of the floor for the entire roster. The remarkable thing about LeBron's stellar start is that he is doing it at the age of 35. Today we will ask the question: Is he having the best season for a player over the age of 35?

LeBron James' career highlights
LeBron was the face of the NBA even before arriving in Los Angeles. He won two NBA championships with the Miami Heat, and he helped pull off one of the greatest comebacks in NBA history, as the Cavaliers defeated the 73-9 Golden State Warriors by coming back from a 3-1 deficit. 

James is a 15-time All-Star, made the All-NBA team 15 times, and is a four-time league MVP. To say he's had one of the best careers in NBA history is no stretch. But what he's doing with the Lakers in 2019-20 might be his most impressive achievement yet.

LeBron's strong start to year two in L.A.
After dealing with injuries to both LeBron James and Lonzo Ball, the Lakers faltered to a 12th-place finish in the Western Conference. There was a lot of doubt heading into the 2019-20 season for the Lakers, but LeBron has silenced many of the critics as he enjoys one of his best seasons. 

He is averaging 25 points, 10 assists, and seven rebounds per game, while also shooting nearly 50% from the floor. He is also putting a 27.2 PER (player efficiency rating), which is slightly ahead of his career average of 26. Oh, and he helped the Lakers race out to a 19-3 start.

Notable seasons for players over 35
Outside of LeBron James playing at such a high level, there are a few other Hall of Famers who put up good numbers over the age of 35. The players we're about to meet played well in the back half of their 30s, but not anywhere close to LeBron's level.

Steve Nash (37), Los Angeles Lakers
Where would you put Steve Nash on the list of all-time great point guards? The two-time MVP seemed to make everyone on his teams better, and that included his Suns teammates during his last season in Phoenix in 2011-12 when he turned 37. All Nash that year was put up 12.5 points and 10.7 assists per game. His per-game average was No. 2 in the league that season.

Tim Duncan (36), San Antonio Spurs
The "Big Fundamental" was one of the most consistent players the NBA has ever seen. The figurehead of the Spurs dynasty once David Robinson retired, Duncan would go on to put up 17 points and 9.9 rebounds per game in 2013. 
When it comes to dominant post players, Duncan was clearly one of the game's best even at the tail end of his career.

Kevin Garnett (36), Boston Celtics
After helping Boston win an NBA championship in 2008, Garnett continued to be a force on both ends of the floor. At the age of 36, he averaged almost 15 points per game, while pulling down nearly eight rebounds in 30 minutes of play. The Celtics were a team on the decline with Paul Pierce, Garnett, and Ray Allen, but there's no denying he still put up big numbers.

Is LeBron having the best season of them all?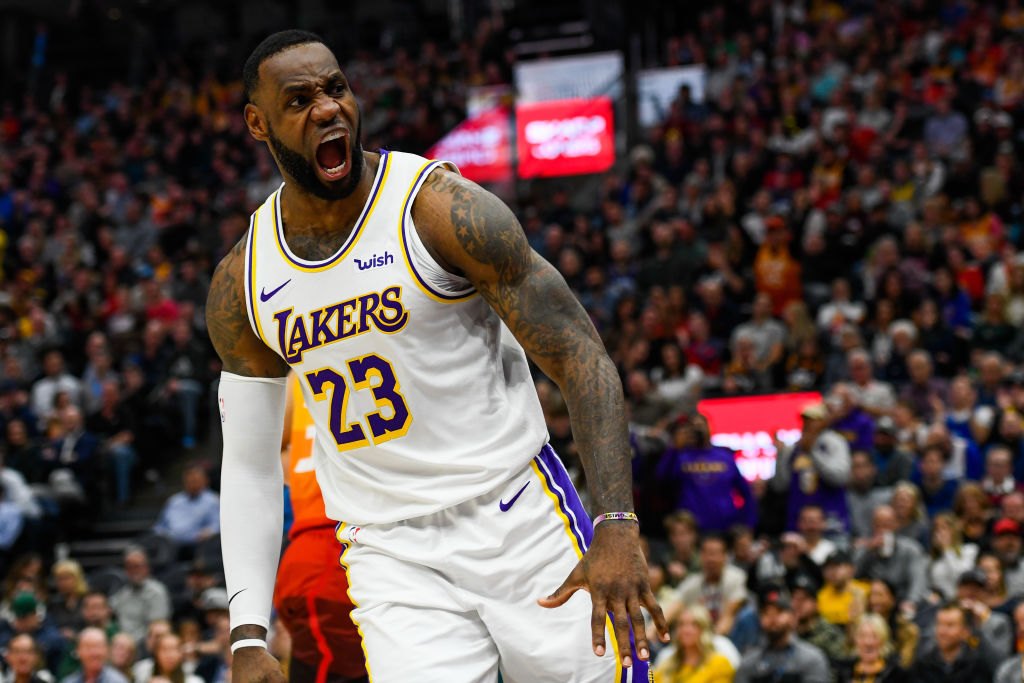 Can LeBron keep up this current pace throughout the rest of the season? Injuries were a big part of the Lakers' downfall last season, but James looks completely healthy this year, and the proof is in the numbers he's putting up as the Lakers steamroll their opponents. 

The topic of load management is a prominent one, but LeBron has maintained that he will play all 82 if healthy. However, we believe he'll have to rest at least a few games. Any small injury could derail the Lakers' chances at a championship.