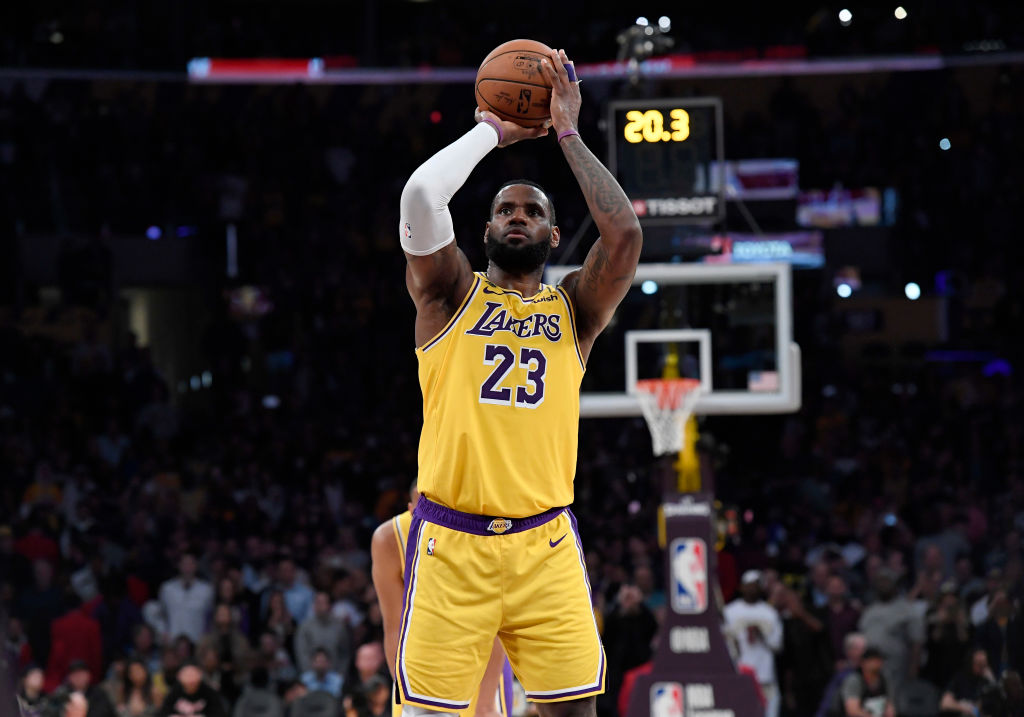 Why Al Harrington Believes LeBron James 'the Best Player,' Ahead of Michael Jordan
Everyone has their own opinion on the Michael Jordan vs LeBron James debate. Al Harrington recently placed himself on the latter side.
Every sports fan has their pick for the greatest player of all time. In the world of basketball, however, there are two main choices: LeBron James and Michael Jordan. While you can make a case for either man to claim the title, Al Harrington has more insight into the world of professional basketball than your average fan.
On a recent podcast, the former NBA forward weighed in on the eternal question or LeBron or Michael Jordan. Harrington picked the former, hailing him as "the best player" ever.
LeBron James vs. Michael Jordan
Before launching into any debate, it's important to establish the facts. One thing that everyone can agree on, however, is Michael Jordan and LeBron James' status as two of the greatest basketball players ever.
LeBron burst onto the national scene when he was still in high school and has only continued to improve. While the forward is an elite scorer—his career total sits third all-time, only trailing Karl Malone and Kareem Abdul-Jabbar—he's far from one dimensional; James is also a skilled passer and rebounder, seemingly capable of doing virtually anything on the court. Perhaps even more impressively, LeBron is also capable of lifting any team into title contention.
Before James too center stage, though, Michael Jordan redefined the game of basketball. While he failed to make his high school varsity team at the first attempt, His Airness was destined for greatness. He won a National Championship at the University of North Carolina before moving on to the NBA; while he had some issues getting past the Detroit Pistons, MJ and the Bulls grew into an unstoppable force. While his stats and accomplishments speak for themselves, Jordan also became a cultural icon. From slam dunks to sneakers, the modern NBA would look incredibly different without him.
Why Al Harrington favors LeBron James
On a recent episode of the "All The Smoke" podcast, Al Harrington weighed in on the LeBron James-Michael Jordan debate. While he hedged his bets a bit, he gave LeBron the edge due to his longevity and versatility.
"LeBron is the best player because you talk about the best basketball player and not just the best killer instinct," Harrington explained. "The fact he can play all five positions, and he has done this s–t for 17 years consistently with no drop off at any time."
Despite James' all-around dominance, Harrington still had to hedge his bets. If he needed one player to build around, it would still be Jordan.
"If you ask me if I want to start an organization and I need a bad motherf—er, I'm going with Mike," Harrington continued. "Outside of that, it's LeBron hands down over Magic, Bird, and all of them."
Michael Jordan himself might have had the best answer, though
Earlier this year, Michael Jordan was asked about comparisons between himself and LeBron James. While his answer might not have been exciting, it did make a good point.
"We play in different eras," Jordan said at an NBA press conference in Paris, France. "He's an unbelievable player. He's one of the best players in the world, if not the best player in the world. I know it's a natural tendency to compare eras to eras, and it's going to continue to happen. I'm a fan of his, I love watching him play."
"I think he's made his mark," His Airness continued. "But when you start the comparisons, I think it is what it is. It's just a stand-up measurement. I take it with a grain of salt. He is a heck of a basketball player without a doubt."
Although debates over historical greatness will never go away, Jordan's response can provide some perspective. While it's perfectly acceptable to break down the stats and delve into hypotheticals, we shouldn't miss the forest through the trees. Michael Jordan was great, LeBron James is great, and plenty more players will be great. That reality isn't mutually exclusive.