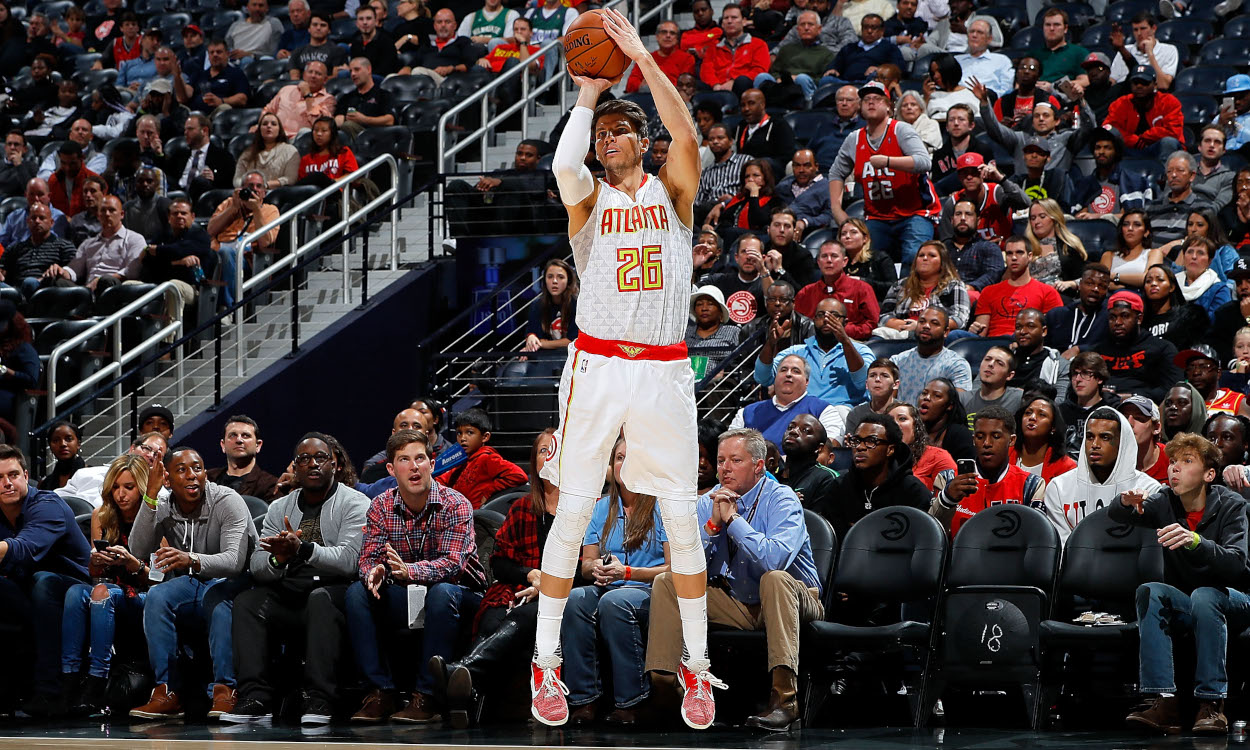 The Brooklyn Nets Bring Back Legendary Shooter They Once Traded for a Copy Machine
Kyle Korver brings one of the best 3-point shooting strokes in NBA history to his role as a player development coach for the Brooklyn Nets. Pretty good stuff from a guy once traded for a copy machine.
Kyle Korver beat the odds to become an NBA All-Star. The 51st overall pick out of Creighton University in 2003, Korver never officially retired, but he did not play in 2020–21. His 17-year career appears to be over for good, given his new role as a player development coach for the Brooklyn Nets.
Korver joined the staff in August 2021. He's 10th all-time in 3-point shooting with a 42.9% career mark, while his 2,450 made 3s put him in the top five in NBA history. Now he'll be tasked with training the next generation of sharpshooters what he learned after nearly two decades of catching and shooting for six NBA teams.
Kyle Korver putting his theories to the test already with the Brooklyn Nets
This summer, Kyle Korver spent significant time working with one of the Brooklyn Nets' young players, big man Nicolas Claxton. According to Alex Schiffer of The Athletic, Korver has been trying to unlock Claxton's outside shooting touch. The 22-year-old lefty has struggled to find consistency away from the rim. Last season, he shot 76.2% from point-blank range and 29.6% from anywhere else on the floor.
That included taking a mid-range bagel in five attempts and hitting just 1-of-5 from beyond the 3-point line. But Claxton's been a willing student and says Korver's methods are easily applied.
"Everything that he does is easy for me to understand," Claxton said. "Of course, his body of work, what he did, speaks for itself. But everything is relatable. He knows how to get through."
In two seasons at the University of Georgia, Claxton showed an off-and-on touch from the shorter collegiate 3-point line, hitting 30.2% on 1.3 attempts per game over 65 contests.
Long and athletic, Claxton is 6-foot-11 with a 7-foot-2 wingspan. His slight frame makes him quick, but he's going to have to find places to score outside of the paint because of it.
Korver has come a long way from an infamous draft-night trade
The Brooklyn Nets might have one of the most lavish payrolls in the NBA now, but it wasn't long ago that the organization ran on a shoestring budget. While still in New Jersey, the club was coming off back-to-back losses in the NBA Finals when they selected Kyle Korver in 2003.
The Nets never even tried to bring Korver to camp. Instead, shortly after selecting him, they swapped him to the Philadelphia 76ers for $125,000 cash. He told the story during a commencement address at Creighton, per the New York Daily News:
"I'm not sure if 'traded' is the right word; I was more or less sold for an undisclosed amount of money. I later found out that they used that money to pay for the entry fee for the Summer League team, and with the leftover money, they bought a copy machine. But it's OK because a couple of years ago, that copy machine broke."
Yes, much like Ed Monix in Semi-Pro lamented his trade for a washing machine, Korver enjoys sharing his humble NBA beginnings.
He turned out OK for a guy traded for office equipment. Nets sharpshooter Joe Harris joined an exclusive club last season when he led the NBA in 3-point percentage for the second time in his career. Craig Hodges, Jason Kapono, and Steve Kerr are the only other players with two sharpshooting titles.
As for Korver? Yeah, he did it four times, including an NBA record of 53.6% with the Utah Jazz in 2009–10.
Former teammate says teaching is a logical next step for Kyle Korver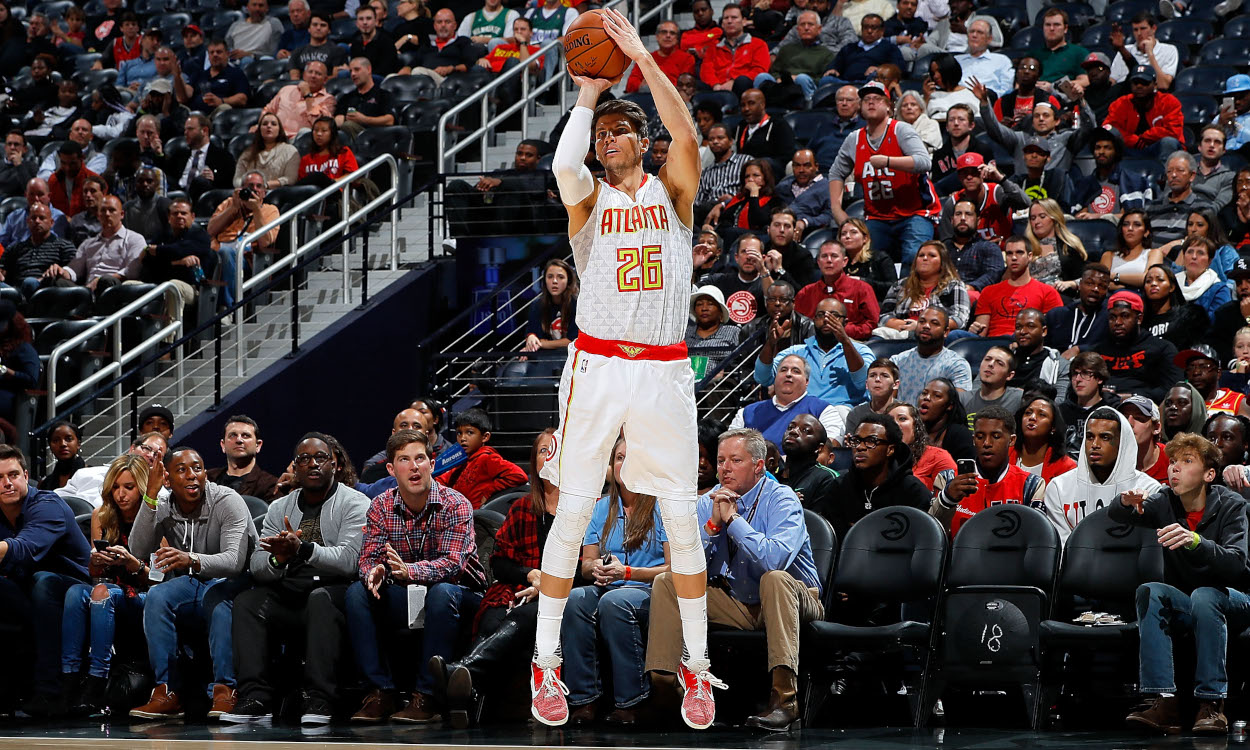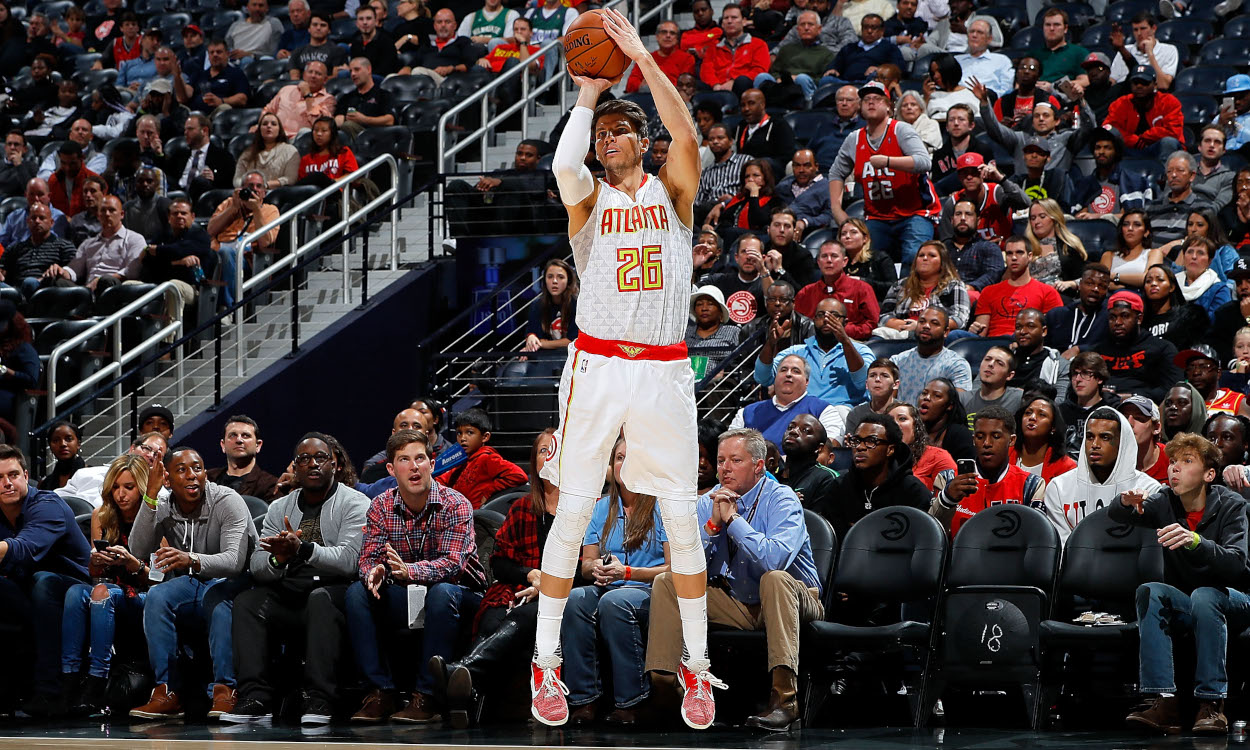 Anthony Tolliver arrived at Creighton the year after Kyle Korver left. But they were teammates for a season with the Atlanta Hawks, and Tolliver reached out to Korver about a teaching role at ProClass. It's a company that allows professional athletes to teach what they know best. Tolliver said his friend took to it and wanted more.
"It's cool that I can go on there and teach people how to shoot, but I want to do more," Tolliver remembered Korver saying. "I want to teach more and go deeper."
As for Brooklyn Nets coach Steve Nash, Korver's status as an all-time great shooter is beside the point. He can teach, and that's what interested Nash.
"It really doesn't matter how good a shooter he was," Nash said. "He's a teacher, a natural teacher. I think he has great methodology with the way he teaches and instructs. Kind of a deep learning and real purpose with why he teaches the way he does."
And if Kyle Korver can teach the Brooklyn Nets to duplicate his shooting success, it'll be better than any photocopier could ever be.
Statistics courtesy of Basketball Reference.