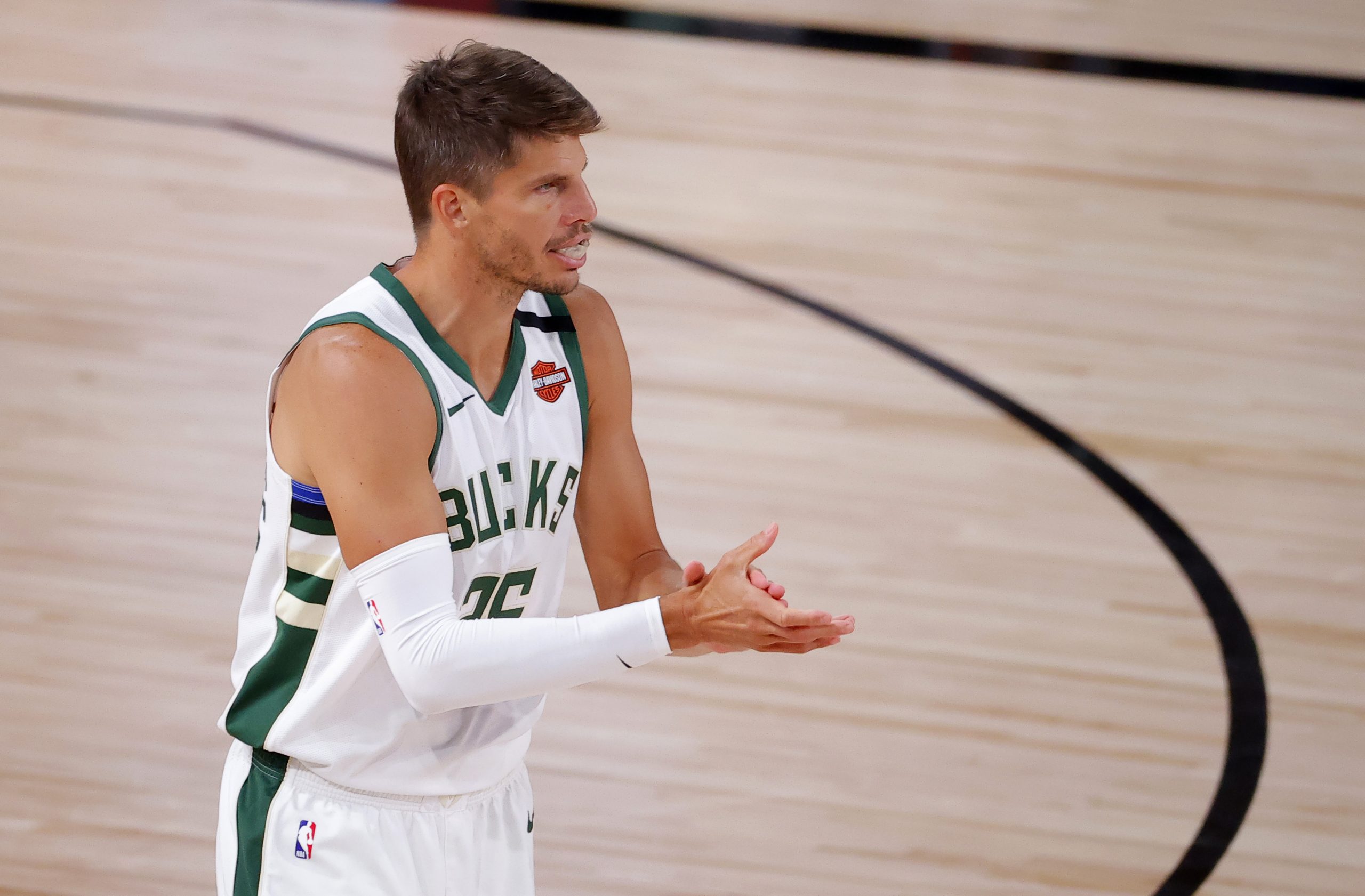 Whatever Happened to Milwaukee Bucks Sharpshooter Kyle Korver?
Where has Kyle Korver been this season?
Kyle Korver was instant offense off the bench. He spent 17 years in the NBA, mostly as a reserve, but he was always considered one of the best long-range shooters in the game. Last year, he sparked the Milwaukee Bucks during their playoff run with quick offensive spurts off the bench. With the Bucks ready to make their first NBA Finals appearance since 1974, where did Korver go?
Kyle Korver's one year with the Milwaukee Bucks included a pandemic and a walkout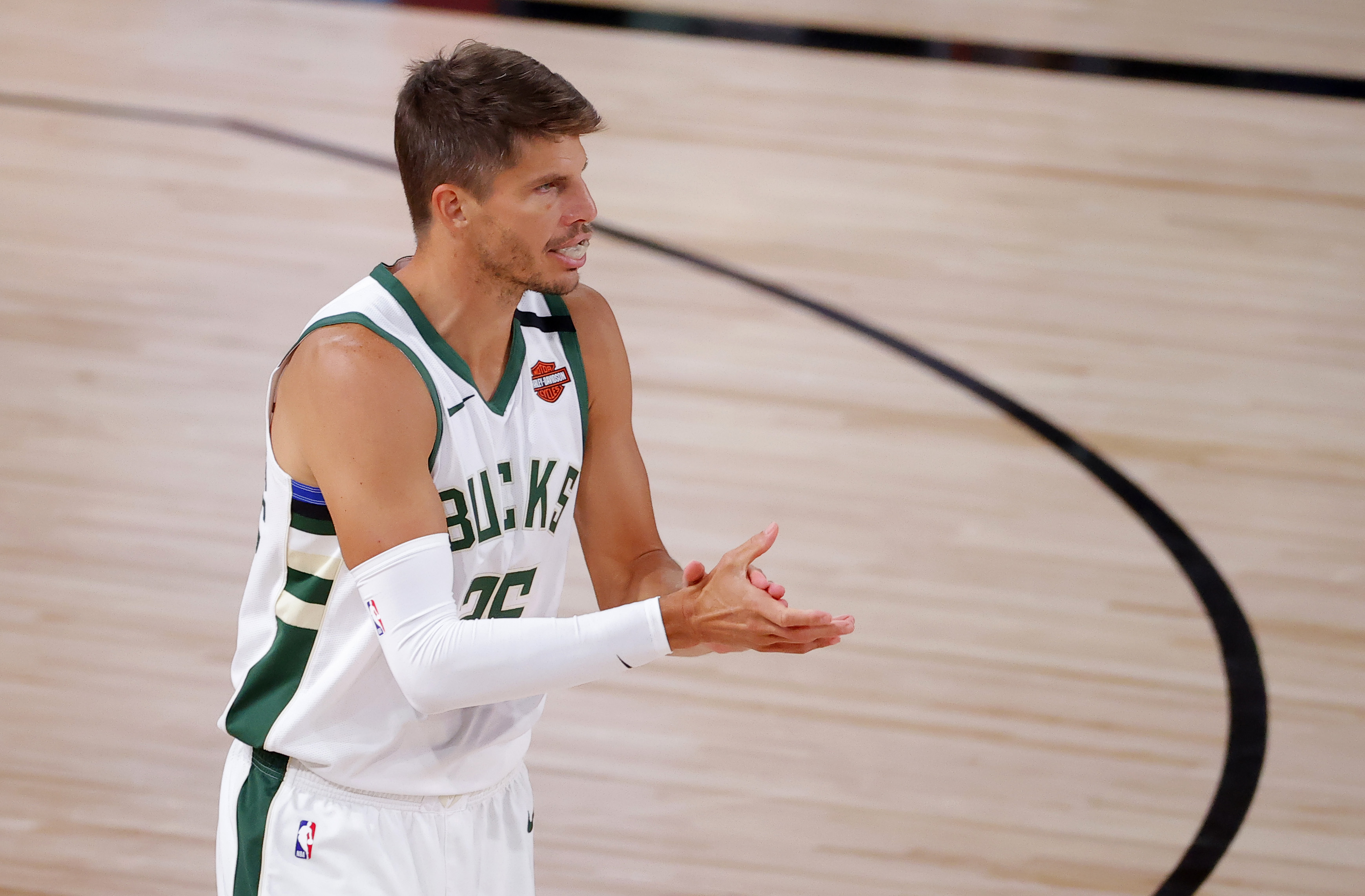 It was a tough year for all in 2020. For the NBA, it had to postpone a season for four months as the coronavirus (COVID-19) wreaked havoc across the country. When the season resumed in Florida's "bubble" in late July, the league and its players focused much of their attention on social justice issues. The Bucks made a stand when they never came out for their playoff game against the Orlando Magic in protest of the recent shooting of Jacob Blake, a Black man from Wisconsin.
Korver was using his platform as an NBA player, and a white one at that, to voice his opinion on racial inequality. "Our team, like a lot of teams, were having conversations about this," he told USA Today in February "When you're in the bubble, everyone was trying to be thoughtful in their interviews. Obviously, there were all kinds of signage. But we kept asking how can we stand for what we believe in? A lot of guys didn't really want to go to the bubble to play. The driving point to go to the bubble was to use this platform and to amp up our voices and be strong in our messaging."
Korver said it was teammate George Hill who decided he didn't want to play. Hill's decision came when they were in the locker room with time winding down before the opening tip. "We said, 'We agree; we're with you.' We're making a decision in real time with the clock running down," Korver said.
Kyle Korver hasn't played in a game this year, but isn't officially retired
Korver played a key role with the Bucks last year with the second unit. His scoring was down, but he injected some life into the offense with his quick-release 3-point shots. He showed he still had what it takes to be an NBA player when the Bucks took on the Denver Nuggets. The Bucks were depleted due to injuries and Korver saw plenty of minutes and capitalized with a 23-point effort that included five 3-pointers.
He hasn't played in a game since the Miami Heat eliminated the Bucks in last year's playoffs. USA Today's Mark Medina posed the question to him about playing again. To what extent did he have talks with NBA teams about playing this year?
"I've talked to a few teams about it," he said "Coming out of the bubble, I believe in honoring the game. I believe you honor the season with a good offseason. Coming out of the bubble with the quick turnaround, I didn't feel I really did that. So I don't want to cheat the game. If I want to go play, I want to go play well.
"I haven't signed any paperwork. My wife asks me this question every day. It's one I have a hard time finding my exact words for. So I haven't signed paperwork yet. I've enjoyed being with my family, and it's been a challenging season across the board for the league and for the players. But we'll see. I don't know."
Korver could still be a contributor to an NBA team
For a guy who was once traded for a copy machine, Korver has done pretty well for himself at the NBA level. He led the league in 3-point percentage four years and was a league leader in free-throw percentage during the 2006-07 season.
During his 17-year career, he played for six different teams. The New Jersey Nets drafted him in the second round out of Creighton in the 2003 NBA Draft but immediately sold his rights to the Philadelphia 76ers. He played four-plus seasons in Philly before being traded to the Utah Jazz.
Korver made his lone NBA All-Star Game appearance during the 2014-15 season with the Atlanta Hawks. That year, he started all 75 games he played and averaged 12.1 points per game.
With today's NBA relying heavily on the 3-point shot, Korver would likely have no problem making his way back onto the court. It appears he may have been burned out a bit by last year's chaotic season, and family life might just be suiting him very well.
All stats courtesy of Basketball Reference.