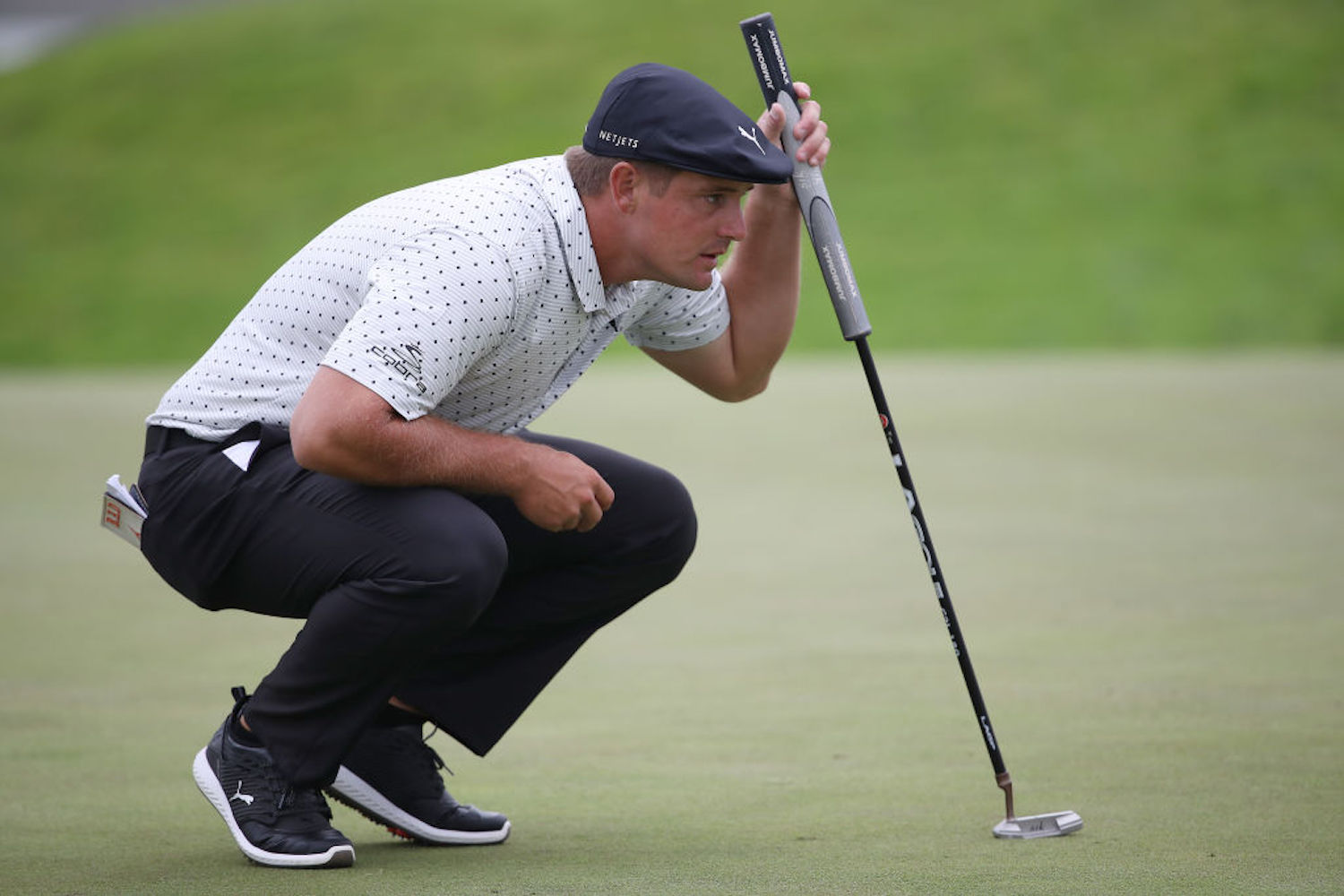 Bryson DeChambeau Just Made PGA Tour History and It Wasn't With His Driver
Bryson DeChambeau has become the talk of the golf world for his mammoth drives, but he just made history with a different club.
Bryson DeChambeau has become one of the most polarizing figures on the PGA Tour today. Love him or hate him, the dude can absolutely mash golf balls into another dimension. If nothing else, it's a thrill to watch.
DeChambeau has also had a spectacular year on the greens. The combination of his epic long game and tidy short game has put him in contention heading into Sunday's final round of the 2020 PGA Championship. He got there by making PGA Tour history, but it wasn't with his driver.
Bryson DeChambeau has turned himself into the longest driver in PGA Tour history
Just last season, Bryson DeChambeau was nothing special off the tee. He finished the 2019 year with a 302.5-yard driving average, which was good for 34th on Tour.
This season, though, DeChambeau has transformed himself into the longest driver in PGA Tour history. Heading into the PGA Championship, the 26-year-old led the Tour in driving distance with 324.4 yards per drive.
The highest average for a season in PGA Tour history is held by Hank Kuehne, who averaged 321.4 yards per drive in 2003. DeChambeau is on pace to break Kuehne's record for the most prolific year of driving in golf history.
It isn't just the distance that makes DeChambeau's driving elite. He also leads the Tour in strokes gained: off-the-tee. He isn't the most accurate, but it hardly matters if you're smashing the ball right up near the green on seemingly every par 4. DeChambeau is having a record-breaking year with his driver, but his putter just made history of its own.
DeChambeau drains a record 95-foot putt in the PGA Championship
Bryson DeChambeau sits at -6 and three back of Dustin Johnson's lead heading into the final round of the 2020 PGA Championship. He's well within reach to win his first career major, and it he wouldn't be in his position without a little magic.
On the 18th hole of DeChambeau's third round, the bomber showed some deft touch around the greens when he holed a 95-foot birdie putt. The insane birdie capped off a -4 round of 66.
"I obviously hit it on a pretty good line," DeChambeau told CBS after the round. "Sometimes you've just got to put it out there. I don't know what to say!"
DeChambeau told reporters the 95-foot prayer was the longest putt he's ever holed in a tournament.
Dechambeau's 95-foot putt is one of the longest in PGA Tour history
DeChambeau isn't just making history with his driver this season. He's also doing it with the flat stick. DeChambeau's 95-foot putt was the longest made putt on Tour since 2017. It was just 16 feet shorter than Craig Barlow's 111-foot putt in 2008, which still stands as the longest putt ever holed on the PGA Tour.
Only a handful of players have holed putts longer than 95 feet, and in a major no less. Everything DeChambeau does is long. Before, it was his driver, but now his putter is getting in on the action. That's a scary combination for the rest of the field heading into Sunday.
All stats courtesy of PGA Tour