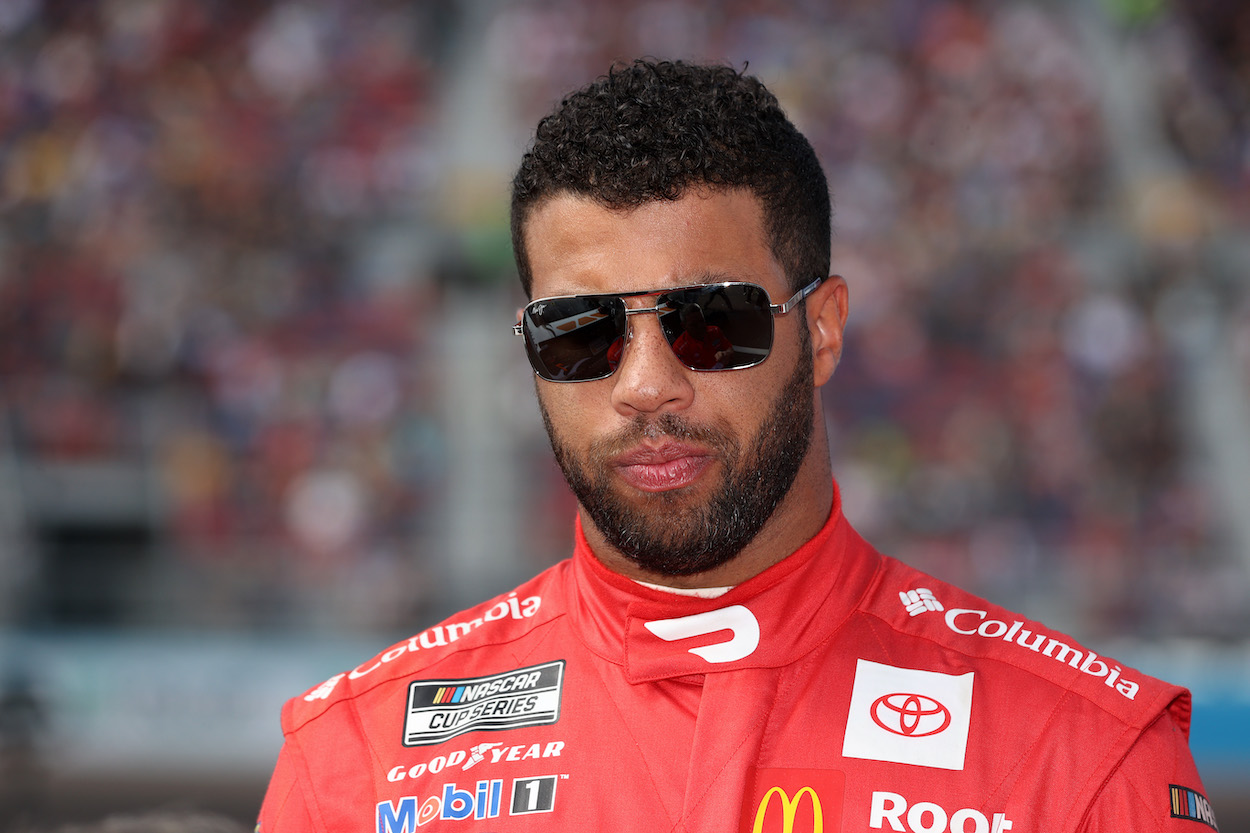 Why Bubba Wallace Regularly Flips Off Another NASCAR Cup Series Driver During Each Race
Bubba Wallace and another Cup Series driver have developed a unique race ritual that includes giving the other a single-finger salute.
For the last two NASCAR Cup Series seasons, Bubba Wallace has regularly been the target of nasty comments from fans. On the track, the 23XI Racing driver doesn't receive negative remarks from his fellow drivers unless he's involved in some kind of on-track conflict, as the case was during the 2021 season with Kyle Busch. 
While the 28-year-old might not regularly have curse words directed at him by other drivers, he does interestingly find himself on the receiving end of a derogatory hand gesture in almost every race from Daniel Suarez. Here's why. 
Bubba Wallace and Daniel Suarez have conflict in 2019
Bubba Wallace and Daniel Suarez were racing hard on the last lap at Pocono Raceway in 2019 when the two made contact. Wallace shot Suarez the bird. Several minutes later, Suarez confronted Wallace on pit road about the gesture, and a heated conversation ensued. 
"I got even more mad when he said like he was joking when I knew perfectly he wasn't," Suarez told reporters. "It's good. It's in the past. We are good. We are friends. We've known each other for a long time. There is always that extra confidence in us that we know we can fight and be good the next day. I get fired up pretty quick when it comes to that kind of stuff."
A couple of days later, Wallace confirmed that he was just having fun.
"I do it to the guys that I like and can race around," Wallace said. "If it's Kyle Busch or (Martin) Truex are coming up to lap us, I'll give them the finger, hey come on by. It's funny. We'll talk about it and laugh at it later. Truex is starting to pick up on it. It's funny. That's all it was."
Daniel Suarez admits they still flip off each other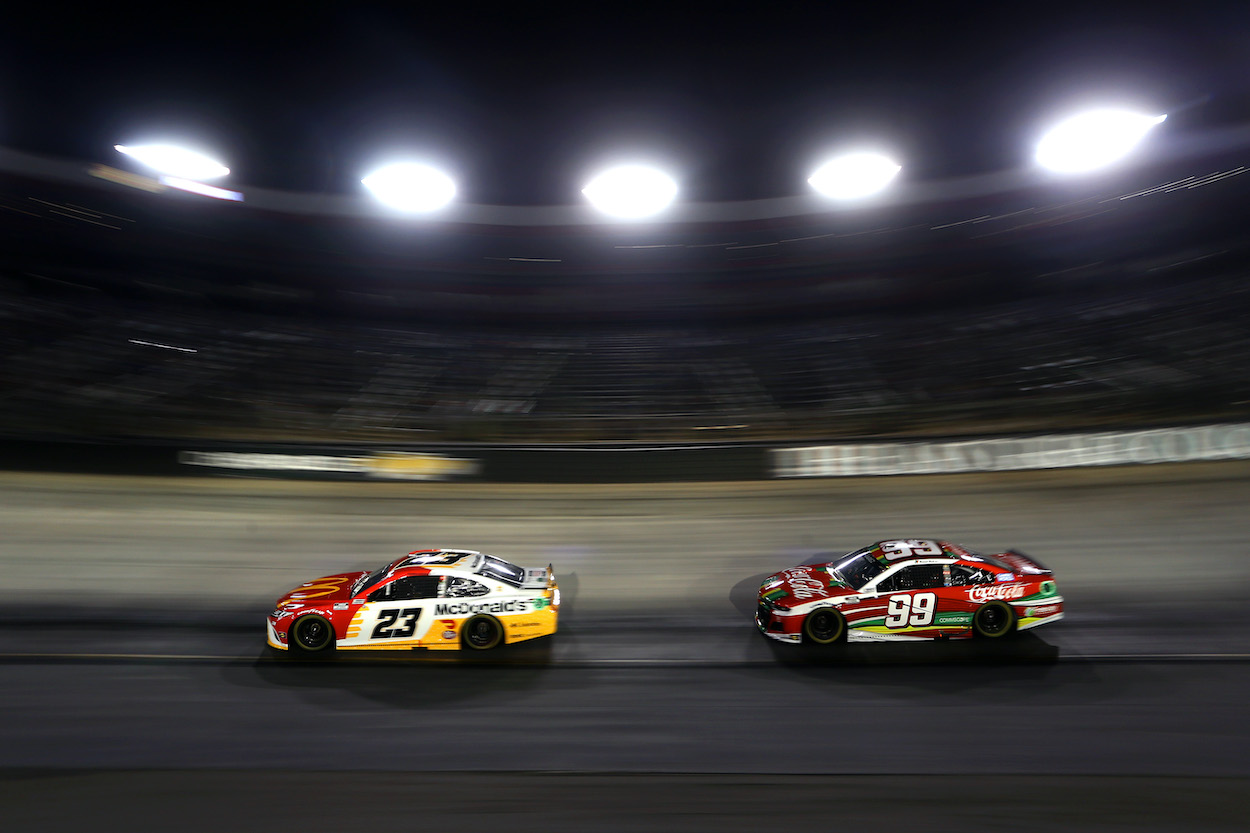 A couple of years later, Bubba Wallace has completed his first year with the new 23XI Racing team and earned his first Cup Series win at Talladega. Daniel Suarez has moved on as well and just completed his first season with Trackhouse Racing in its first year.
While both drivers have changed teams, their friendship remains unchanged, and the single-finger salute to each other is still very much a part of their on-track routine. 
"Every time I'm racing him, I give him the finger," Suarez said in a recent survey of Cup Series drivers when answering the question of what driver has been the most fun to race against this year. "We're good friends, and a few years ago, we had a big fight because he gave me the finger, and then it kind of became a joke after that. And every time we see each other on the race track, we give the finger for sure."
Bubba Wallace upsets Kyle Busch but gets no bird
Although Wallace likes to have fun by flipping the bird with drivers like Kyle Busch, earlier this year, the Joe Gibbs Racing driver was in no mood for it. And the two-time Cup champion didn't flip any birds but instead blasted his fellow Toyota driver during the race at Kansas.
Busch was unhappy with the aggressive side-by-side racing with Wallace and screamed over his radio before directing his anger at the 23XI Racing driver.
"Oh my f****** god, dude. This kid," Busch said. 
Several days later, Busch told FanSided he reached out to Wallace to apologize for his behavior.
"I actually called him yesterday, we talked about it," Busch acknowledged. "I was like dude I was in the wrong, you had a good car and a good day. I was frustrated because I was fading and going backwards. I'm not used to really racing him and so he had a good day and I didn't have that good of a day so we met there." 
Like Sportscasting on Facebook. Follow us on Twitter @sportscasting19.