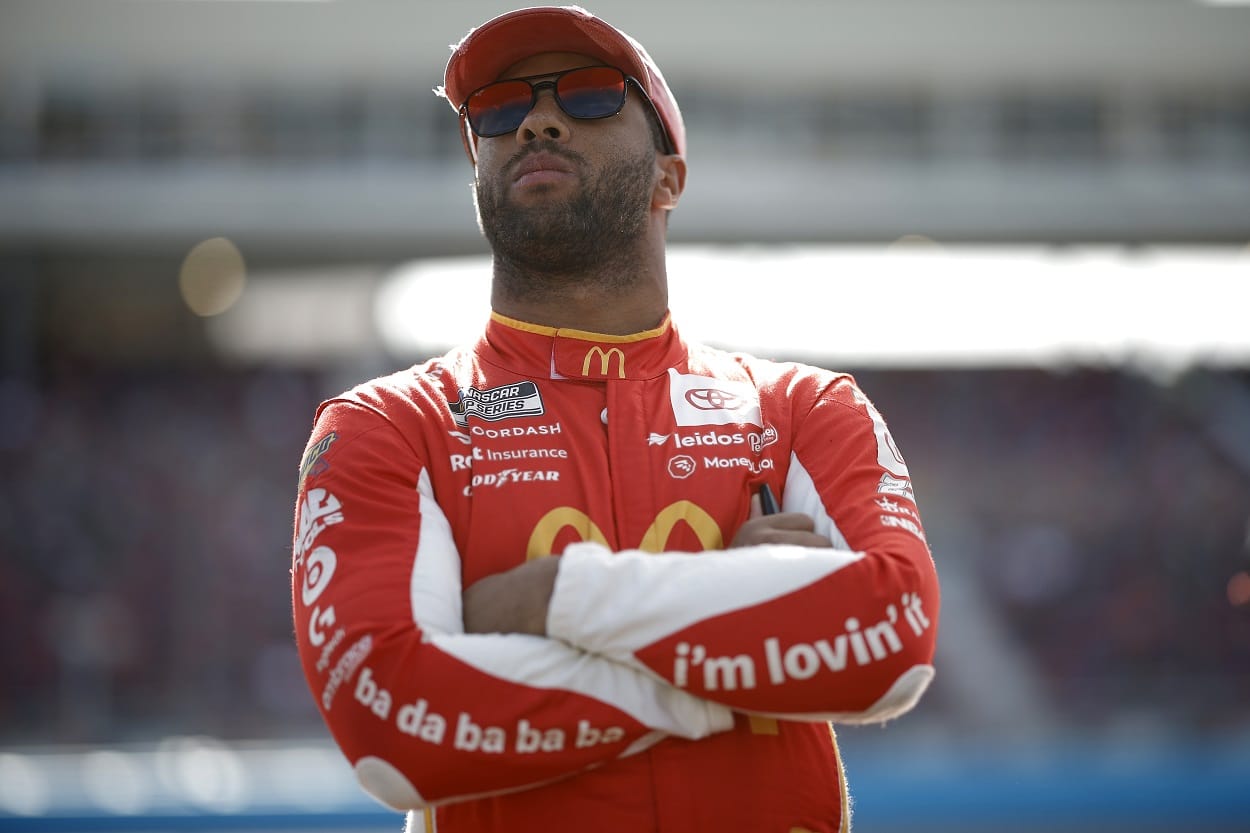 Bubba Wallace Is Set Up For a Big Jump in the NASCAR Cup Series in 2023
Bubba Wallace is poised for a breakout season in the NASCAR Cup Series in 2023.
Bubba Wallace had yet another season full of intense highs and lows in 2022, but he could be as well-positioned as any driver who missed the NASCAR Playoffs to make a considerable leap in the 2023 Cup Series standings.
Wallace finished 19th in the 2022 standings after a season that saw him win his first career pole award and second career Cup Series race. On the other hand, he also tore into his pit crew over the team radio in June at Nashville Superspeedway after another in a long line of bad pit stops throughout the season.
One of his most memorable moments from 2022 is also a negative. He intentionally wrecked Kyle Larson in October on the frontstretch at Las Vegas Motor Speedway only 93 laps into the 267-circuit Round of 8 event after Larson had squeezed Wallace's No. 45 car into the outside wall as the pair exited Turn 4. The wreck also collected Christopher Bell, who was still in contention to win the series championship.
Wallace also walked down the frontstretch to confront Larson and started pushing the defending series champion once he got to the wrecked No. 5 car. NASCAR officials handed Wallace a one-race suspension, which kept him out of the following week's race at Homestead-Miami Speedway.
Bubba Wallace has had eventful seasons for much of his Cup Series career
Overall, the season was somewhat typical for Wallace, a 28-year-old who is a five-year veteran of the Cup Series. He has shown flashes of brilliance but also has gotten caught up in controversies that leave him with extra narratives that he has to combat.
This year it was the Larson incident in Las Vegas. The two seasons prior revolved both positively and negatively around Talladega Superspeedway.
Wallace won his first career Cup Series race in October 2021 at the 2.66-mile superspeedway to become only the second Black driver to win a race in NASCAR's top series and the first to win for the newly-formed 23XI Racing, co-founded by Denny Hamlin and Michael Jordan. The race was shortened because of rain, but the setting of the victory provided an enhanced storyline.
The first race weekend at Talladega in June 2020 after the pause due to the COVID-19 pandemic was marred because a rope in Wallace's garage stall was reportedly fashioned into a noose. Wallace drove the No. 43 car for Richard Petty Motorsports at the time, and the entire series rallied behind Wallace on the grid before that weekend's race.
That controversy came after Wallace lost a sponsor because of a video game race during the COVID-19 break. Blue Emu had sponsored Wallace's virtual No. 43 car for an online race in April 2020 at Bristol Motor Speedway. Wallace turned off his simulator in frustration after multiple early wrecks, and Blue Emu pulled its sponsorship commitments for future races in response.
His 2019 real-life season had been particularly rough, with a third-place finish in September at Indianapolis Motor Speedway his only top-10 finish. However, he made matters worse two months later when he admitted to intentionally spinning late in a race at Texas Motor Speedway.
NASCAR fined Wallace $50,000 and docked him 50 points for the incident, although Wallace was already 27th in the points standings at that point and had long been out of playoff contention.
2023 could be a breakout season for Wallace and 23XI Racing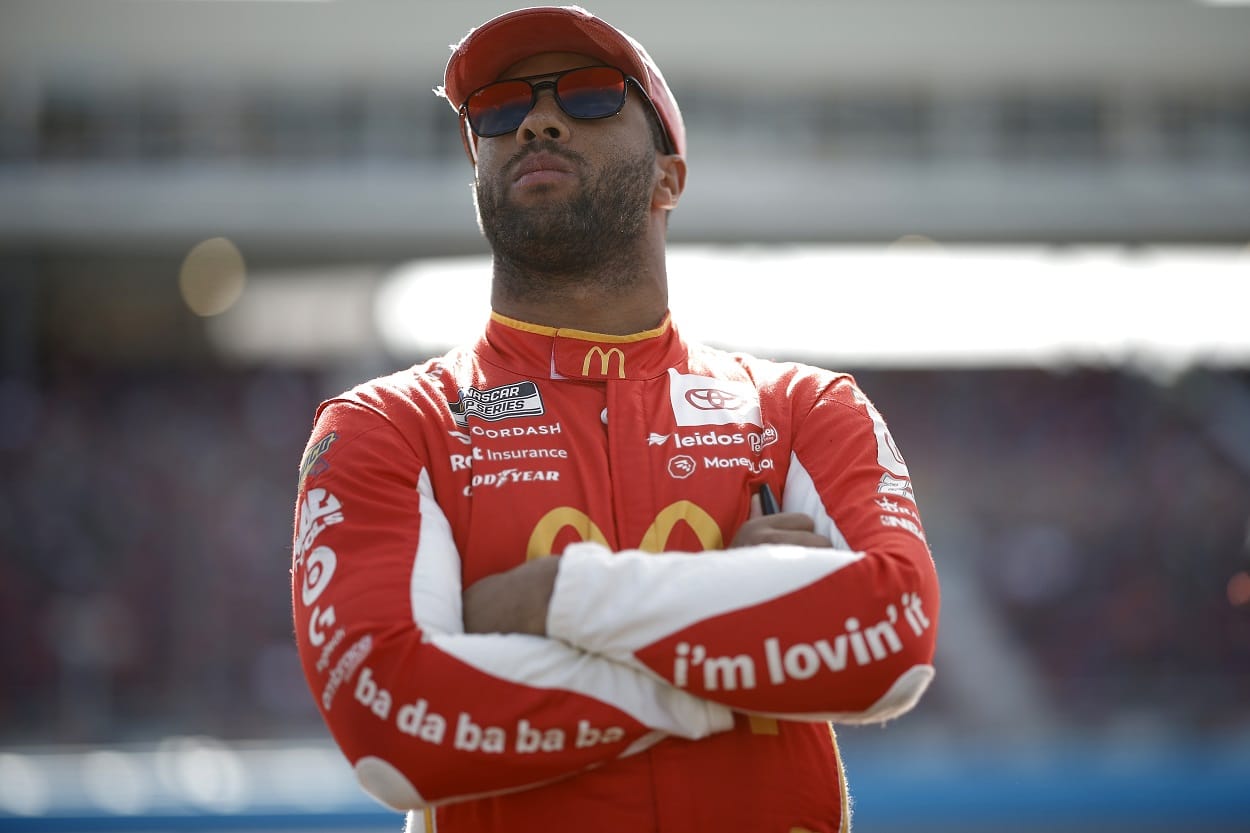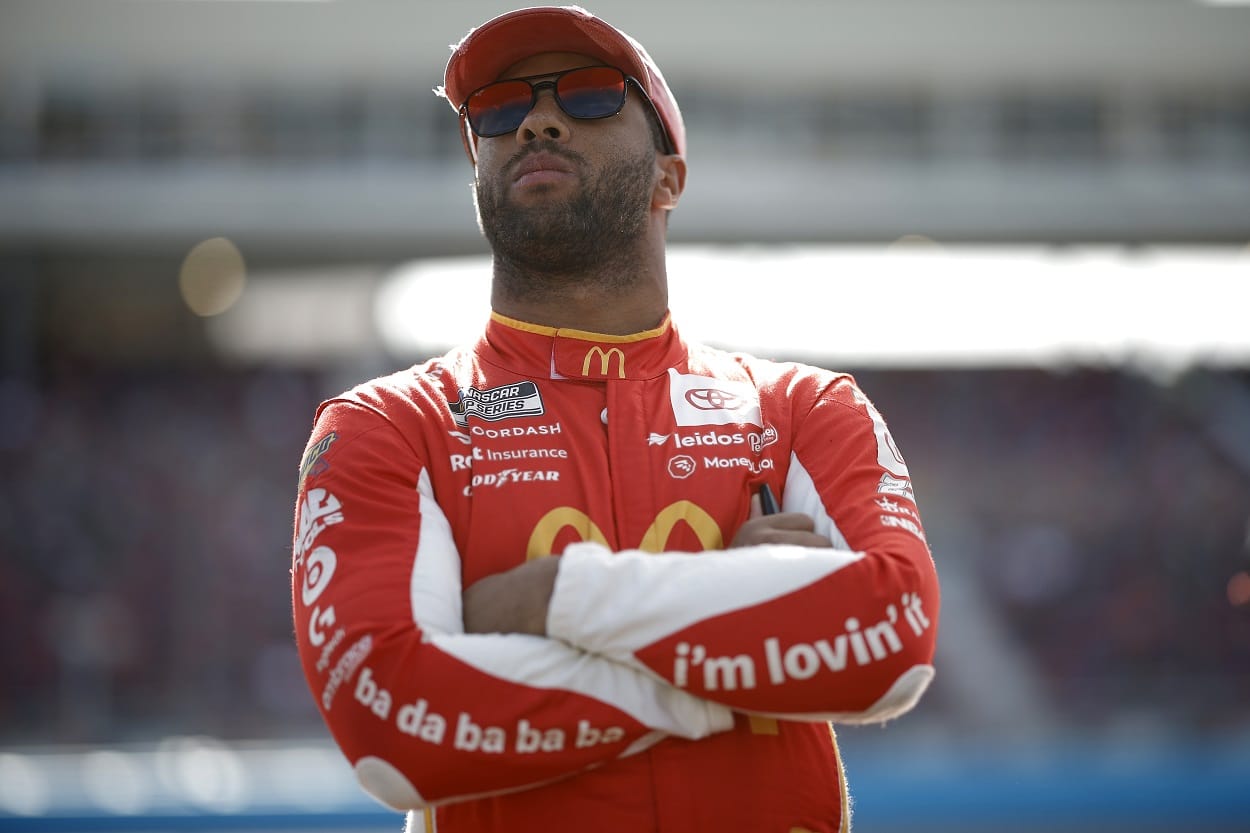 Despite all of those moments that could have sidetracked Wallace's career, he is now in position to take a big step and potentially make his first playoff appearance.
He has six opportunities to win at tracks featuring superspeedway-style racing, where he has had his most success to date. Five of his 11 career top-five finishes have been at either Talladega or its similarly shaped 2.5-mile cousin Daytona International Speedway, and his 15.5 average finishing position at those tracks ranks second among active drivers.
Still, his pole in August at the 2.0-mile Michigan International Speedway and win in September at Kansas Speedway proved he is starting to become a contender on several different types of tracks.
Wallace will also be in his third year at 23XI, which has signed Tyler Reddick to be his teammate. Reddick had a breakout 2022 campaign with Richard Childress Racing and should help raise the organization's standards.
Wallace set career highs with five top-fives, 10 top-10s, and 150 laps led en route to his first finish inside the top 20 in the points standings. 
Those numbers could just be a launching pad for Wallace in 2023 in a season that could see him go from a driver who competes for occasional race wins to one who becomes a serious playoff contender.
Have thoughts on this topic? Keep the conversation rolling in our comments section below.