Cam Newton's 1st Touchdown in His Return to the Carolina Panthers Says a Lot About Bill Belichick and the New England Patriots
Cam Newton returned to the NFL in style Sunday, scoring a pair of touchdowns on his first two plays since being released from the New England Patriots during training camp. His immediate impact helped his Carolina Panthers stun the Arizona Cardinals on the road. It also said a lot about his former coach, Bill Belichick.
Cam Newton makes immediate impact as the Carolina Panthers stun the Arizona Cardinals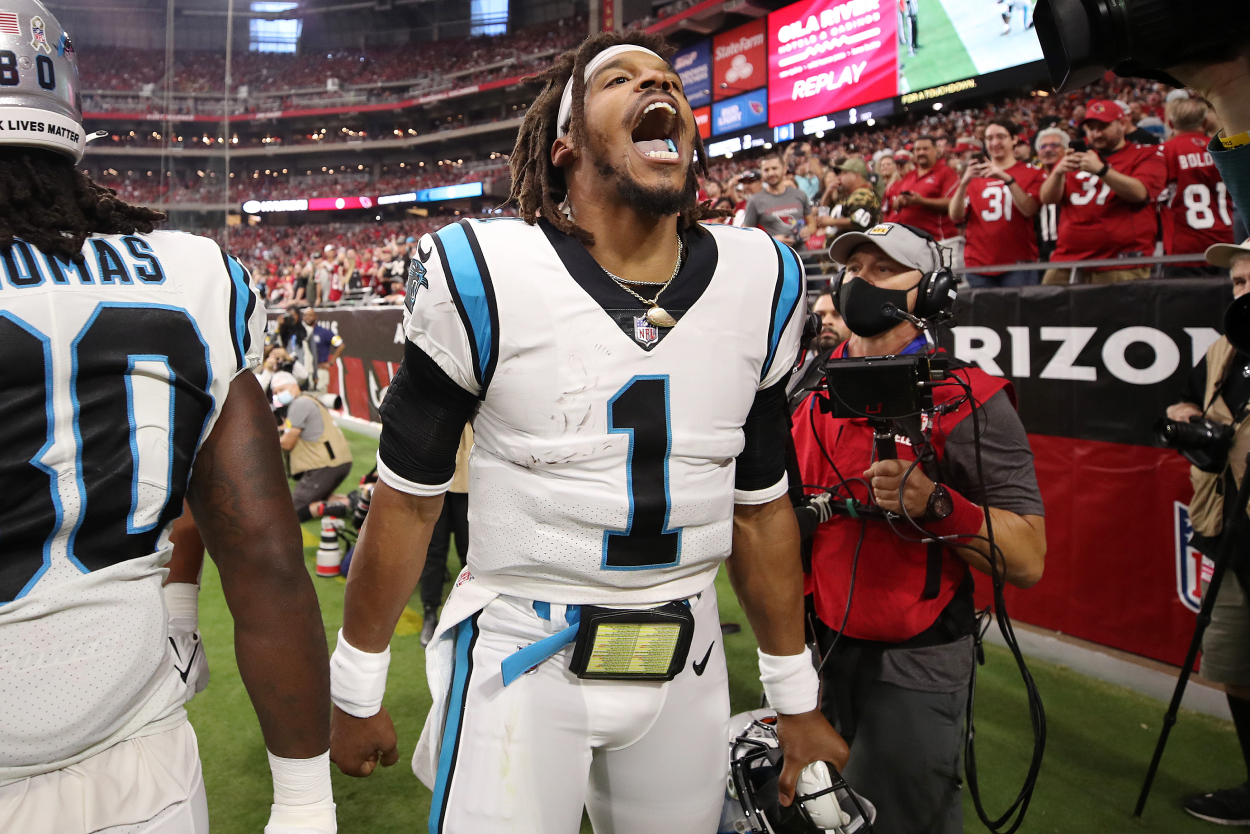 Newton returned to the team that drafted him in 2011 after spending an uneventful year with the Patriots last season. The 2015 NFL MVP wasn't expected to get much action in his return to the Panthers on Sunday, and he didn't. He took the field for eight plays, scoring on the first two of them. The Panthers cruised to a 34-10 victory.
Newton was the backup quarterback to P.J. Walker, who was filling in for the injured Sam Darnold.
Newton came in for Walker on 3rd-and-goal from the 2-yard line, rushing in for a score and giving the Panthers a 7-0 lead. On Carolina's next series, he hit Robby Anderson with a 2-yard touchdown pass to extend the lead to 14-0.
Not only did Newton make an impact on the field with his two touchdowns, but he also injected the team with some much-needed energy.
"It was a blast. It was a lot of fun obviously," Panthers running back Christian McCaffrey said, according to the Arizona Republic. "The energy that he brings isn't like anyone I've ever met. It's definitely good to have him back."
Cam Newton scored his first TD, and it immediately showed how Bill Belichick handles his New England Patriots players
Newton had a tough year with the Patriots last season. The team went 7-9 and had its first losing season since 2000. Not all the blame can be placed on Newton, who was a late signing after Tom Brady bolted via free agency. Implications from the pandemic also played a role, but Newton went 7-8 in his 15 starts and had just eight touchdown passes.
The Panthers signed Newton last week, sparking a reunion with the team he took to the Super Bowl during the 2015 season. With New England, the flamboyant Newton toned things down and was the consummate team player under Belichick.
Sunday was a different story.
Newton made it all about him, something that's never done in New England. After his rushing touchdown, Newton didn't care about the 15-yard penalty he cost his team when he took off his helmet and ran around, yelling "I'm baaaack" in the end zone. It was a look-at-me moment that never would have taken place under Belichick.
Belichick gave Newton new life. The Panthers released Newton after injuries limited him to two games in 2019, and he played by New England's rules under Belichick. When he scored his first touchdown as a member of the Patriots in a season-opening win over the Miami Dolphins, he spiked the ball and offered a harmless flex. There was no penalty, nor was there any selfishness.
Panthers coach Matt Rhule labeled Newton as 'selfless'
The man who calls himself Superman and runs around telling the world he's back while penalizing his team is "selfless," according to Panthers coach Matt Rhule.
"I got a good feel for who he is. He's got a ton of energy. He's selfless," Rhule said, per the Arizona Republic. "When P.J. scored, he was celebrating with him. I mean, he's a total team guy. When he came on, (Newton) told me it was all about winning, and that's what it was."
Sure, Newton is ecstatic to be back in the league. Yes, he's happy he contributed to a big-time win. He may not be selfish, and he may, indeed, be a team player, but Newton didn't show that Sunday in his first game back with the Panthers.
A spike and a flex would have sufficed. The Panthers won the game handily, and a foolish unsportsmanlike penalty probably went unnoticed to many.
Newton gets an A-plus for energy, but he needs to go back to his Patriots ways with the execution of his celebrations.
If Newton is "baaaaack" as he says he is, the Panthers could be in serious trouble. Completing three passes for eight yards probably won't cut it the rest of the way.