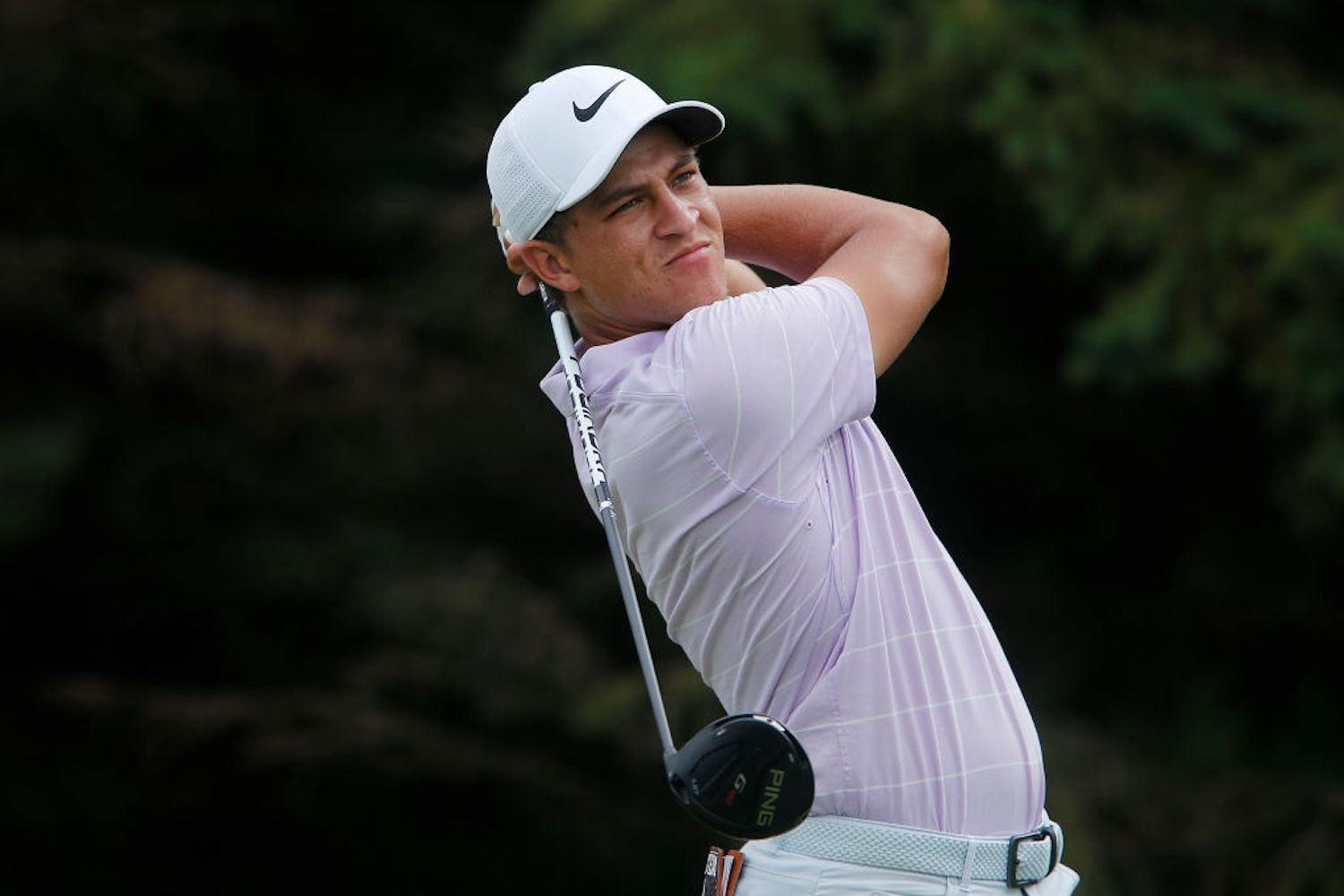 Cameron Champ Drives the Ball Just as Far as Bryson DeChambeau Despite Weighing 65 Fewer Pounds
Bryson DeChambeau is the talk of the town for his massive drives, but Cameron Champ might be even more impressive off the tee.
Bryson DeChambeau has taken the golf world by storm, and for a good reason. The 26-year-old put on more than 20 pounds during the PGA Tour's hiatus, and he's transformed his game in the process. DeChambeau is on pace to break the record for the longest driving average in a single season, but one player isn't far behind.
Cameron Champ might weigh 65 pounds less than beefed-up Bryson, but he can still pound the golf ball just as far. Champ is leading the PGA Championship in driving distance, and it's put him in contention heading into Sunday's final round.
Bryson DeChambeau is on pace to break the record for driving distance in a season
Bryson DeChambeau has always had a unique approach to the game of golf. Instead of touch and feel, DeChambeau relies on science and mathematics to excel on the course.
From wind speed to air humidity to barometric pressure, there's nothing DeChambeau leaves out when calculating a golf shot. He's gotten experimental with his game in the past few years, but his newest strategy is more simple than most.
During golf's four-month hiatus, DeChambeau had a revelation. Longer drives equal lower scores. If you're closer to the hole than everyone else, you'll have an easier chance to make birdies, right?
So, DeChambeau changed his workout routines and diet and put on 20 pounds in quarantine to reach 240 pounds. In turn, his driving distance has skyrocketed. After averaging just over 300 yards per drive last season, DeChambeau is leading the PGA Tour in driving distance this year at 324.4 per drive. That would be the highest average in the history of the PGA Tour.
Cameron Champ drives the golf ball just as far as DeChambeau at 175 pounds
DeChambeau has been the greatest show on grass all season, and it's easy to see why. The dude unloads all of his 240-pound frame into every drive he hits, and it leads to mammoth shots sometimes reaching 400 yards long.
Although DeChambeau has taken all the headlines for his newfound length, Cameron Champ is right behind him wondering what he has to do to get some credit. Champ led the entire PGA Tour in driving distance last year, and he's close to overtaking DeChambeau in the category in 2020.
This year, Champ is averaging 321.3 yards per drive, which is just 0.1 yards off from the all-time record. He very well may beat the record for driving distance in a season and still be No. 2 on Tour in 2020.
The amazing part? Champ only weighs 175 pounds. DeChambeau wow's the golf world by uncorking his entire 240 pounds into every drive, but Champ hits it just as far with his skinny frame.
Cameron Champ leads the PGA Championship field in driving distance
Cameron Champ is just one stroke off the lead heading into the final round of the 2020 PGA Championship, and his driver is a big reason why. Through three rounds, Champ leads the field in the cold, damp San Fransisco area with 319 yards per drive.
Yes, the longest in the field. A field occupied by Bryson DeChambeau himself.
Champ has used his massive driving edge to shoot -8 through three rounds at TPC Harding Park. He has as much of a chance as anyone to hold the Wanamaker Trophy come Sunday afternoon, and he has his driver to thank.
As much shine as DeChambeau gets for his incredible length, Champ might be even more impressive considering he's giving up 65 pounds to DeChambeau.
All stats courtesy of PGA Tour