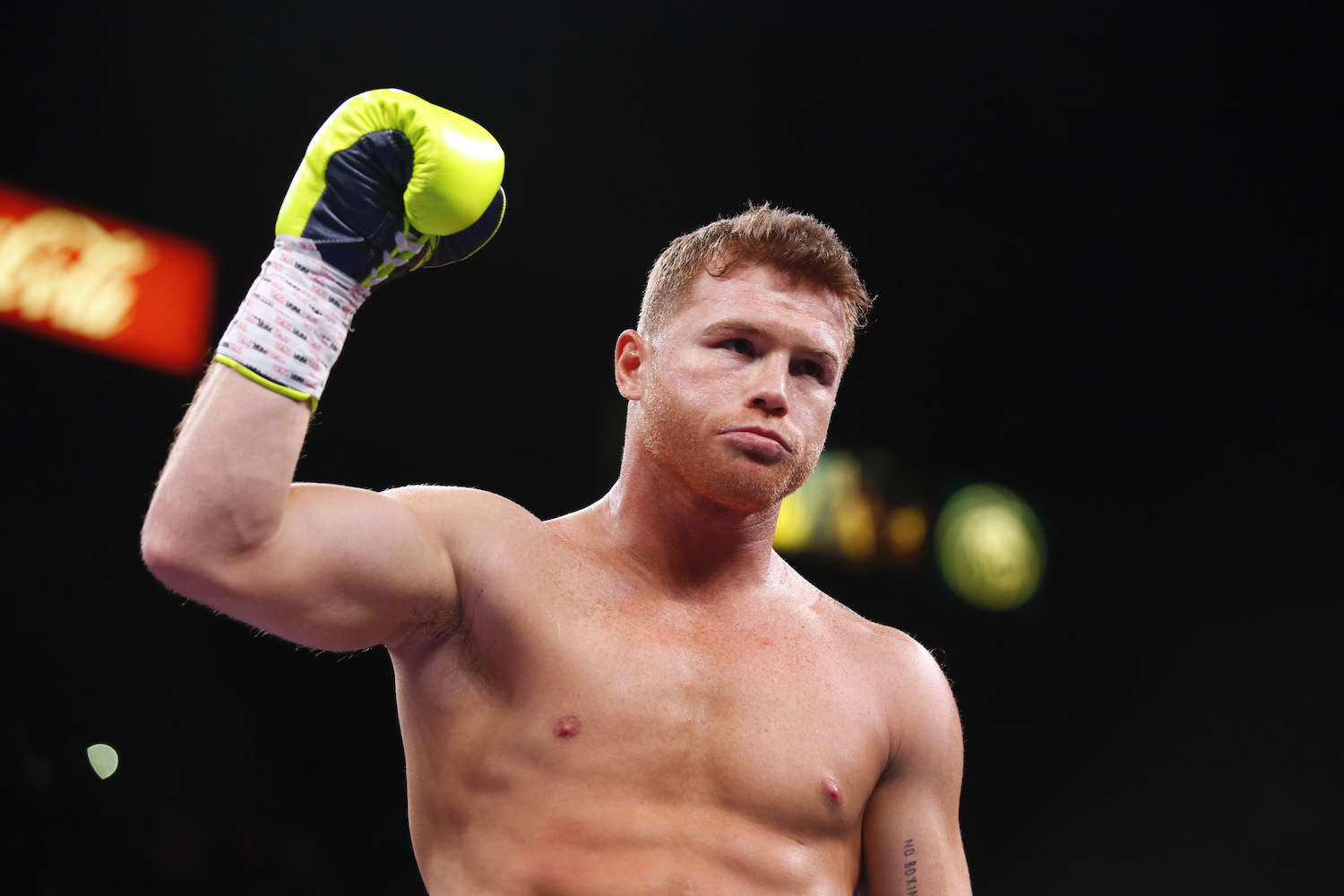 Canelo Alvarez Abandons Deal That Made Him Highest-Paid Athlete in Sports History
Just two years ago Canelo Alvarez signed a contract making him the highest-paid athlete in sports history. Now he's walked away from it.
Canelo Alvarez is considered by most to be the top pound-for-pound boxer on the planet. The four-division champion has amassed an impressive 53-1-2 record in his career. Just two years ago, Alvarez signed a deal that made him the highest-paid athlete in history. Now, that deal is officially over.
Canelo Alvarez's rise to the top
Since 2005, Canelo Alvarez has impressed the boxing world. The Mexican fighter has defeated some of boxing's best through the years, including Shane Mosley, Miguel Cotto, James Kirkland, and Julio Cesar Chavez. 
In the process, he's earned a 53-1-2 record and, most impressively, he's won titles in four different divisions: middleweight, light middleweight, super middleweight, and his most recent, light heavyweight in 2019. 
The only defeat of his boxing career came in 2013, when Floyd Mayweather, Jr. dominated Alvarez in their fight. At the fight's conclusion, one ref inexplicably scored the fight 114-114, but Mayweather still won by a majority decision. 
Canelo Alvarez hasn't lost since. He did suffer a second draw in 2017, against Kazakhstani boxer Gennady Golovkin. Alvarez redeemed himself a year later, defeating Golovkin in a majority decision. 
Canelo Alvarez becomes highest-paid athlete in sports history
In October 2018, Canelo Alvarez and streaming service DAZN announced a partnership that would pay him $365 million over five years and included 11 fights. The deal made Alvarez the highest-paid athlete in the world at the time, surpassing the deal between the Miami Marlins and slugger Giancarlo Stanton for $325 million.
"I am humbled to be selected to lead this new vision for the sport of boxing, which without doubt will be for the benefit of the fans," Alvarez said at the announcement. 
DAZN executive chairman John Skipper, who previously served as ESPN president and co-chairman of the Disney Media Networks, said the deal with Alvarez was a win-win for all involved.
"By bringing Canelo's fights to DAZN, we will turn his pay-per-view success into a growth engine for subscribers — a truly transformational moment for our business and for the entire industry."
Fighter sues and gets out of contract
After Canelo Alvarez signed the massive contract, he defeated Rocky Fielding for the WBA super middleweight title a couple of months later. He's only fought twice since that and hasn't fought in the last year with the pandemic an obvious contributing factor.
Also a result of the pandemic and the financial issues caused by it, DAZN told Alvarez it wanted to reduce the amount it paid per fight. The fighter turned to his promoter, Golden Boy Promotions, to find a new broadcast partner for a fall 2020 fight. It never happened.  
In September, Alvarez filed a lawsuit in federal court against DAZN, Golden Boy Promotions, and its CEO, Oscar De La Hoya, alleging a breach of contract. He sought $280 million in damages. 
This week, Canelo Alvarez's manager, Eddy Reynoso, announced his fighter was effectively a free agent. According to De La Hoya, the lawsuit was "resolved to everyone's satisfaction."
The terms of the settlement were not released. All of it means that Alvarez will not receive anything close to the $350 million contract he initially signed, but will now be able to negotiate a new deal for any upcoming fights. He's hoping for a return to the ring by the end of 2020. How much he earns will determine whether or not he made the right decision.