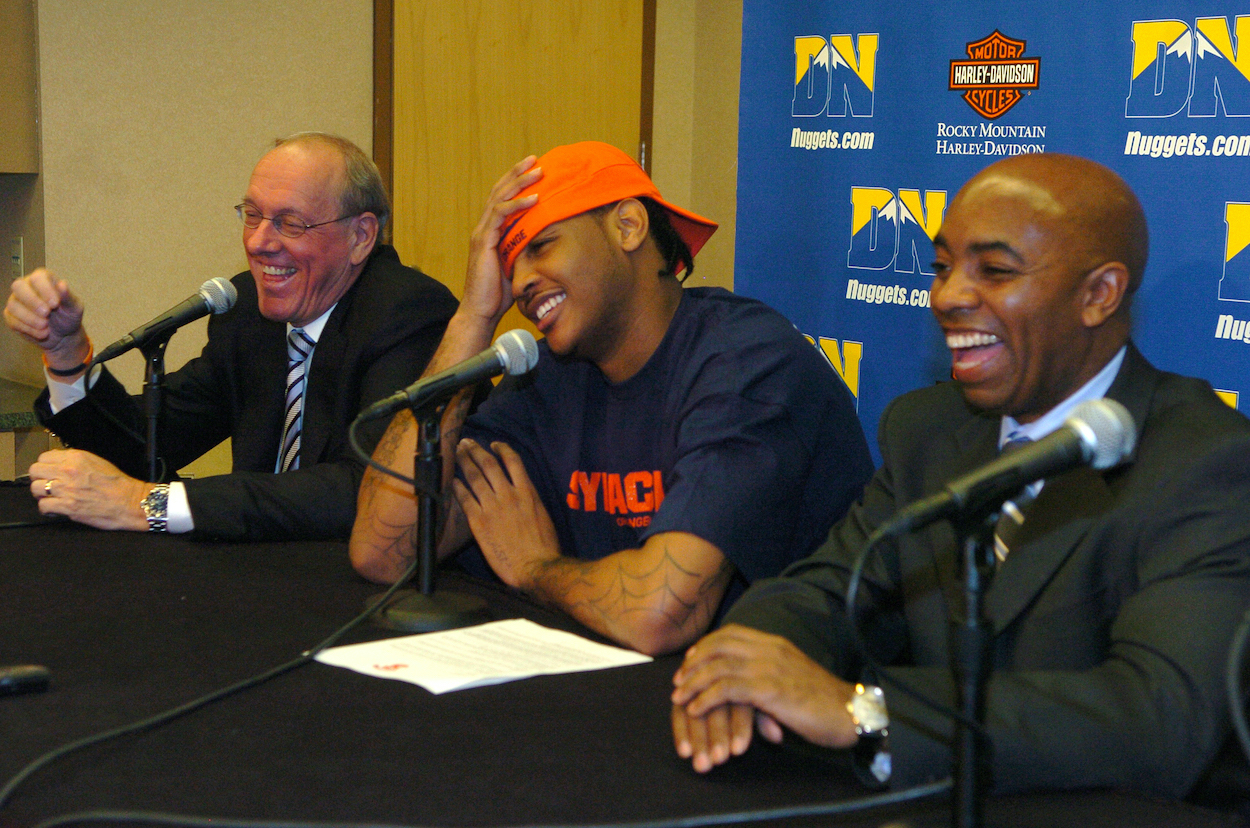 Carmelo Anthony Planned on Returning to Syracuse Before Jim Boeheim Gave Him a Stern Dose of Reality: 'Boeheim Told Me to Get My Ass Off the Campus'
Jim Boeheim didn't let Carmelo Anthony return to Syracuse for his sophomore season.
Not many NCAA players over the last two decades had a more efficient college basketball career than Carmelo Anthony did at Syracuse. The Brooklyn, New York native played just one season under Jim Boeheim in 2002-03, and all he did was lead the Orange to a national championship and win the Final Four's Most Outstanding Player award.
Anthony then left school to enter the 2003 NBA draft, but that wasn't his original plan. The future Hall of Famer actually wanted to return to Syracuse for his sophomore season until Boeheim sternly told him to get his "ass off the campus."
Carmelo Anthony's lone season at Syracuse couldn't have gone better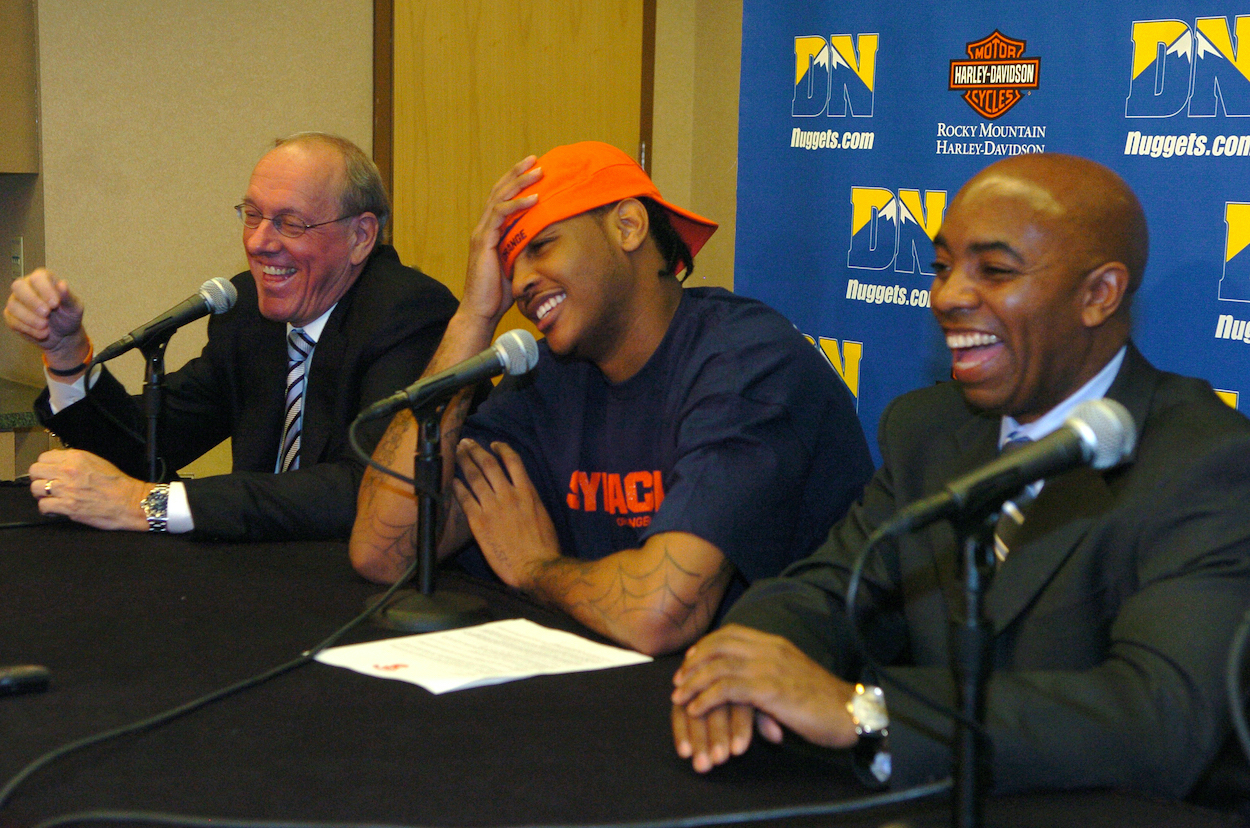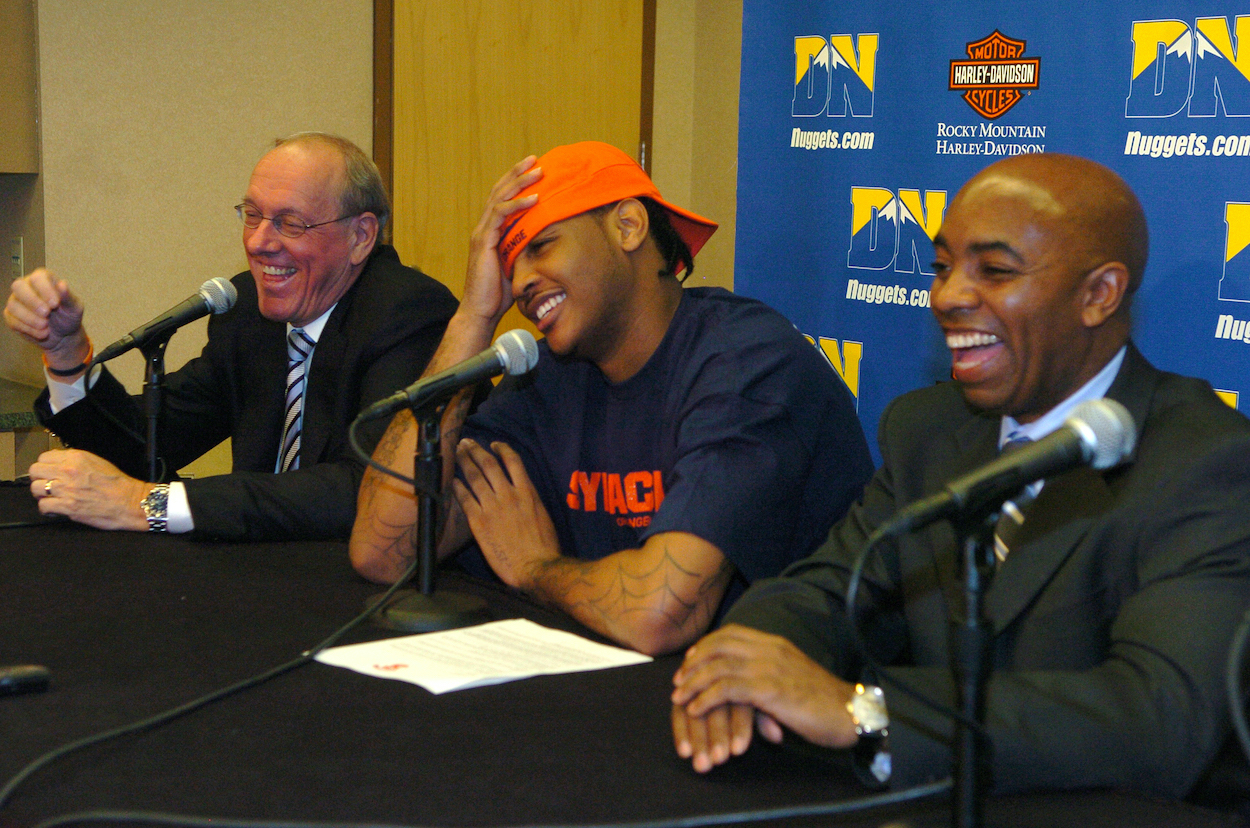 If you could draw up the perfect college basketball career, it would be Anthony's.
Melo arrived at Syracuse as the No. 1 overall prospect in the 2002 high school class. He more than lived up to the massive hype, too, as he averaged 22.2 points per game on 45.3% shooting as a freshman. Behind Anthony, the Orange went 30-5 in the regular season and earned a 3 seed in the NCAA Tournament.
During his iconic March Madness run, Anthony scored 20.2 points per game and grabbed 9.8 rebounds per contest as he led the Orange to a national title. He put up 20 points, 10 rebounds, and seven assists in the championship game against Kansas.
After his stellar freshman campaign, Melo entered the 2003 NBA draft and was selected No. 3 overall by the Denver Nuggets. It doesn't get much better than that.
Carmelo Anthony wanted to return to Syracuse, but Jim Boeheim wouldn't let him
Most college basketball players jump at the first chance they get to move on to the NBA, especially if they have as much success as Anthony did at the NCAA level. But Melo didn't think that way. He was just starting to get the hang of college life after one year, and he wanted to run it back for one more season.
That was until Boeheim talked him out of it.
Anthony explained on the most recent episode of the Pardon My Take podcast.
Boeheim told me to get my ass off the campus. He don't want to see me no more. I better not be back on campus. But I was explaining this to somebody on the way here, I wanted to go back because at the time we started to win. That March, April, you know, we won a championship, to go back on campus, I was just starting to get my feet wet on campus. You know, the weather was changing. First of all, it's 20 inches of snow every day in Syracuse. So, the weather started to change. That's when the school started to blossom. You're seeing people, the bars are open, you know, the quad is popping, the student center is popping. So, I started to be a student again. 

Carmelo Anthony
Anthony might not have gotten the full college experience, but Boeheim clearly pushed him in the right direction.
Leaving Syracuse early turned out to be the right call
Boeheim has been around the game of basketball long enough to know what's best for his players. If a freshman isn't ready to make the jump to the NBA, Boeheim will let him know. And if they're destined for greatness at the next level, he'll be the first one to say so.
Anthony was a special talent at Syracuse, and Boeheim knew it. One extra year of college isn't worth it in the long run for players like him.
Since leaving Syracuse for the draft, Melo has scored the 10th-most points in NBA history and has earned nearly $260 million on the court. So yeah, it's safe to say he made the right call.
All stats courtesy of Sports-Reference.
Like Sportscasting on Facebook. Follow us on Twitter @sportscasting19.