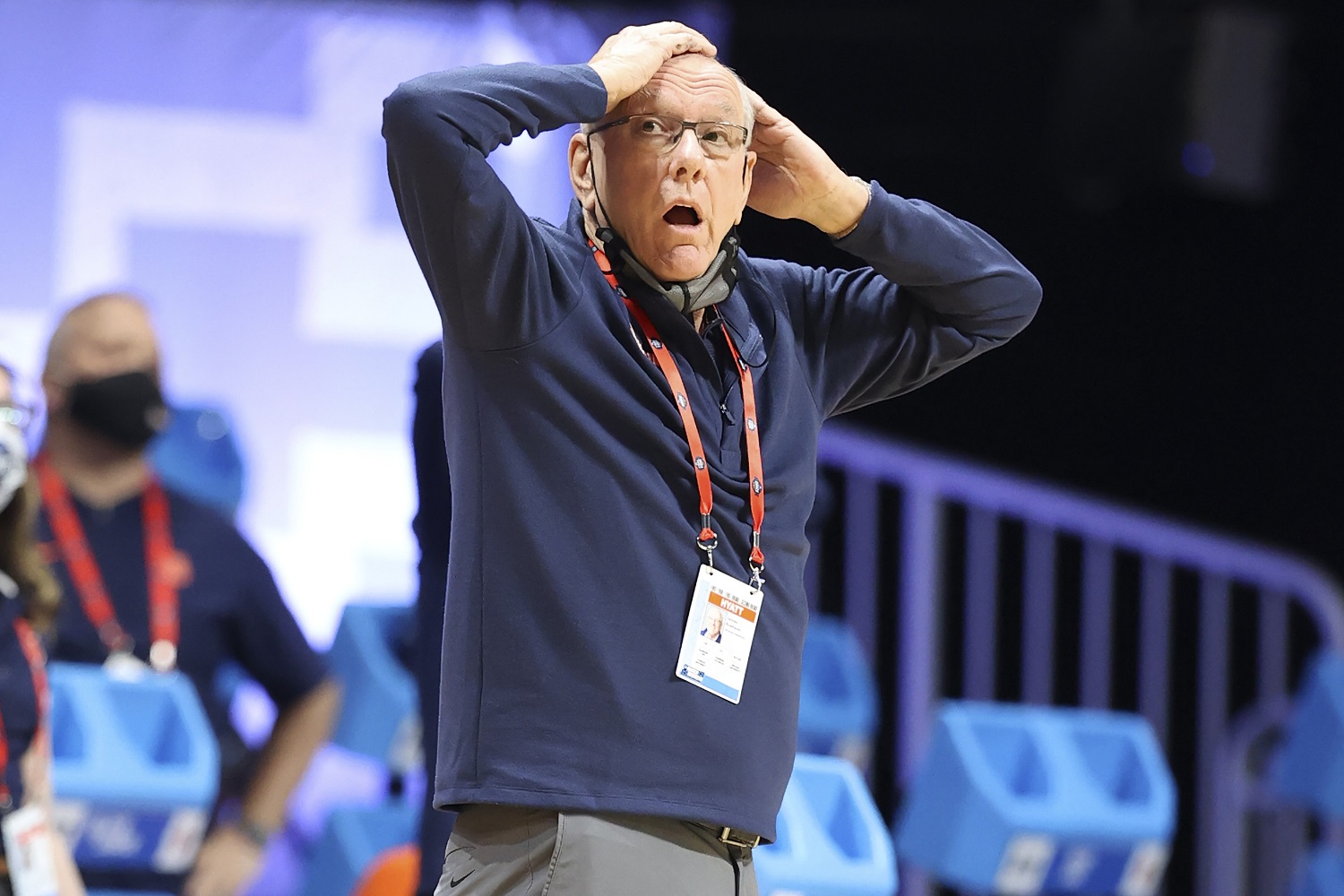 Jim Boeheim Will Be Next Following Mike Krzyzewski and Roy Williams Out the Door
Mike Krzyzewki's decision to retire from Duke University after next season almost certainly clinches Jim Boeheim's departure from Syracuse.
Mark it on your calendar because it's as good as done. Roy Williams' decision to retire from the University of North Carolina this spring made it easier for Mike Krzyzewski to say he'll leave Duke after one more season. Coach K's announcement makes it all but certain that Syracuse icon Jim Boeheim will say he's also checking out of the coaching fraternity, with the announcement likely before the start of the 2021-22 college basketball season.
The rules are changing before our very eyes
With Williams already out the door and Krzyzewski headed there next year, ACC basketball will look considerably different soon. If Boeheim joins them by retiring after next season, that will be more than 3,000 coaching victories sent off into retirement.
Some will point to age and say the coaches decided they're too old to roll with the changes that are coming. That wouldn't be the worst theory either. "Roster management" in college basketball used to consist of turning over the entire roster every four years. Aside from graduation, the only attrition would be the occasional early departure to the NBA and a transfer every other year or so.
These days, the transfer portal is jammed with players who've already decided to leave a school or are seriously considering it. With the NCAA moving to one no-questions-asked transfer per player with immediate eligibility at the new school, substantial annual turnover will be a fact of life.
In addition, the NCAA is under government pressure to determine a "Name, Image, and Likeness" policy in which athletes can monetize their personal brand through social media and presumably through endorsements. No one has a high degree of confidence that they know how it will play out other than to agree that some schools will benefit more than others.
Williams (903-264 record), Krzyzewski (1,170-361), and Boeheim (1,083-409, minus 101 wins due to NCAA sanctions) have already seen plenty of change over the years. What's coming likely constitutes one change too many.
Boeheim returned in 1969 and never left Syracuse
There has been a Boeheim at Syracuse University since Jim Boeheim returned to his alma mater in 1969 as a graduate assistant. There have been two Boeheims there the past three years as guard Buddy Boeheim has made 62 starts. Father and son will have company for the 2021-22 season when Jimmy Boeheim joins his brother on the roster as a transfer from Cornell.
Jim Boeheim's Syracuse University ties date to 1962 as a player alongside future NBA great Dave Bing. After a brief career in the Eastern Professional Basketball League, Boeheim returned in 1969 as an assistant to coach Roy Danforth. When Danforth left in 1976, Syracuse promoted Boeheim, and he immediately rode freshmen Louis Orr and Roosevelt Bouie – "The Louie and Bouie Show" – to the NCAA Sweet 16.
Boeheim, 76, recently completed his 45th season as the head coach, finishing 18-10 and once again taking the Orange to the Sweet 16.
Making next season Boeheim's grand finale seems inevitable
Jimmy and Buddy Boeheim have one season of eligibility remaining, which is sign No. 1 that their father is certain to retire soon. The second indication is that Jim Boeheim is within 18 victories of reaching 1,000 after accounting for the 101 other victories stripped from his record by the NCAA. Getting to the magic number seems attainable.
Finally, Krzyzewski's impending departure makes it that much easier for Boeheim to leave after the season. Though Syracuse only joined the ACC in 2013, Boeheim and Krzyzewski have a close relationship considering the basketball rivalry between their schools.
Krzyzewski has coached Team USA to gold medals at the past three Olympics. Boeheim, with his intricate knowledge of zone defenses, has been by Coach K's side each time.
Riding off together would be the perfect conclusion to their enormously successful careers.
Like Sportscasting on Facebook. Follow us on Twitter @sportscasting19.