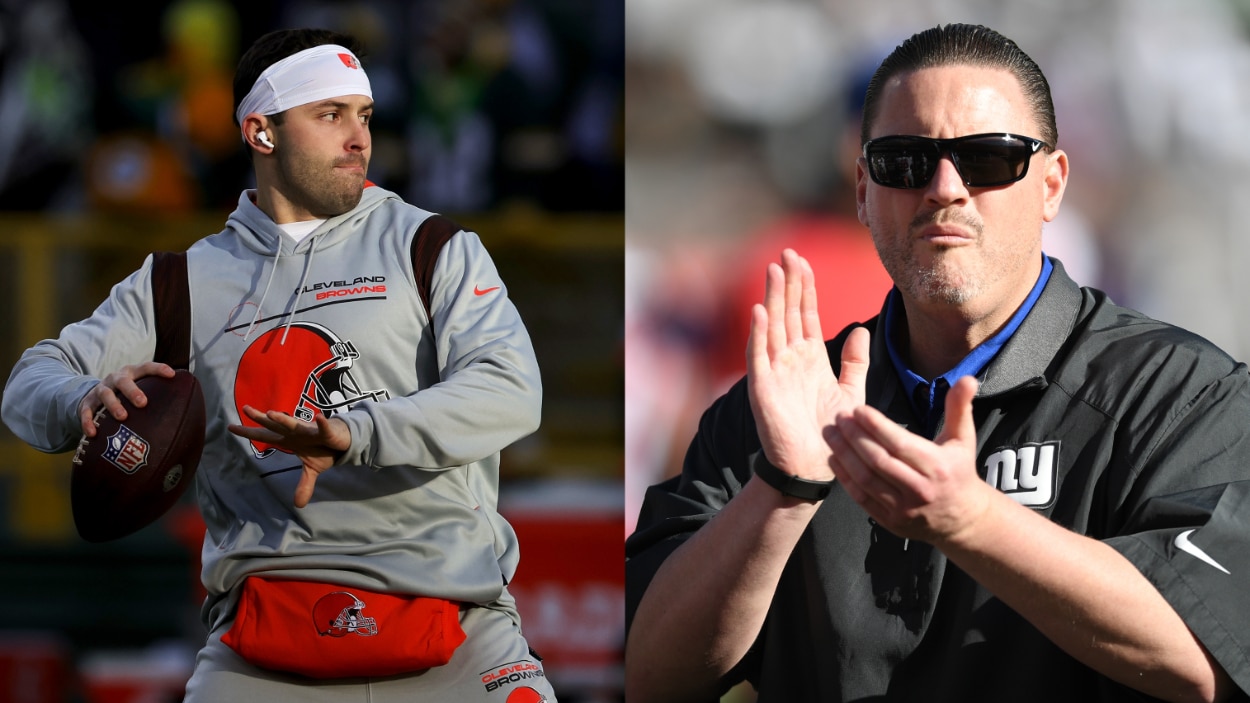 Carolina Panthers OC Ben McAdoo Is Not a Fan of His New QB Baker Mayfield
Baker Mayfield will play under offensive coordinator Ben McAdoo with the Carolina Panthers and it sounds like the OC has never been a fan.
After months of speculation, the Cleveland Browns and Carolina Panthers finally came together to complete a trade that sent Baker Mayfield to Charlotte. That means Mayfield will play under Panthers offensive coordinator Ben McAdoo this season. The problem is that the OC went on record back in 2018 and shared that he's not a big Mayfield fan. 
Carolina Panthers OC Ben McAdoo shared his thoughts back in 2018 on that year's QB draft class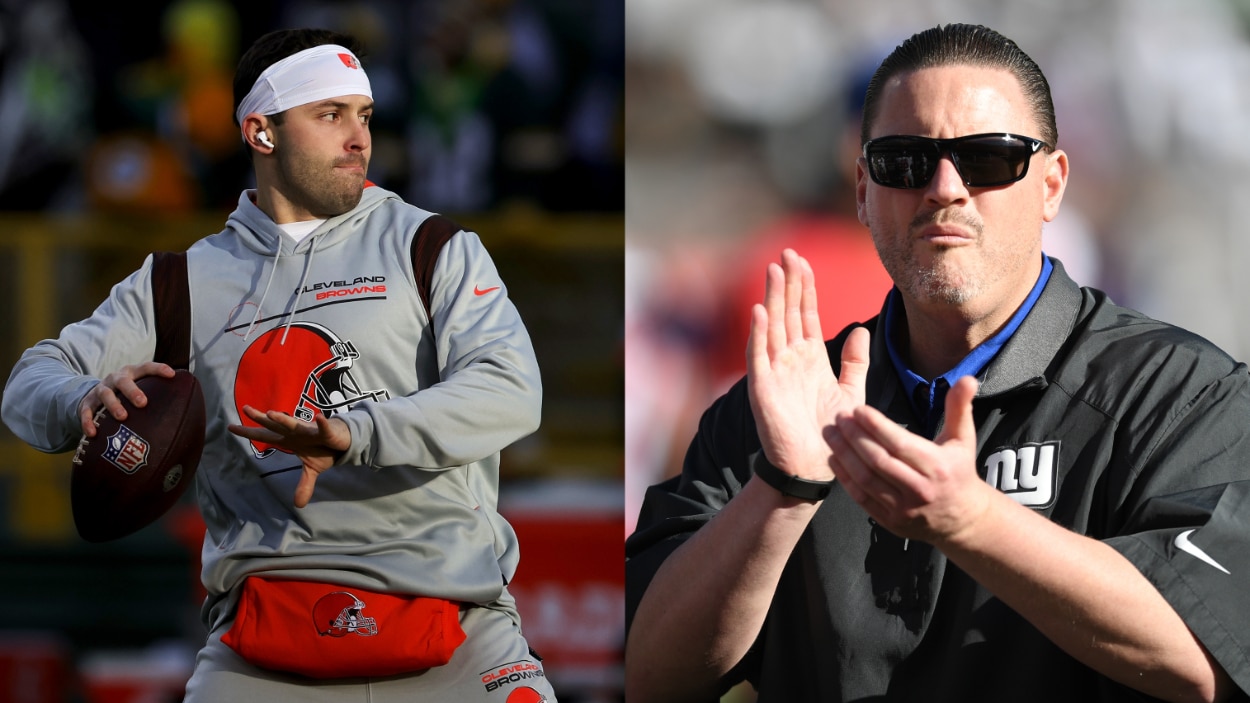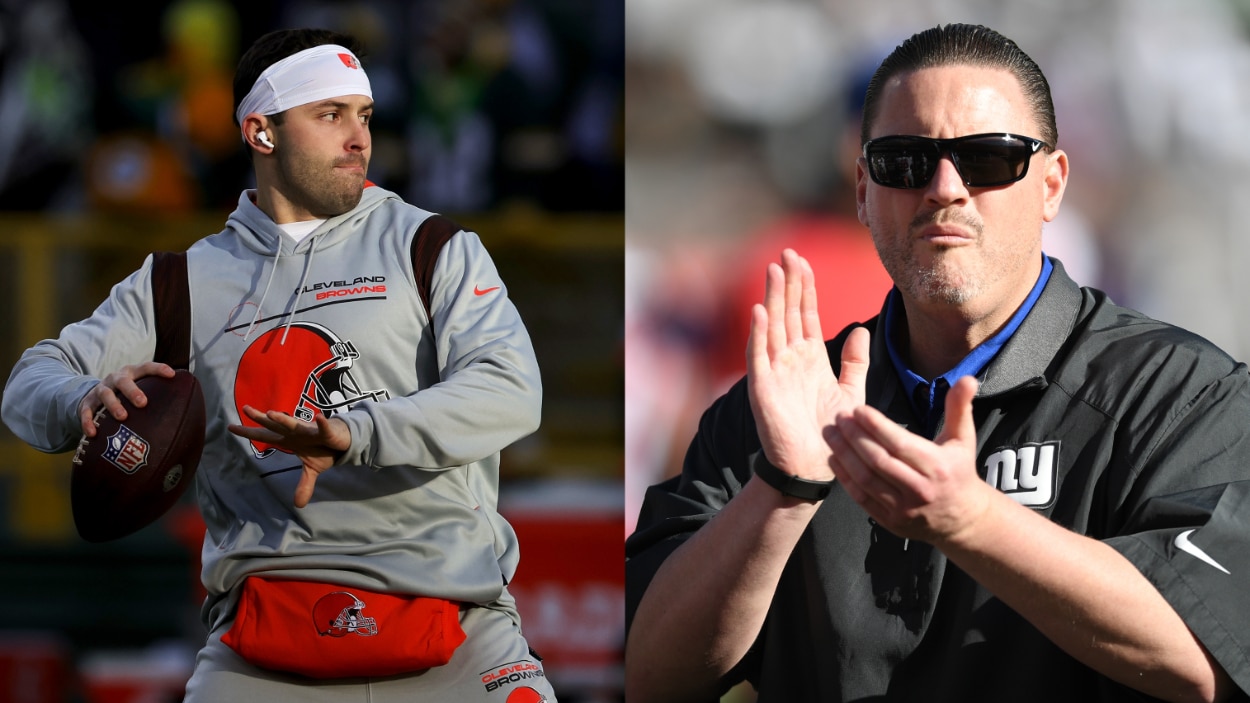 In 2018, the New York Giants fired head coach Ben McAdoo after posting a 13-15 record in two seasons. That offseason, McAdoo interviewed for the Cleveland Browns offensive coordinator position (a job that would ultimately go to Todd Haley). 
The Browns had the No. 1 pick that season and were going to use it to pick one of the five first-round quarterbacks coming out of college that year. 
The Class of 2018 QBs included Oklahoma's Baker Mayfield, USC's Sam Darnold, Wyoming's Josh Allen, UCLA's Josh Rosen, and Louisville's Lamar Jackson. Oklahoma State's Mason Rudolph was also a legit NFL prospect but went in the third round. 
After the 2018 NFL Draft, McAdoo spoke to the New York Post about the Class of 2018. Looking back at that article, the coach nailed it at the top of his QB rankings. He had Josh Allen ranked first and Lamar Jackson, who went No. 32, second. 
Ranking the four signal-callers, McAdoo went Darnold, Rosen, Rudolph, and then the No. 1 overall pick, Mayfield. McAdoo said of Mayfield: 
He's got an edge to him, I like that. He's gonna lead, they're gonna follow him. I didn't see a lot of pro-style football in his college tape. And if you're short you have to be able to make up for it some way, somehow, and personality doesn't do that. I didn't think he was a great athlete. This guy is kinda like a pocket quarterback that is short and with small hands, that's what I worry about.

Ben McAdoo on Baker Mayfield
Fast forward to 2022, and McAdoo is now the Carolina Panthers offensive coordinator. That means his quarterbacks heading into the 2022 NFL season are now Darnold and Mayfield. 
McAdoo now has Baker Mayfield and Sam Darnold as his quarterbacks
On July 6, 2022, the Cleveland Browns traded Baker Mayfield to the Carolina Panthers for a conditional 2024 fifth-round pick. 
This trade means that heading into the 2022 NFL season, the Carolina Panthers will have the 2018 Nos. 1 and 3 overall picks on the roster. In that same 2018 interview, Ben McAdoo sounded higher on Sam Darnold than Mayfield. He told the New York Post: 
I think [Darnold] has a lot of magic in his game. I think he's special. He's obviously a talented guy, he can make plays with his feet. I'd just have a hard time drafting a guy in the first round where you don't necessarily like the way he throws. He can overcome it, guys have, but that's something that's a challenge for me. I'm gonna be looking at that, trying to fix it, because it's a fundamental flaw, and I believe in the fundamentals. The quarterback, his No. 1 job is to pass the football. If I don't like the way he throws the ball, I have a hard time picking him, right?

Ben McAdoo on Sam Darnold
Despite McAdoo ranking Darnold higher than Mayfield, the latter has put up better NFL numbers. In four seasons, the stats look like this: 
Mayfield: 59 starts, 29-30, 61.6% completion rate, 14,125 yards, 92 TDS, 56 INTs
Darnold: 49 starts, 17-32, 59.8% completion rate, 10,624 yards, 54 TDS, 52 INTs
If McAdoo doesn't like either Darnold or Mayfield, despite paying the pair $28.6 million next season, the starting job could go to a rookie. 
Could Matt Corral start for the Carolina Panthers? 
In addition to Baker Mayfield and Sam Darnold, Ben McAdoo will also have the option of former Ole Miss QB Matt Corral running his offense in 2022. 
The Carolina Panthers took Corral with the No. 93 overall pick in the third round of the 2022 NFL Draft. McAdoo said of the rookie QB in a Panther Confidential video (h/t SI.com): 
I think he has the chance to be unique. He's my kind of guy with the way he's built, his athleticism, and the way he throws it and can pull the trigger. I can feel him on the tape, he competes. He's got passion. He's got something that can make him special and that's the way he gets the ball out of his hand. 

Ben McAdoo on Matt Corral
On their draft-day phone call, the offensive coordinator also reportedly told Corral, "Let me tell you something, you hit the lotto coming here, man. I loved you from the beginning."
Based on McAdoo's public quotes, it obviously seems like Corral is his guy. However, training camp will tell the tale and determine who will start for the Panthers (at least at the beginning of) 2022. It should be one of the most intriguing preseason QB battles to watch. 
All stats courtesy of Pro Football Reference