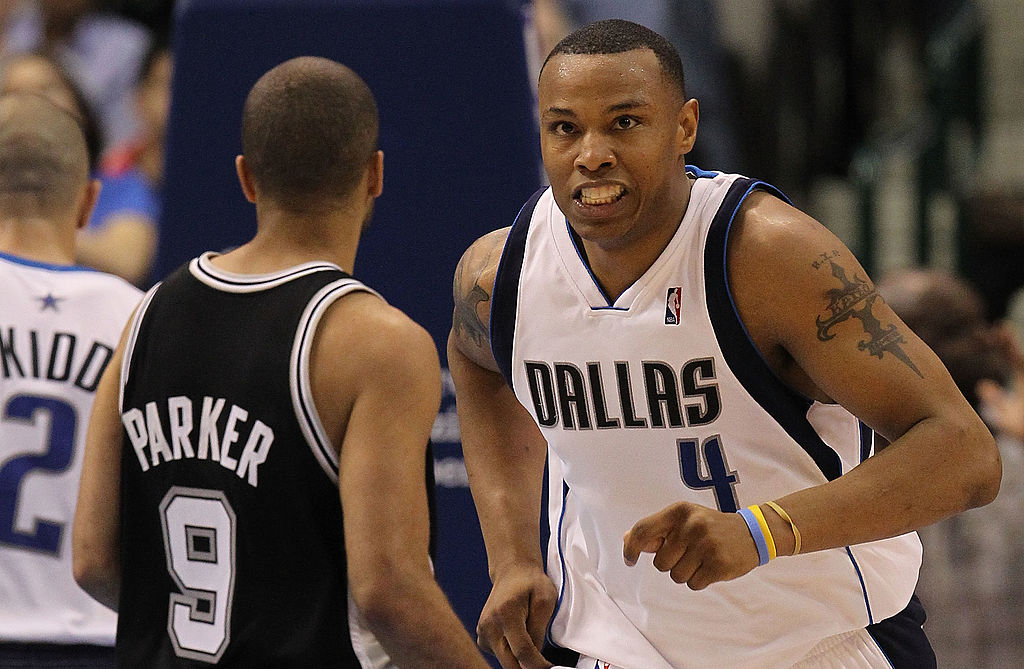 Caron Butler: From Dealing Drugs at 11 to Making Millions as an NBA All-Star
Two-time NBA All-Star Caron Butler went from dealing drugs at the age of 11 to making millions of dollars in the NBA.
Like any youngster, Caron Butler had goals. His goals, however, weren't to be like Michael Jordan and make a living playing in the NBA. In fact, he never dreamed about playing basketball professionally. When he was 11, he wanted to be like Junebug. Jimmy 'Junebug' Carter could sell drugs like the best of them. Forget the NBA, Butler wanted to be the best drug dealer in town.
Caron Butler's basketball success
Many remember Caron Butler for his 14-year career in the NBA or for his two-year stint at the University of Connecticut. Butler was a talented 6-foot-7 swingman who spent parts of his 14 NBA seasons with nine different teams. He was a two-time NBA All-Star and was named to the NBA's All-Rookie Team in 2002-03.

Butler was drafted by the Miami Heat with the 10th overall pick in the 2002 NBA draft after two strong seasons at UConn. In his freshman year in college, Butler led the Huskies in both scoring (15.6 ppg.) and rebounding (7.6 rpg). In his sophomore season, Butler increased his scoring average to 20.3 points per game and helped UConn reach the Elite Eight of the NCAA basketball tourney. 

Butler spent his first two seasons in the NBA with the Heat and then was involved in a 2004 trade to the Los Angeles Lakers for Shaquille O'Neal. After one year with the Lakers, Butler went to the Washington Wizards where he twice was an NBA All-Star. In December of 2011, Butler signed a three-year, $24 million deal with the Los Angeles Clippers. For his career, Butler played in 881 games and averaged 14.1 points per game.
Dealing drugs at 11 years old
Growing up in Wisconsin, Caron Butler never gave basketball a thought. He had other things on his mind. "The real goal was being out there on the streets and trying to make ends meet and make money." He began shooting guns at 9, dealing drugs at 11, bragging about his $10,000 stash and nice clothes at 13.
Butler looked up to drug dealers like Jimmy "Junebug" Carter, who described himself as "The Santa Claus of the ghetto." Butler recalled how Junebug won a BMW in a dice game, shut down a local Foot Locker by buying all the merchandise and kept 10s of thousands of dollars in various houses around the city.
"Be like Mike? Everybody I knew wanted to be like Junebug," Butler wrote in his autobiography, Tuff Juice: My Journey from the Streets to the NBA. In the book, Butler said he really got into the drug game as a teen and recalls the first time he got caught. "I was at high school and the ATF came in and they caught me with a quarter ounce of cocaine and a handgun. I ended up doing a little bit over a year in corrections for that case."
Caron Butler's turning point
Before he reached the age of 15, Caron Butler had been arrested 15 times. At one point during his teen years, Butler wound up at a maximum-security detention center where his outlook on life changed. "It was survival," Butler said on the Oprah Winfrey Show. "People were getting raped. You've got murders in there. … It was a bad environment."
It was at the detention center where Butler developed his love for the game of basketball and decided to turn his life around. At one point, he was locked in solitary confinement for two weeks after a fight with another inmate. "I remember writing my mother letters, so many letters, telling her how much I loved her and if I was to get out, I would never, ever hurt her again," he said. "It was from this moment I knew that I could do anything in life."
Today, Butler doesn't shy from his past. He embraces it. It made him who he is today. "When you come from that environment, when you come from that lifestyle, the only thing they know is what they know. If it happens to be that trade, it's unfortunate," Butler said. "But there's some people out there that have good hearts and good intentions that's trying to better their self and just going about it a little bit in the wrong way. They just need some direction. Look what happened in my life with some direction."