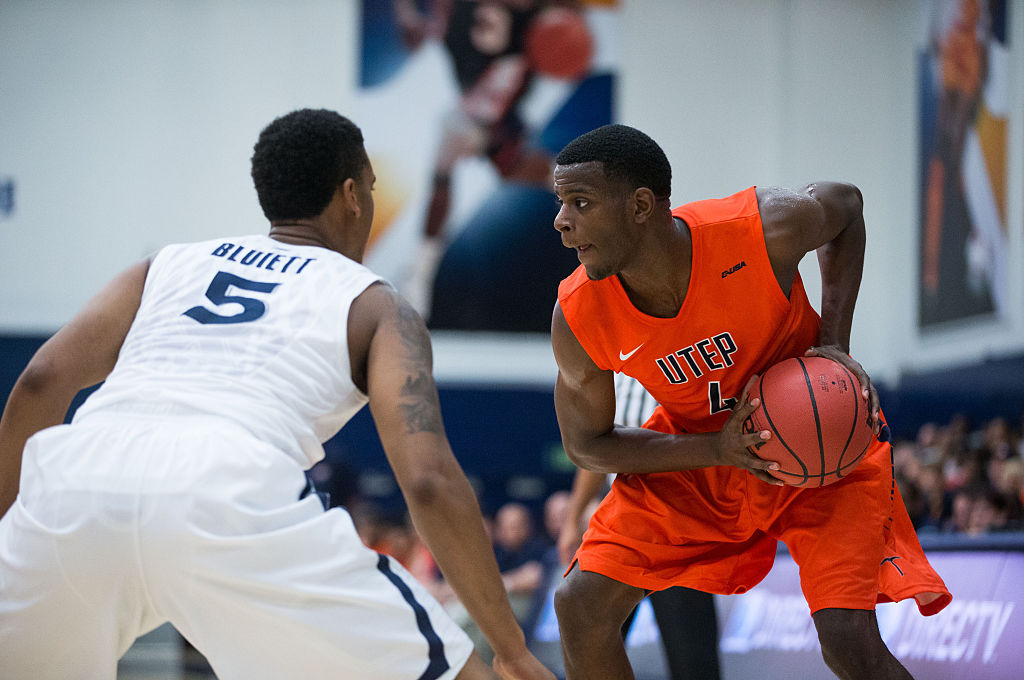 Chris Washburn's Son Julian Appreciated NBA Life Unlike His Dad
Former NBA player and draft bust Chris Washburn's son Julian appreciated his short time in the NBA, unlike his father.
Talent-wise there was no comparison. Dad had it all and threw it away. Son worked for all he had and embraced it. Back in 1986, Chris Washburn was the third selection in the NBA draft. When he made it t the NBA, he stopped working hard and was labeled a bust. Julian Washburn was never drafted, but scratched and clawed his way to the NBA, making his debut with the Memphis Grizzlies in 2019. Chris Washburn and Julian Washburn are different, and that bodes well for the son.
The rise and fall of Chris Washburn
Chris Washburn, a 6-foot-11 center, was one of the most promising and dominant players coming out of college and heading into the 1986 NBA draft. Washburn was big and fast and was the third pick in the draft, selected behind Brad Daugherty and Len Bias.
Washburn, however, never materialized in the NBA. A combination of a poor work ethic and the consumption of drugs made his NBA career short-lived. "I kind of lost focus," he said during a podcast in 2016. "When you're in the NBA, you can't lose focus. I started to enjoy the party life more than the practice life. Sad to say my stint was very short. That was the part where I lost the edge to compete again when I got to the NBA."
In his two years in the NBA, he averaged 3.1 points and 2.4 rebounds. By 1989, he had failed three drug tests and was banned by the NBA. Washburn's post-NBA life was much worse than his poor play on the court. Washburn was homeless and eating out of trash cans. He was also spending all his money on drugs and then spent time in prison on drug-related offenses.
Julian Washburn unlike his father
Physically, Julian Washburn is a smaller version of his father on the court at 6-foot-8. He is also much different. Washburn is an intense player known more for his defensive prowess.
At the University of Texas-El Paso, he averaged 11.7 points per game over 130 games in his four-year career. When he left the school, his 1,526 points had him sixth on the all-time scoring list. Washburn, however, was a hard worker who rarely left the court. He was first all-time in minutes played at the school with 4,448 when he graduated. He was the lone player in school history with four years of playing 1,000-plus minutes.
In his senior year, Washburn was named Conference USA's Defensive Player of the Year. He was also one of 26 finalists for the Lefty Driesell National Defensive Player of the Year Award. He entered the 2015 NBA draft but was not selected.
Julian Washburn makes NBA debut
On Jan. 21, 2019, Julian Washburn realized his dream of playing in the NBA. Unlike his father Chris Washburn did when he played in 1986, Julian embraced the moment.
Julian Washburn didn't play much — the final 1:29 to be exact — but he soaked it all in when he entered the game against the New Orleans Pelicans. "Even though it was only like a minute or so, it felt like I was in a dream," Washburn said of his NBA debut. "It was something I always dreamed of and something I've been working toward my whole life is playing in an NBA game."
Washburn had twice been signed and waived by the San Antonio Spurs before inking a two-way contract with the Grizzlies on Jan. 15, 2019. He made his debut six days later. In July, he was traded to the Golden State Warriors and then released. The Philadelphia 76ers signed him in October and then released him. His tenacity and hard work got him to the NBA and might eventually get him back there — unlike his father.
Chris Washburn was there to see his son's debut, but Julian said the two don't really talk much about the NBA. "It's something I'm really learning on my own," Julian said. "I'm old enough now that I kind of know about basketball."