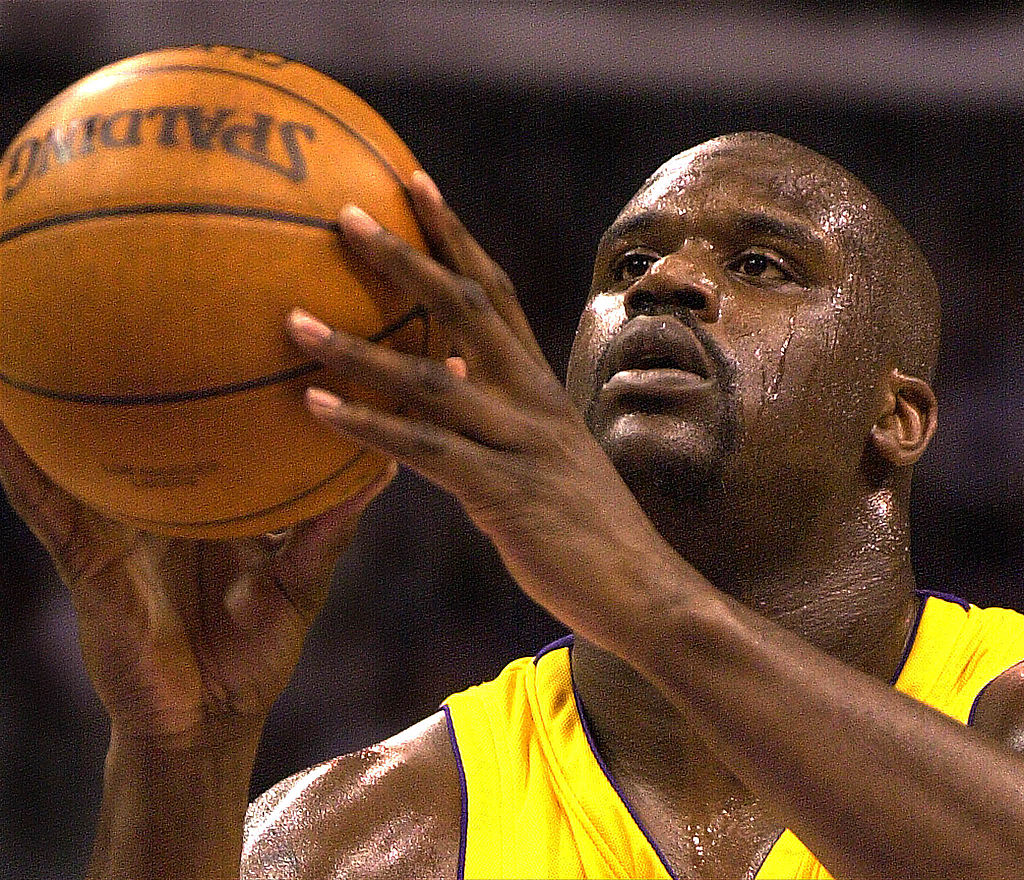 Shaquille O'Neal and Wilt Chamberlain Combined to Miss More Than 11,000 Free Throws in Their Pro Careers
NBA Hall of Famers Shaquille O'Neal and Wilt Chamberlain combined to miss more than 11,000 free throws in their careers.
Shaquille O'Neal and Wilt Chamberlain are both legends of the NBA. Both are Hall of Famers and the pair combined to win six NBA championships. Shaq was a 15-time NBA All-Star, while Chamberlain was an all-star for 13 seasons. While both big men were ultra-successful on the court, both also struggled mightily in one aspect of their game. 
Wilt Chamberlain's NBA career
There was nobody any more dominant on the basketball court in the 1960s than Wilt Chamberlain. Chamberlain, the Rookie of the Year in 1960, was the league's scoring champion in his first six seasons and the top rebounder in his first four years.

During the 1961-62 season, the Philadelphia Warriors 7-foot-1 center averaged 50.4 points and 25.7 rebounds per game. During that season, on March 2, 1962, Chamberlain made 36 of 63 shots from the field en route to a still-standing record of 100 points. Known as a terrible foul shooter, Chamberlain also made 28 of 32 free throws in that game.

In the 1966-67 season, Chamberlain led the league in rebounding (24.2 per game) and had an incredible .683 field-goal percentage. That season, Chamberlain won his first NBA title as the Philadelphia 76ers defeated the San Francisco Warriors 4-2. Chamberlain went on to win his second NBA title as a member of the Los Angeles Lakers.
Shaquille O'Neal's NBA career
Like Wilt Chamberlain, Shaquille O'Neal was the most dominant big-man of his time. The 7-foot-1 center out of LSU was an inside force who was the NBA's Most Valuable Player in 2000.

O'Neal, drafted with the first overall pick by the Orlando Magic in 1992, played his first four seasons with the Magic. When O'Neal became a free agent before the 1996-97 season, he signed a seven-year deal worth $121 million with the Los Angeles Lakers. Ten times during his career, Shaq led the league in field-goal percentage.

For his career, O'Neal averaged a double-double (23.7 points and 10.9 rebounds). He won four NBA titles and was the NBA Finals MVP for three straight years (2000-02). O'Neal was inducted into the Pro Basketball Hall of Fame in 2016. He has his No. 34 jersey retired by the LA Lakers and his No. 32 retired by the Miami Heat.
O'Neal and Chamberlain each missed more than 5,000 free throws
Shaquille O'Neal and Wilt Chamberlain were both known as dismal foul shooters. They are the only two players in NBA history to have missed 5,000 or more free throws. Chamberlain missed 5,805 free throws, while Shaq misfired on 5,317 of them.
O'Neal is a career 52.7 percent shooter from the free-throw line, while Chamberlain shot 51.1 percent. In a game against the Seattle SuperSonics in 2000, O'Neal went 0-for-11 from the free-throw line. Shaq had his own theory why he didn't shoot well from the foul line.
"The theory is, it was the man way upstairs' way of keeping me humble," he said. "Seriously. Because the way I played, the way I made everyone else around me better, all of the publicity I was doing — imagine if I was doing that and had shot 90% from the free-throw line. I would have been arrogant. I'd probably be so arrogant. So it was just his way of saying 'hey, buddy, you're just like everybody else.'"