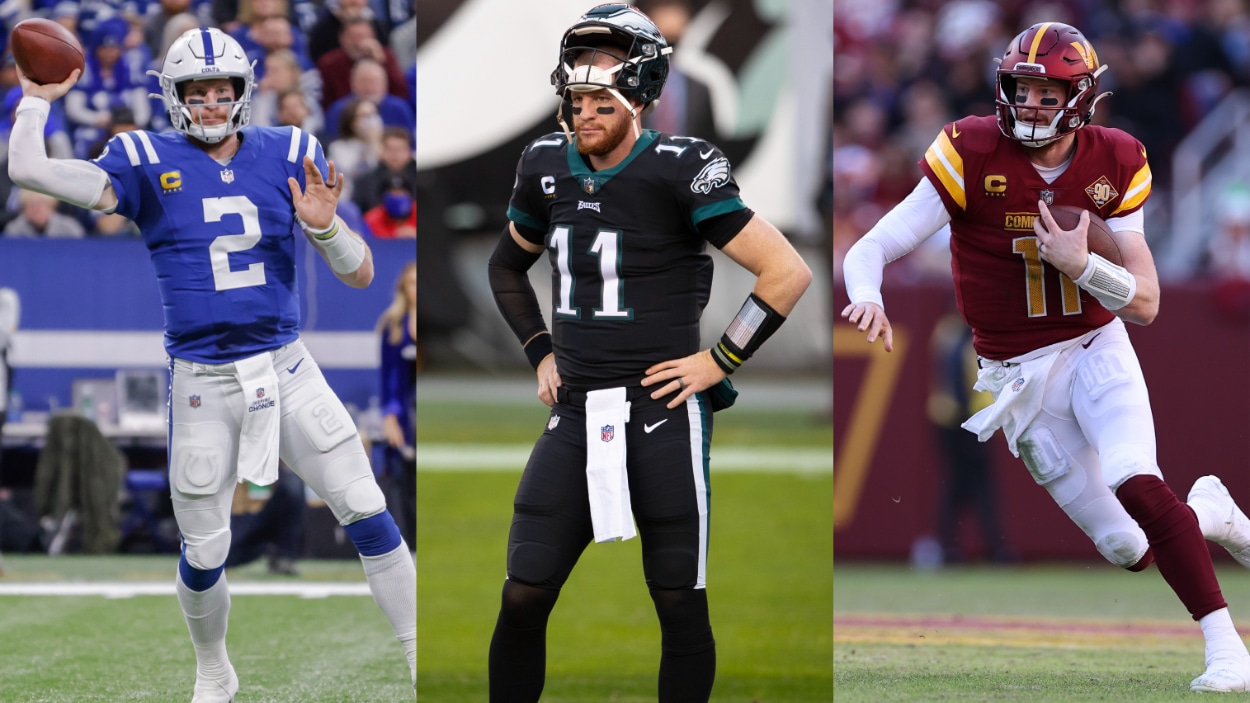 Carson Wentz Contract: Has the Commanders QB Started His Last NFL Game?
The Carson Wentz contract with the Commanders is likely over after the 2022 season, so will the QB ever be an NFL starter again?
In 2016, Carson Wentz was the No. 2 overall draft pick out of North Dakota State. A year later, he finished third in the MVP race and might have won if not for a major knee injury in Week 13. That season, the Philadelphia Eagles went on to win the Super Bowl without him. Wentz came back the following season, but he was never the same. From 2018 on, Wentz is 28-34-1 as a starter, and the Eagles passed the Carson Wentz contract on like a hot potato to the Indianapolis Colts, who tossed it to the Washington Commanders. Now Ron Rivera is benching Wentz in favor of rookie Sam Howell, and the once-promising Wentz is likely done as an NFL starter.
The Carson Wentz contract is coming to an end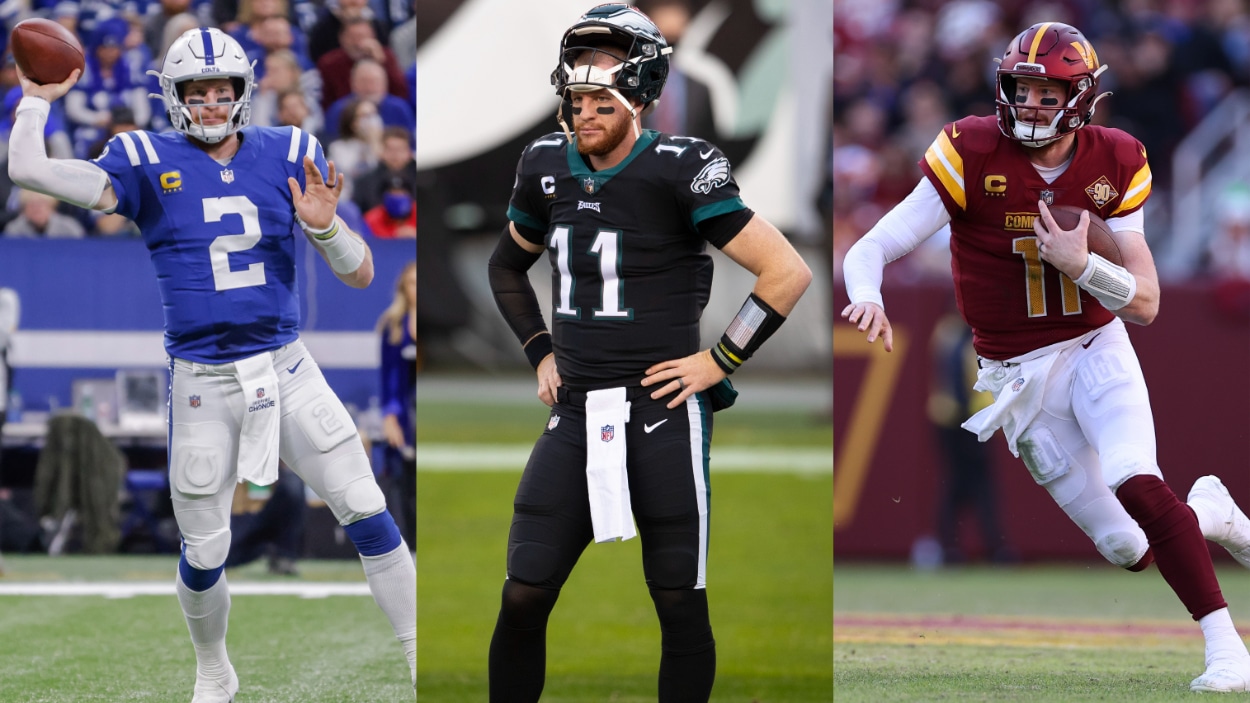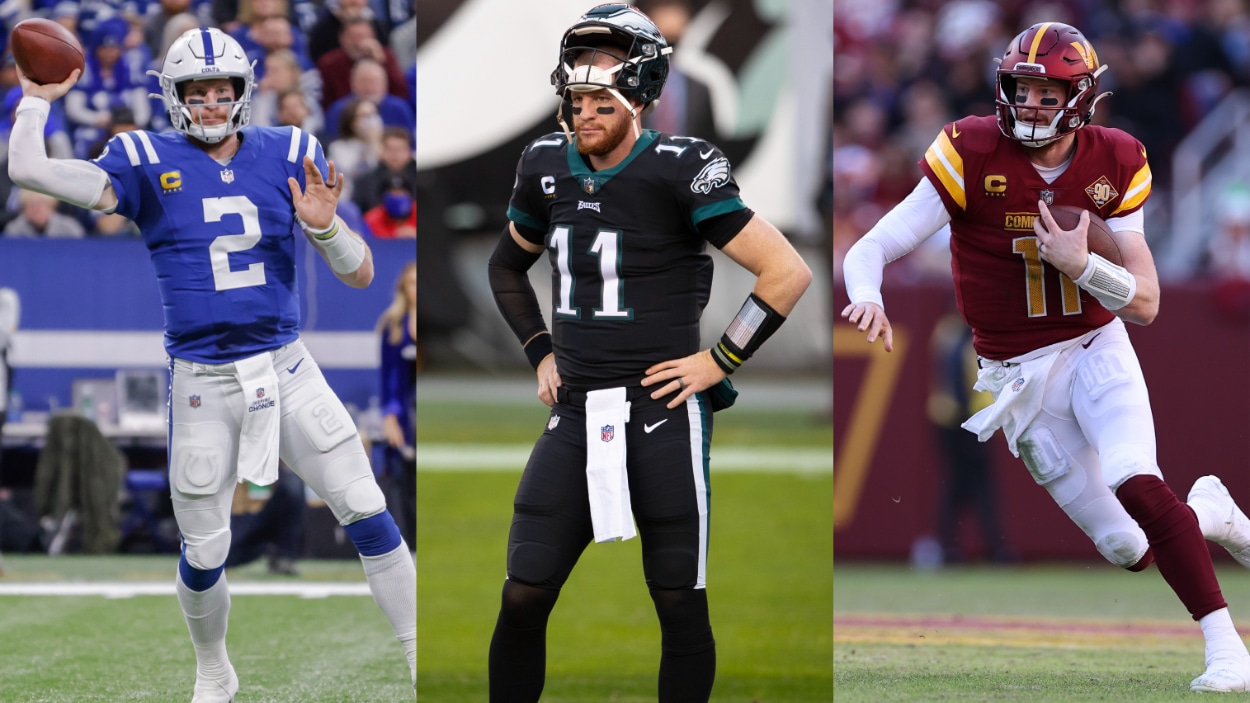 Two years post knee injury, Carson Wentz posted a career-high 4,039 passing yards in 2019 while leading the Eagles to a 9-7 record. That got the team to pick up the quarterback's fifth-year option for 2020 and give him a four-year extension on top of that.
This Carson Wentz contract — which he is playing under in 2022 — was structured in an interesting way. Overall, it was a four-year, $128,000,000 deal with a $16,367,683 signing bonus and $107,970,683 guaranteed. That gives the pact an average annual value of $32,000,000 per season.
However, for salary cap purposes, he played under his final rookie year number in 2019 and fifth-year option value in 2020. In those seasons, his cap hits were just $8,393,782 and
$18,656,536, but the total cash he took home those years were $17,087,683 and $39,383,000, respectively.
The result is that the last two years of the extension (2023 and 2024) have no dead cap of guarantees until the start of those league years.
In 2022 with the Commanders, Wentz made $22,000,001 in base salary and a $6,294,118 roster bonus, which works out to a $28,294,119 cap hit and $27,000,000 in dead cap. The next two seasons, his contract has cap hits of $26,176,470 in 2023 and $27,235,294 in 2024. There is no dead cap hit, though, so as long as the Commanders cut him before March 17, 2023, they owe him nothing.
And after the announcement that Sam Howell will start in Week 18, that looks like exactly what the Commanders will do with the Carson Wentz contract.
Will Wentz be a starter in 2023?
The one thing that seems certain in the 2023 NFL offseason is that there will be a lot of quarterback movement in the offseason. There are at least 19 NFL quarterbacks with starting potential who could become free agents this offseason. Along with that, at least a half dozen QBs expect to hear their names called in the first three rounds of the NFL Draft.
That means that with the 13 teams who are definitely set at the signal-caller spot, there are around 25 QBs in play for 19 jobs.
Figuring that highly-drafted rookies and the top free agents (Tom Brady, Lamar Jackson, Derek Carr, Jimmy Garoppolo, Geno Smith) fill at least nine of those jobs, you're looking at 10 or fewer starting QB spots that are truly up in the air.
For those 10 teams, it all comes down to how they value the Commanders QB and what they are willing to pay in the next Carson Wentz contract.
Overall, it may seem like Wentz may never start again unless a QB ahead of him gets hurt. However, as the offseason goes on, there is a solid chance that some team talks themselves into giving Wentz $15 million or so and letting him start the season over a rookie or compete with another lower-to-mid-level starter.
Wentz was once the No. 2 pick of the NFL draft and a legit MVP candidate. That may have been years ago, but that type of pedigree doesn't fade from the memory of NFL executives. There is a small chance that Wentz has burned his last NFL bridge in Washington.
However, if I had to put money on it, I'd say there's a Carson Wentz contract that pays him double-digit millions next season and that he starts at least three games. That's just how the NFL works and how desperate teams without a franchise QB are to find one, even for one season.