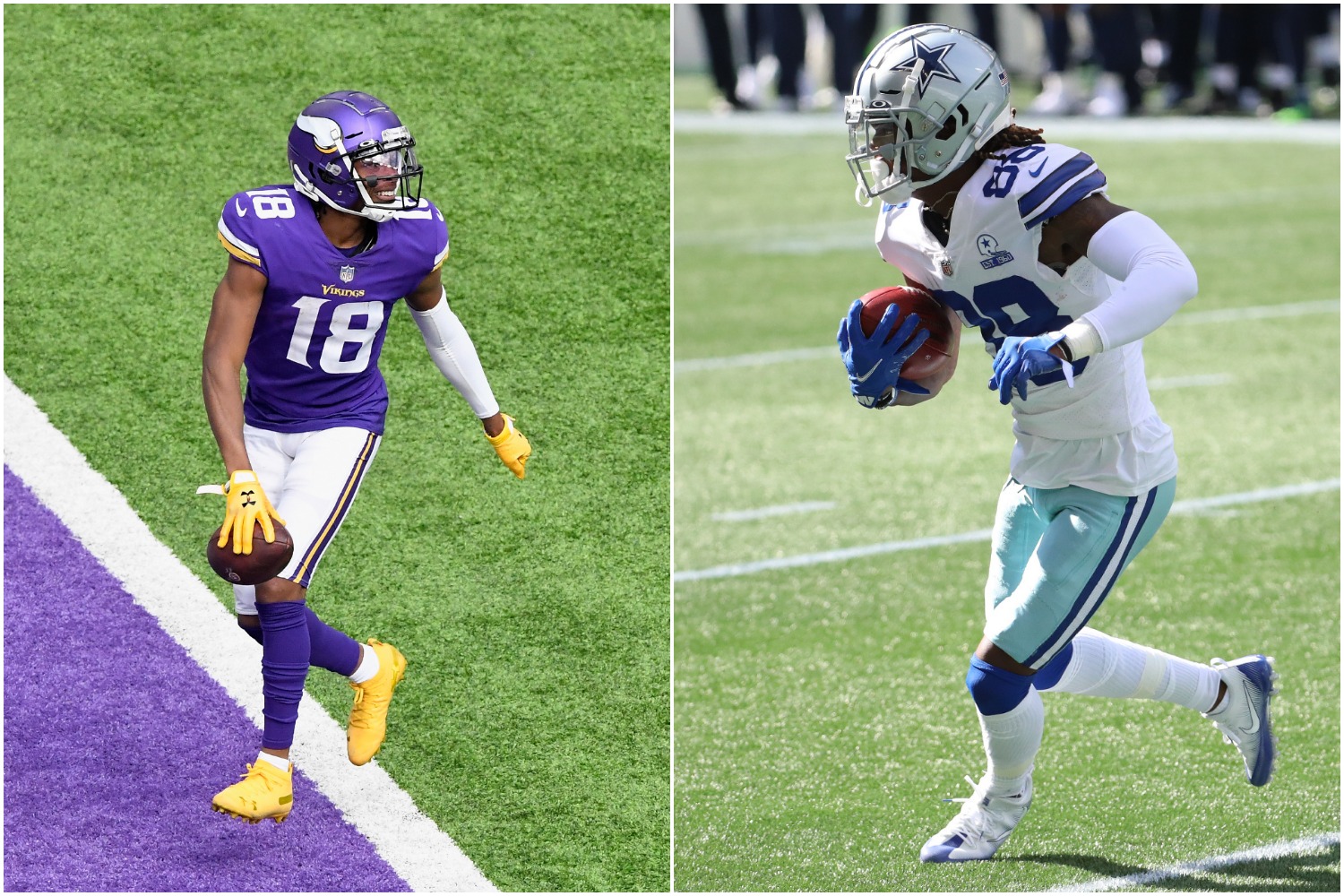 CeeDee Lamb vs. Justin Jefferson — Who Is the Better Rookie Receiver?
CeeDee Lamb and Justin Jefferson were both top college receivers taken in the first round of the 2020 NFL Draft. Who has had the better rookie season?
The Dallas Cowboys and Minnesota Vikings face off today in Minnesota. While both teams have losing records and have struggled on defense, both offenses are ranked in the top 10 in yards per game. The offensive production for both squads is due in large part to rookie receivers CeeDee Lamb with the Cowboys and Justin Jefferson with the Vikings. Which one has been the better receiver this year?
CeeDee Lamb earns All-American honors at Oklahoma
CeeDee Lamb played three seasons at the University of Oklahoma, where he put up impressive numbers. During his freshman campaign, he caught 46 passes for 807 yards, an average of 17.5 yards per catch. He scored seven touchdowns.
During his sophomore season, Lamb's production dramatically increased. He finished the 2018 season with 65 catches, 1,158 yards (17.8 per catch), and 11 touchdowns. 
In CeeDee Lamb's final season in Norman, he posted the best numbers of his career. His number of catches actually declined to 62, but his total yardage and touchdowns increased. He finished with 1,327 yards for an eye-popping 21.4 yards per catch, and scored 14 touchdowns. He earned consensus All-American honors.
The Dallas Cowboys selected Lamb with the 17th overall pick in the 2020 NFL Draft.
Justin Jefferson leads nation in receiving at LSU
Justin Jefferson appeared in just two games his freshman season at LSU. In 2018, that all changed and Jefferson became a focal point of the Tigers offense. That season he caught 54 passes for 875 yards, for an average of 16.2 yards per reception. He scored six touchdowns.
In 2019, the junior receiver had a huge year catching passes from eventual Heisman Trophy-winning quarterback Joe Burrow. Jefferson led the nation with 111 receptions for 1,540 yards. He scored an impressive 18 touchdowns. 
Interestingly, four of Justin Jefferson's touchdowns came in record-setting style during the College Football Playoff when the Tigers battled Lamb and his Oklahoma Sooners in the Peach Bowl. Jefferson caught 14 passes for 227 yards with four touchdowns, all in the first half. He added another nine receptions for 106 yards as the Tigers defeated Clemson 42-25 for the national title.
The Minnesota Vikings selected Justin Jefferson with the 22nd overall pick in the 2020 NFL Draft, five slots behind Lamb. 
Who is the better rookie receiver — CeeDee Lamb or Justin Jefferson?
The Dallas Cowboys named CeeDee Lamb the starter to begin the season. In his first game, he caught five passes for 59 yards. In Week 2, he topped the century mark for the first time in his career with 106 yards on six catches. 
He didn't catch any touchdowns until Week 5 when he caught a pair from Dallas Cowboys quarterback Dak Prescott. However, since Prescott's season-ending injury, the Cowboys' offensive gameplan changed and Lamb's numbers have dropped. For the season, he has 44 receptions for 595 yards (13.5 per reception) and three touchdowns.
Conversely, Justin Jefferson didn't start for the Vikings until Week 3, and it was impressive to say the least. He had seven receptions for 175 yards or 25 yards per catch and added a touchdown. Jefferson has remained consistent throughout the season and has 42 catches for 762 yards (18.1 per reception) and three touchdowns. 
Just over halfway through the season, CeeDee Lamb and Justin Jefferson have both had impressive starts to their careers. While Jefferson has an edge in total yards and yards per catch, the pair are dead even at three touchdowns apiece. The loss of Prescott has undoubtedly had an effect on Lamb's production.
This week's contest between the Dallas Cowboys and Minnesota Vikings will allow the receivers to showcase their talents on the same field for the first time since the 2019 Peach Bowl. However, this time around, their individual performances will likely garner more attention than the overall game simply because there's not nearly as much on the line as the last time they met. 
All stats courtesy of Pro Football Reference.