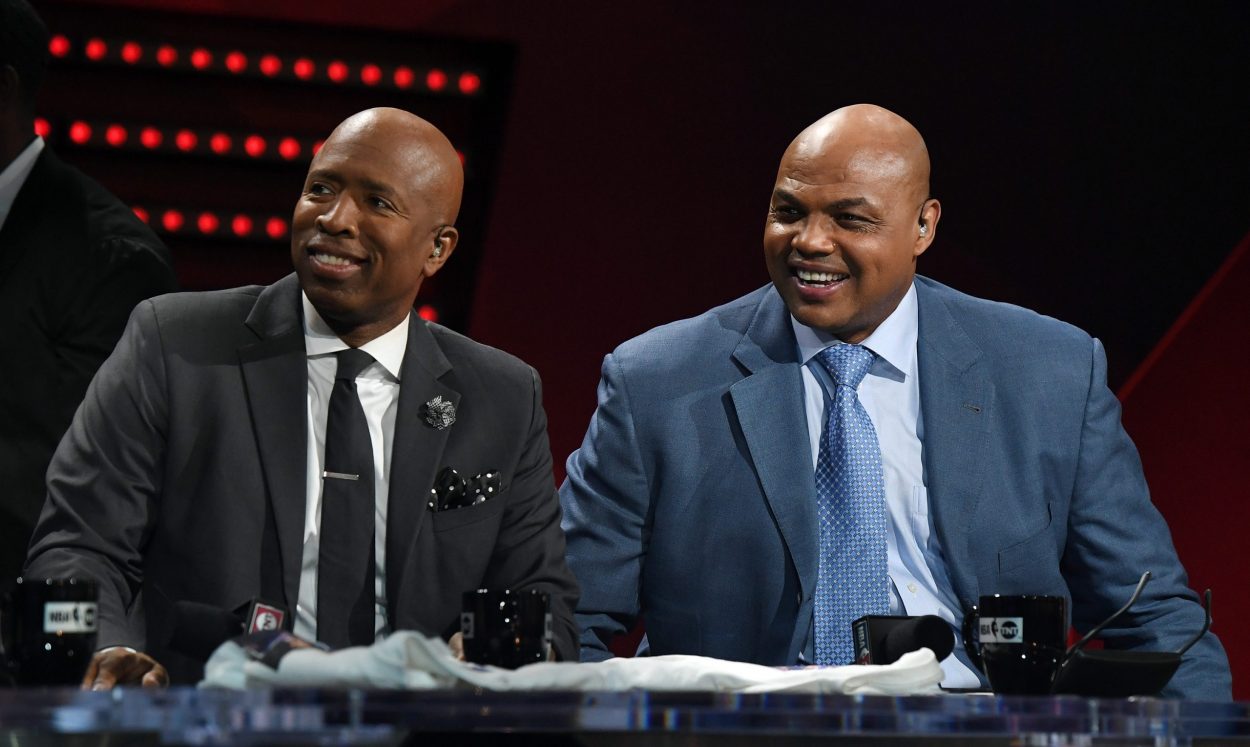 Charles Barkley Brutally Roasted Kenny Smith and Suggested He Was Hakeem Olajuwon's Water Boy: 'Kenny, Bring Me Some Water?'
Charles Barkley, Kenny Smith, and the rest of the "Inside the NBA" crew never hold back from roasting one another or even making jokes at their own expense. Barkley had a hilarious description of The Jet's role with the Houston Rockets during a halftime segment in May, calling him Hakeem Olajuwon's water boy..
Charles Barkley and Kenny Smith have a terrific working relationship as staples on Inside the NBA. They're not afraid to jab at one another, either.
Chuck and The Jet, in addition to Shaquille O'Neal, bring a sense of levity to the show with tremendous back-and-forth dialogue and the occasional humorous one-liner. Barkley, in particular, has a knack for delivering some quality lines, and he hilariously roasted Smith when the former Houston Rockets guard tried to impart some lessons he learned from Hall of Fame center Hakeem Olajuwon.
Charles Barkley and Kenny Smith both played with Hakeem Olajuwon
Charles Barkley might not be considered a Houston Rockets legend, but he, too, played alongside Hakeem Olajuwon.
Barkley spent the final four seasons of his NBA career in Houston. They were mostly forgettable seasons, though the Rockets did make it to the Western Conference Finals during the 1996-97 season.
Kenny Smith's run in Houston was quite a bit more memorable. Smith played a pivotal role on the Rockets' championship teams in 1994 and 1995. His ability to space the floor forced opposing teams to respect Houston's shooting, which gave Olajuwon more room to operate on the block.
However, the Round Mound of Rebound hilariously suggested Olajuwon carried Smith and the rest of his Rockets teammates during their run in the 1990s.
Barkley mused that Smith was The Dream's water boy
The Inside the NBA guys typically draw on their own playing experiences when providing analysis, and those stories can occasionally lead to some classic ribbing. Such was the case for Kenny Smith last May.
Smith was breaking down a playoff game between the Los Angeles Clippers and Dallas Mavericks when he invoked Hakeem Olajuwon's name. He began his tale by saying, "Hakeem Olajuwon used to say this to me all the time…" Before he could continue, however, Charles Barkley basically likened him to Adam Sandler's fictional portrayal of Bobby Boucher.
The Dream was the centerpiece of the Rockets franchise for years. He's a former MVP who's two-way excellence made him one of the greatest centers in NBA history. But Smith was far more than just a water boy for Olajuwon and the Rockets.
Smith made big plays for Houston during their run to back-to-back titles. The most notable came in Game 1 of the 1995 NBA Finals, when he hit a then-record seven three-pointers and helped the Rockets overcome an 11-point first-half deficit.
To his credit, Smith had a quick response for Barkley. He humorously quipped Olajuwon would tell him, "Charles is really heavy." Of course, The Jet can also take solace knowing he has the one thing Barkley never attained during his esteemed NBA career.
The Jet has the championship bling that Chuck never received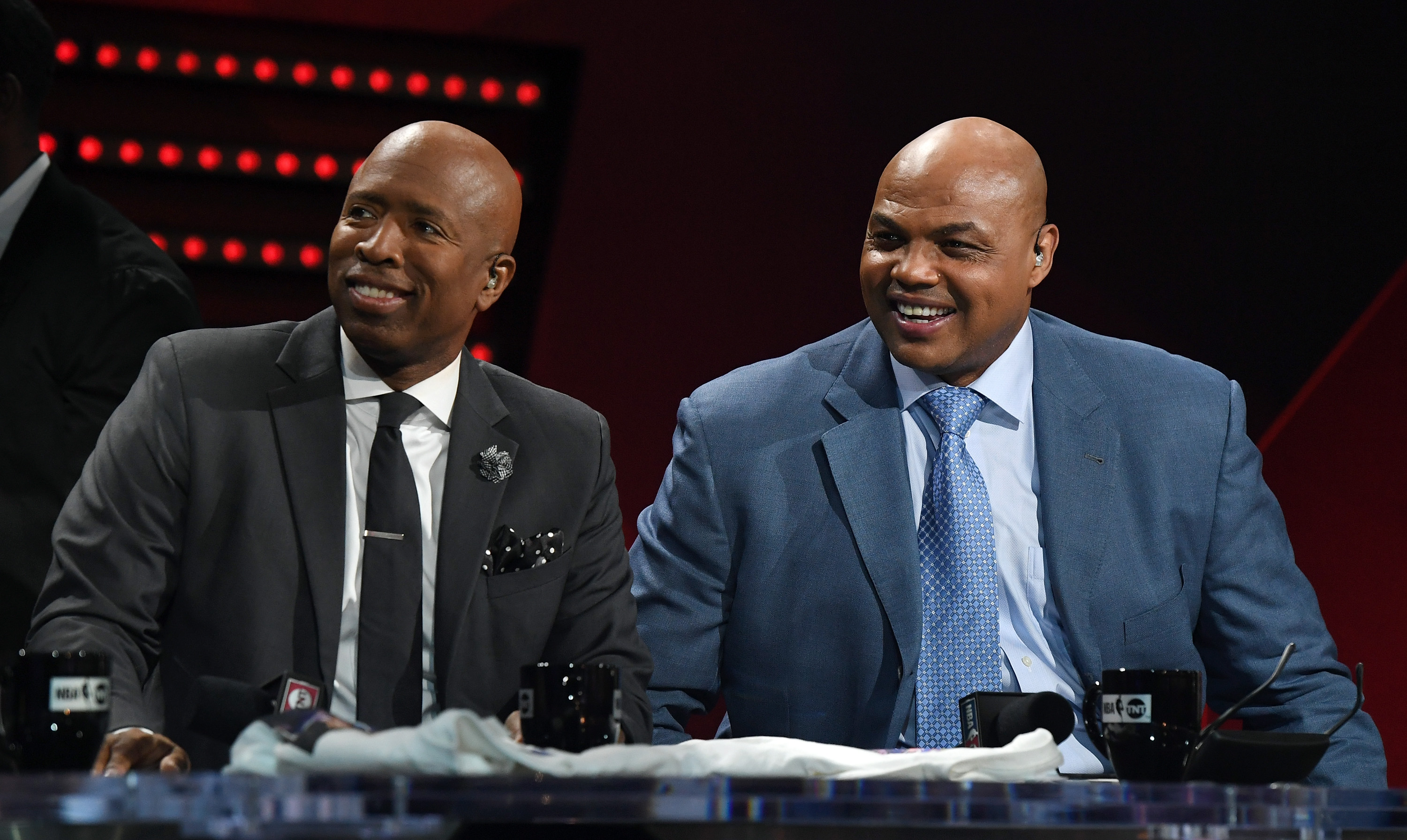 Maybe Barkley would have been able to join Smith in the ring club had he come to the Rockets a few seasons earlier.
Chuck was at the end of his prime when he teamed up with Olajuwon and Clyde Drexler in Houston. Injuries prevented him from resembling his old self, and the arrival of Scottie Pippen a few years later only seemed to add tension in the locker room rather than give the Rockets the last piece they needed to win another title.
Alas, Olajuwon's singular excellence wasn't enough to deliver Barkley some hardware. The Dream also began to decline as the new millennium approached, as age and injuries took their toll.
The Chuckster is unlikely to stop poking at his colleague anytime soon, but Smith can simply respond by flashing the bling on his two fingers.
Stats courtesy of Basketball Reference.