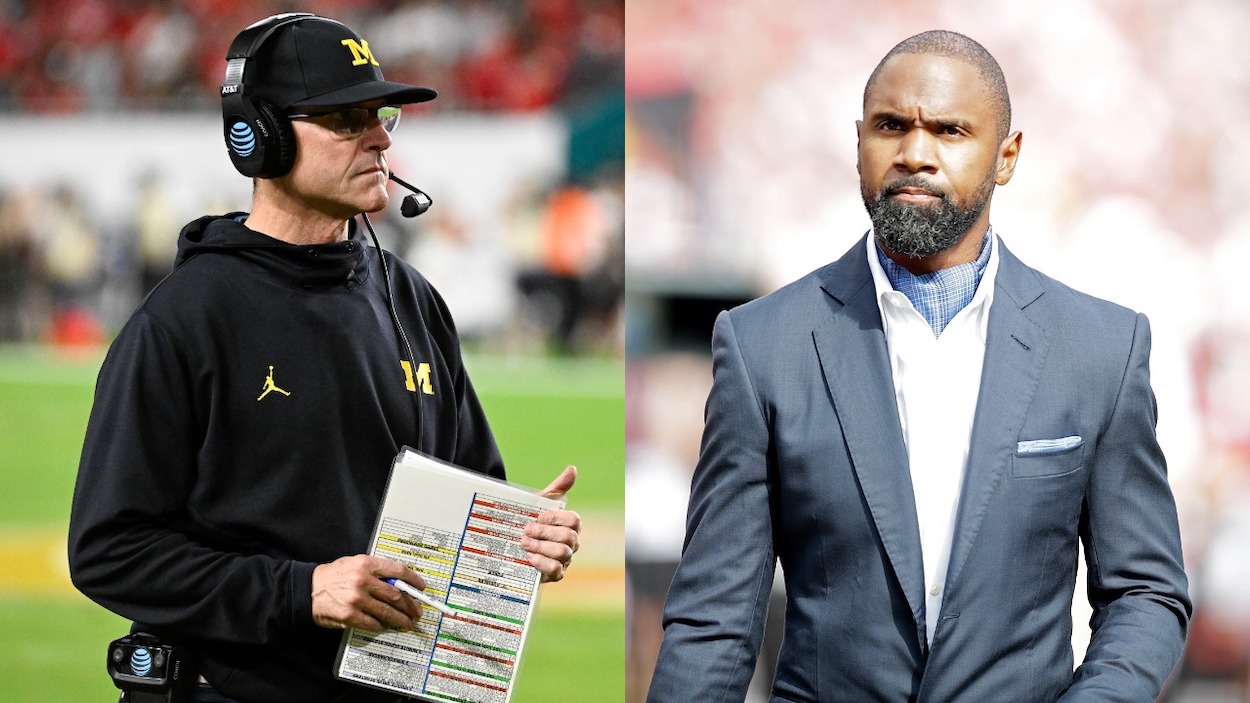 Charles Woodson Blasts Jim Harbaugh and His Alma Mater Michigan: 'It was the Weirdest Week of Football That I've Ever Witnessed'
Hall of Famer Charles Woodson is not happy with what's going on with his beloved Michigan Wolverines and its coach, Jim Harbaugh.
It's been an eventful few weeks for the University of Michigan college football program, to say the least. The Wolverines head coach, Jim Harbaugh, actively pursued NFL jobs, offensive coordinator Josh Gattis abruptly left for a lateral move, and the program signed a top 10 recruiting class. After all that, NFL Hall of Famer and Heisman Trophy-winning alumni Charles Woodson isn't impressed.
The Michigan Wolverines are having a strange offseason
Jim Harbaugh had his best year as head coach of his alma mater Michigan in 2021. The team finished 12-2, made the College Football Playoffs, and Harbaugh won the AP Coach of the Year Award. Also, and likely most importantly to Michigan fans, they beat Ohio State for the first time under Harbaugh.
Despite the excellent season, it's been a turbulent offseason already for the Maize and Blue.
First, Harbaugh, who the university forced to take a major pay cut during the 2020 season, decided to actively pursue an NFL job. Rumors swirled about interest from the Miami Dolphins and Minnesota Vikings, and the former NFL QB ultimately interviewed with the Vikings on National Signing Day.
He didn't get the job, possibly due to a misunderstanding about the interview process, and vowed to swear off the NFL for good.
This declaration of his renewed loyalty to the Wolverines didn't stop one of his top assistants, OC Josh Gattis, from bolting to take the same position with the Miami Hurricanes.
Gattis is a highly respected and coveted young coach who won the 2021 Broyles Award for the best assistant in the country. Upon his surprising move to Miami, the coach texted several players, "Unfortunately the past few weeks has told a different story to me about the very little appreciation I have here from administration. In life I would never advise anyone to be where they are not wanted," per ESPN.
Despite the turmoil within the program, Michigan still hauled in a top 10 recruiting class for the 2022 season. CBS Sports, among other outlets, ranks the Wolverines' class No. 9 overall. The incoming freshmen include five-star cornerback Will Johnson and nine four-star recruits.
Michigan legend Charles Woodson weighed in on the situation at his alma mater
Charles Woodson is one of the most memorable former Michigan Wolverines of all time. The CB (and sometimes WR) was the school's last Heiman Trophy recipient, winning the 1997 award.
During Super Bowl Week, the Hall of Fame former NFL player joined the Rich Eisen Show to discuss an array of football-related topics. Eisen, also a Michigan alum, asked Woodson, "What happened at Michigan in the last month?"
Woodson responded:
I have no idea what happened, but it was the weirdest week of football that I'd ever witnessed at Michigan. The coach is interviewing, National Signing Day or whatever, goes to interview for another job. He comes back, "Nope. I'm never looking at the NFL again. I want to coach Michigan." And then the offensive coordinator leaves, and then he writes a nasty little letter, I'm not respected here." And he's going to Miami for the same position. It's like, what are we doing?

Charles Woodson on Jim Harbaugh and the Michigan Wolverines
After diagnosing the situation and its inherent weirdness, Woodson did acknowledge that Harbaugh did manage to sign a "good class of recruits."
Eisen agreed that the outcome was primarily positive despite the drama. He also said that he believes, if anyone can put "the Maize and Blue toothpaste back in the tube, it's our guy Jim Harbaugh."
Jim Harbaugh will be back in the NFL someday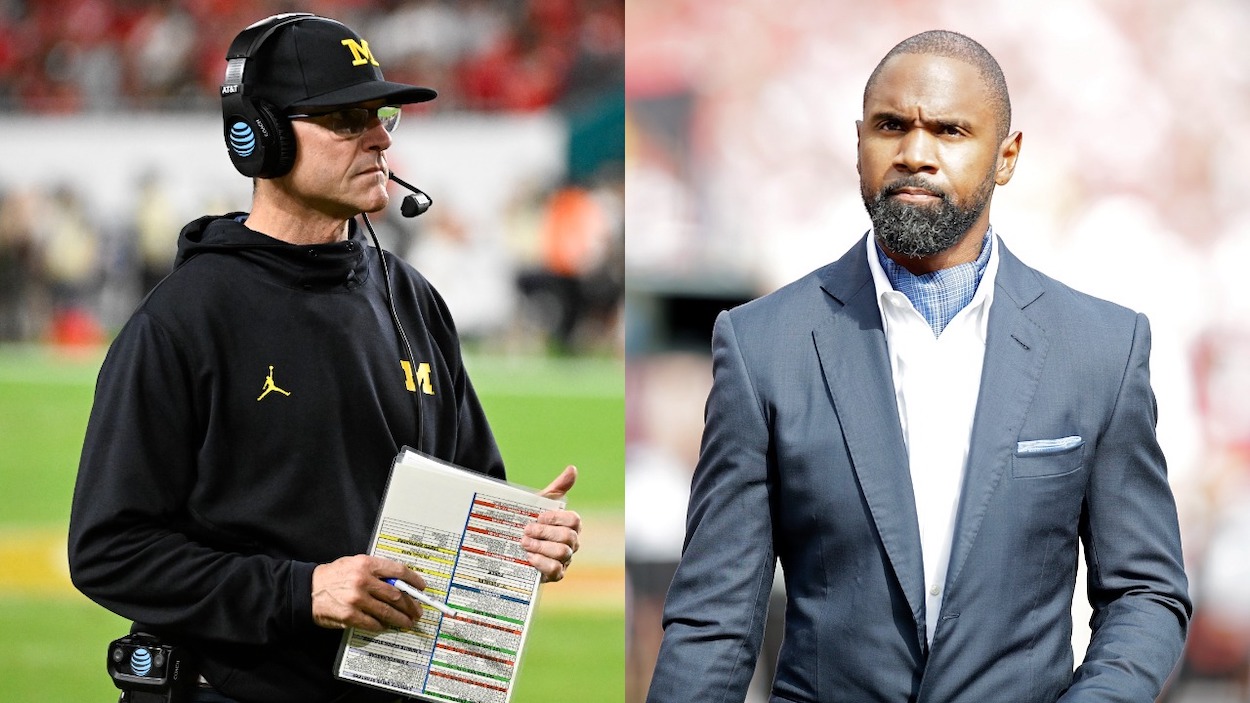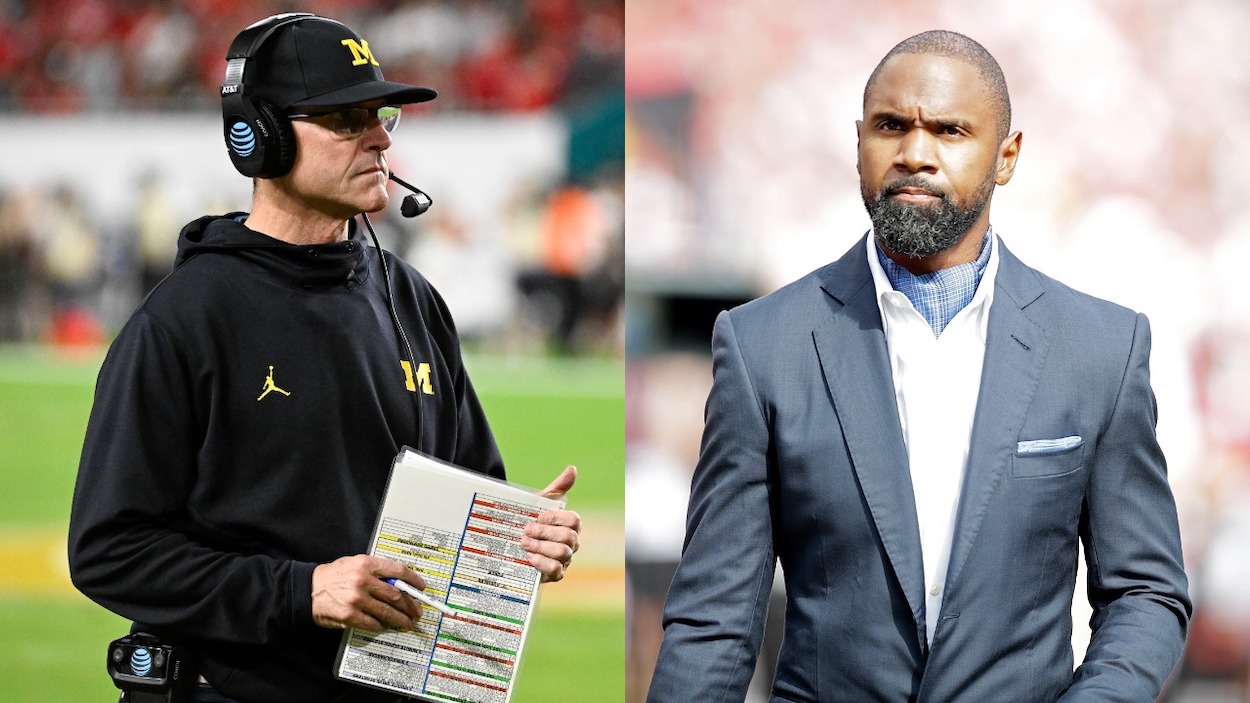 Yes, Jim Harbaugh said that this offseason's pursuit of an NFL job was "the last time" he would do so. While maybe there is some truth to the fact he won't actively pursue an NFL job again, there's a near-zero chance that the former QB won't end up back in the Big Leagues someday.  
At 58, Harbaugh probably has about a decade of coaching left in him. While there's a chance that he lasts that long in Ann Arbor, it doesn't seem likely.
Harbaugh's difficult personality is well known and, while turning over players every four years seems to work well for him, there's obviously still some friction between him, the administration, and his coaches.
Also, the 44-19-1 record in the NFL with a Super Bowl appearance is stellar. It means NFL owners will be willing to throw money at him if he leaves Michigan.
Plus, he said himself, that his desire to win a Lombardi Trophy still drives him. That just doesn't go away because you say you're all-in with Michigan.
Whether the school fires Harbaugh for on- or off-field issues or the coach gets the itch again in a few years, it is incredibly hard to believe that we won't see the former San Francisco 49ers coach on an NFL sideline one more time in his career.
Like Sportscasting on Facebook. Follow us on Twitter @sportscasting19