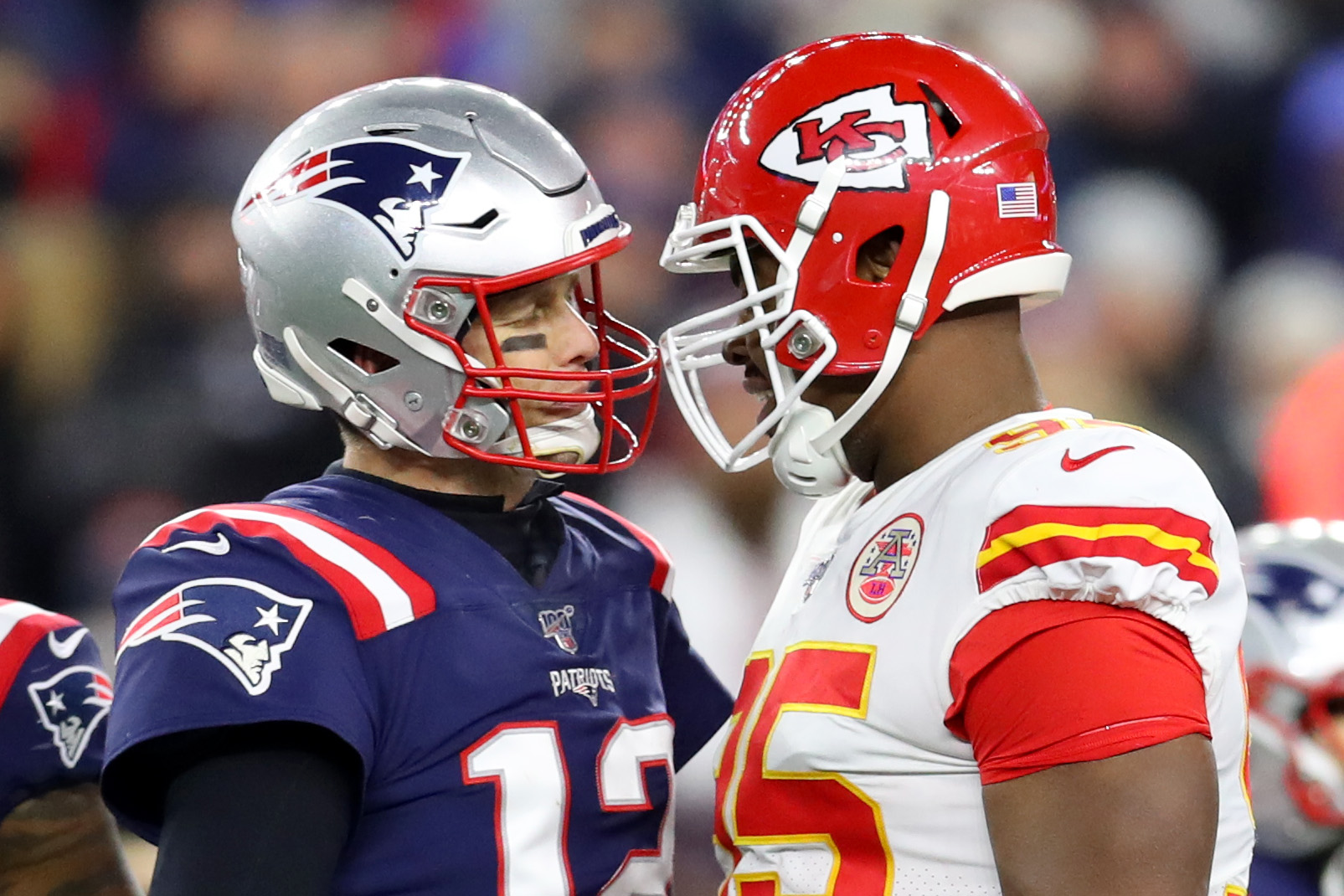 Chiefs DL Chris Jones Has a Message for Tom Brady Ahead of Super Bowl 55
Kansas City Chiefs Pro Bowl defensive lineman Chris Jones has a message for Tom Brady ahead of Super Bowl 55.
When Kansas City Chiefs defensive lineman Chris Jones gets on the field, there's a lot of talk. He admits he's a big talker and he can usually back it up. Back in December of 2019, Jones said he was able to get in Tom Brady's head when the Chiefs traveled to Gillette Stadium to face the New England Patriots. Jones and Brady will meet again in Super Bowl 55 and Jones already has something to say before the game.
Chris Jones has turned into a Pro Bowl defensive tackle
Chris Jones is an athletic freak. At 6-foot-6, 310 pounds, Jones has been a force on the defensive line of the Kansas City Chiefs, making the Pro Bowl the last two seasons. Jones played his college football at Mississippi State.
Jones was drafted in the second round of the 2016 NFL draft. The Kansas City Chiefs selected him with the 37th overall pick. As a rookie, Jones began as a defensive end and started 11 of the 16 games in which he played. He recorded two sacks in his first NFL season.
In 2018, Jones recorded a career-high 15.5 sacks and also had one of his two career interceptions. In 2019, Jones played defensive tackle and was named to his first Pro Bowl. Jones was limited to 13 games but still managed nine sacks and 36 combined tackles. He was also named to the Pro Bowl in 2020 with 7.5 sacks and 36 tackles.
Jones said he rattled Tom Brady in 2019
In December of 2019, the Kansas City Chiefs traveled to face the New England Patriots in a battle of two top-notch AFC teams. The Chiefs jumped out to an early lead and then held off the Patriots. Kansas City won 23-16.
During the game, Chiefs defensive tackle Chris Jones did a lot of talking. Much of that talking was directed at New England Patriots quarterback Tom Brady. During a 2020 interview on Pardon My Take, Jones said he rattled Brady.
"You gotta understand — I talk a lot of s–t on the field," Jones said. "That was the first time I've ever seen Tom Brady get mad at a defensive lineman, when I talked s–t to him. It's part of the game. Quarterbacks and D-line, those are two different types of class. So when you're all able to clash up, you talk your s–t. You say how you feel to them. If he's on the ground, you call him an old-ass motherf—-r or tell him get your old ass up."
What is Jones' plan for Brady in the Super Bowl?
Since Chris Jones feels he was able to get into Tom Brady's head, will he make an effort to verbally attack him once again? Jones was asked about that during a Zoom meeting with the media Monday. He said he doesn't plan on going into the game with that in mind. He actually said he hopes it doesn't happen, but he did offer a message, saying he won't be bowing down to the six-time Super Bowl champ.
"No, we never go in wanting to get up in his face or all of that — it just happens within the game," Jones said. "Listen, the D-line goes by the rule, man, we don't take nothing from anybody. We don't care who it is. Just on the field, even though we play a physical game, you're going to respect me as a person. We're not going to bow down to anyone. You better take off my knees if you're looking for me to bow down.
"But, I hope it doesn't happen this game. I never go into a game looking to get into anyone's face. I just play the game by the rules and have fun."
All statistics courtesy of Pro Football Reference.