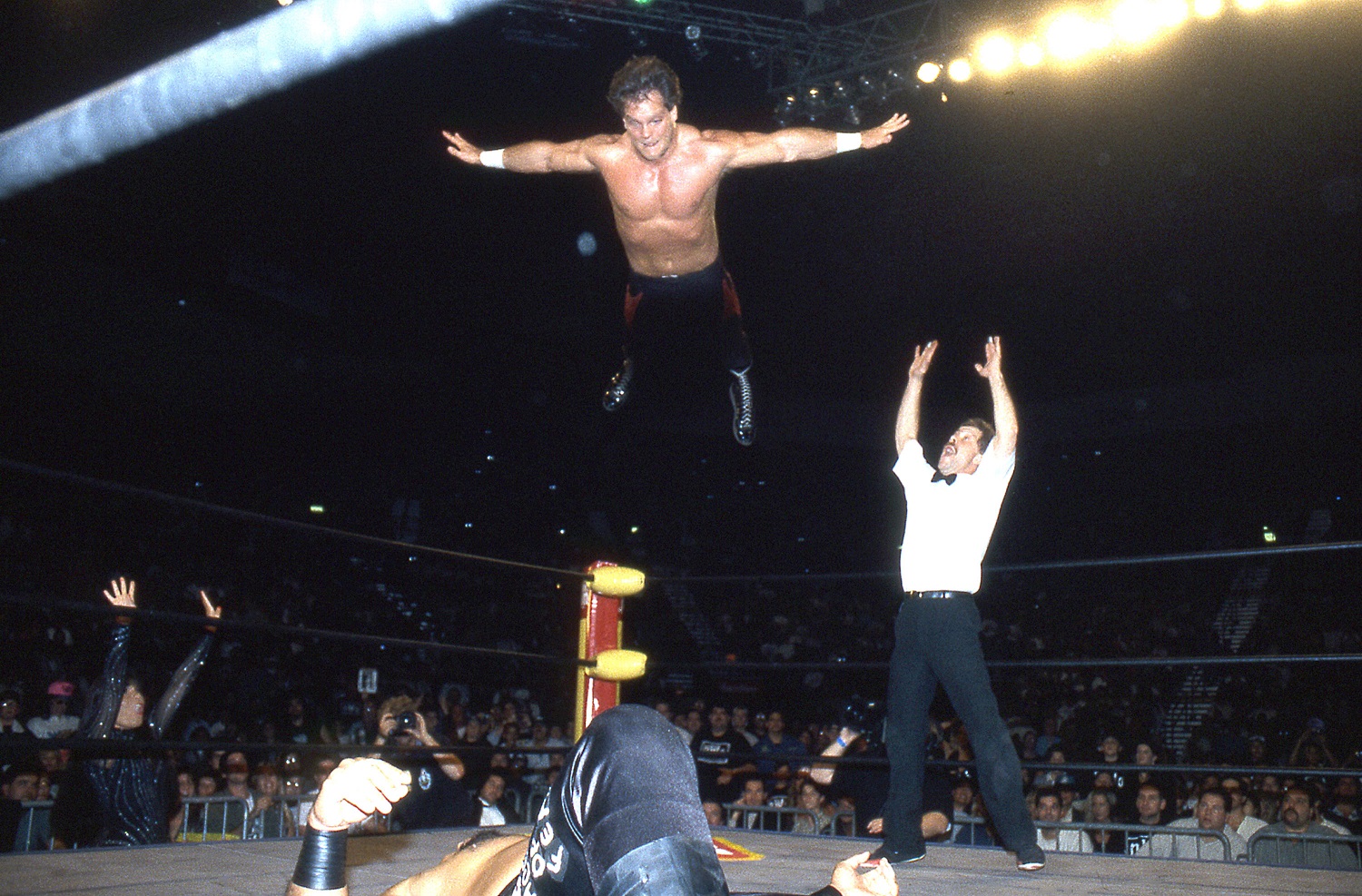 Chris Benoit's Son Is Still Hoping for a Future in Pro Wrestling
The eldest son of Chris Benoit, 27-year-old David Benoit, is still hoping for a future in pro wrestling and even wants to use his dad's name.
13 years ago, Chris Benoit brutally murdered his wife, Nancy Benoit, who was known as Woman during her wrestling days, and their seven-year-old son, Daniel, before taking his own life. It's one of the most shocking tragedies in the history of professional wrestling, which is truly saying something given the nature of the industry. But this is not the story of the former WWE and WCW star. This is the story of David Benoit, the son Chris Benoit left behind that fateful day in June 2007.
David Benoit was just 14 years old when the tragic events involving his famous father occurred. He and his sister, Megan, were the products of Chris Benoit's first marriage, which ended in 1997 when David was just a toddler.
In the years since his father's death, it was hard for David, now 27, to get back into professional wrestling or even open up about his father at all. But he's recently done both and is now looking toward a future in the ring himself.
David Benoit believes Chris Benoit wasn't himself at the end
Following the death of Chris Benoit, it was revealed that he had severe brain damage and was diagnosed with CTE, the neurodegenerative disease often associated with NFL players that's believed to be caused by repeated blows to the head. As a very physical wrestler that used a flying headbutt as one of his signature moves, it actually makes a ton of sense. David Benoit never thought his father could do something like he did and truly believes that the damage to Chris Benoit's brain is what led to the death of his stepmother and younger brother. He opened up on a number of topics earlier this year on YouTube to Chris Van Vliet, including CTE.
"That wasn't him, man. He would never do that. I know he wouldn't.

"I think something went terribly wrong. The doctor said he had CTE. At the beginning, that somewhat gave me closure. He had CTE, so I don't think that was him."

David Benoit
David Benoit also went on to say that he still holds out hope that his father will be someday be inducted into the WWE Hall of Fame. While not likely, he's ready to pursue his own dream of being a pro wrestler.
He was set to make his in-ring debut years ago but was stopped by Chris Jericho
In 2014, when he was just 21 years old, David Benoit was set to make his in-ring debut at a Hart Family Legacy event in Calgary. Chris Benoit had trained in the legendary "Dungeon" run by Stu Hart and it seemed to make sense as David was close with many members of the family. But there was just one problem. Benoit hadn't actually had any formal wrestling training. He had at one time enrolled at Lance Storm's wrestling school but failed to show up on his first day.
He was set to team with his father's longtime friend, Chavo Guerrero, Jr., who was told David Benoit had been trained, but another one of his dad's famous friends jumped in and put a stop to it, that being Chris Jericho, as reported by Cageside Seats.
"Smith Hart, the eldest and maybe craziest son of the late Stampede Wrestling promoter Stu Hart, who runs the Hart Legacy Wrestling indy promotion, talked David into agreeing to work on his July show, as it would get the event tons of publicity and help them draw fans to the arena.

However, Smith's stunt majorly backfired when Chris Jericho caught wind of the idea, who was mad that he would even dream of advertising David for a match when he clearly wasn't ready for it. Jericho's intervention led to both Chavo and David canceling their appearances. It's believed that Smith lied to Chavo about David being fully trained and ready for his debut when he agreed to the booking, and was none the wiser until Jericho clued him up."

Cageside Seats on David Benoit's in-ring debut being stopped
As always, thank God for Chris Jericho. But David Benoit still dreams of that in-ring debut actually happening.
David Benoit wants to wrestle as Chris Benoit Jr. in AEW or New Japan
In the interview with Van Vliet, David Benoit he still has plans to become a legit pro wrestler. It's not likely that Vince McMahon would ever bring him in but he doesn't want to work there anyway. He's been close with Chris Jericho for a long time and would love to join him in AEW, also saying he'd enjoy working in New Japan. But here's the kicker. He doesn't want to go by David Benoit. He wants to wrestle as Chris Benoit Jr. and wear the same tights and come into the same music his father did.
"I don't own [the rights to] his name yet. I have his middle name, I can legally use it and they can't come after me.

"Yeah, I would wrestle as Chris Benoit Jr. I think it would be cool. I've got the tights with the claw.

"It looks like my dad's. I got one in white, one in blue. Gear's ready to go."

David Benoit
Only time will tell if we'll see David Benoit…err, Chris Benoit Jr. in the squared circle in the future.