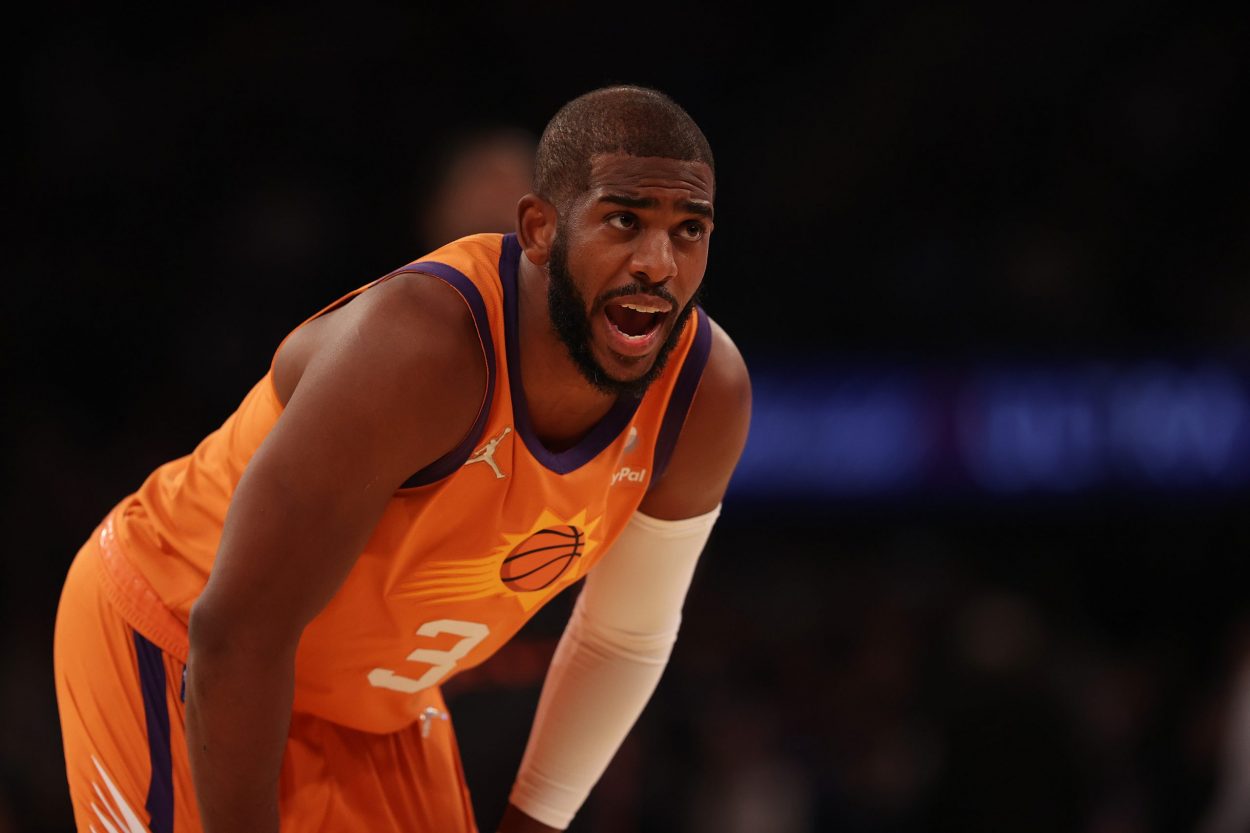 Chris Paul Just Accomplished a Feat Boosting His GOAT Point Guard Resume
Phoenix Suns point guard Chris Paul just made NBA history and added to his resume as one of the greatest point guards ever.
Phoenix Suns point guard Chris Paul seems to be much like LeBron James in his ability to escape Father Time. Like James, CP3's remarkable longevity is also helping him reach unprecedented milestones.
Paul made NBA history during a Nov. 27 win over the Brooklyn Nets. The feat serves as a reminder of why Paul deserves, at the very least, a shoutout when discussing the greatest point guard ever.
Chris Paul became the first player in NBA history with 20,000 points, 10,000 assists, and 5,000 rebounds
Chris Paul entered a club of his own during Phoenix's win over the Nets.
The 36-year-old grabbed eight rebounds on the night, eclipsing 5,000 boards for his career. Surpassing that mark officially made CP3 the only player in NBA history with at least 20,000 points, 10,000 assists, and 5,000 rebounds. That's hardly an achievement to gloss over.
The feat underscores Paul's endurance through the years. But it also reflects his consistent ability to impact every single facet of the game. Although CP3's scoring numbers are down this season (14.5 points per game), he is averaging 4.1 boards and 10.1 assists, with both of those being very close to his career averages.
So, really, it's more than just how long Paul has played the game. As if last year's All-NBA selection and run to the Finals wasn't enough, the Point God keeps proving he remains one of the very best point guards in basketball in his 17th season.
In fact, Paul deserves at least some acclaim as the GOAT at the position.
Paul's GOAT point guard resume only missing one thing
In terms of counting stats and all-around excellence, Chris Paul is a dominant force at the point guard spot.
Paul ranks fourth among point guards in scoring. He is third on the all-time assists list and could surpass Jason Kidd for the No. 2 spot when all is said and done, though he doesn't believe he can grab the top spot from John Stockton. He also ranks seventh among point guards in rebounding. That's a more holistic view.
The 11-time All-Star led the NBA in assists in four separate seasons and is doing so again this year, demonstrating his typically excellent court vision and picking his spots in pick-and-roll. Paul's handle and quickness made him an elite slasher especially earlier in his career, while the shooting touch and midrange excellence have been on display in recent seasons.
Then there's the defensive excellence. Paul ranks fifth all-time in steals and could move to fourth in short order. He has led the NBA in steals six times and earned nine All-Defensive selections, including seven to the First Team.
In essence, Paul's NBA resume stacks up against any other point guard in league history, including legends like Magic Johnson and Isiah Thomas. The only thing CP3 is missing is a ring. Granted, that's a glaring absence in any GOAT conversation, particularly when Magic won five championships and Zeke earned two rings of his own.
Still, the missing championship shouldn't diminish Paul's incredible accomplishments. Plus, he still has an excellent opportunity to get his first title.
Can CP3 lead the Suns to a championship?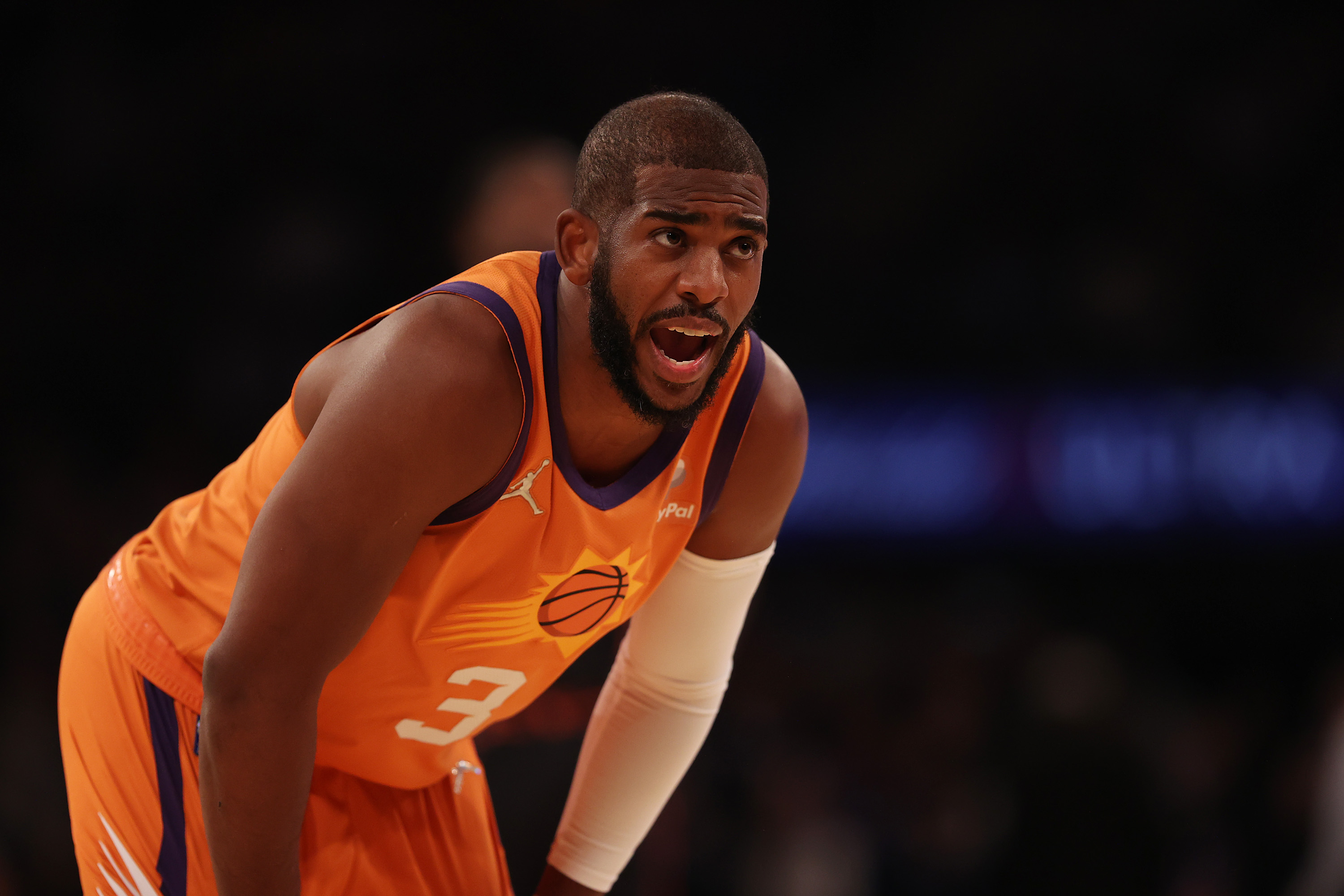 One season after reaching the Finals, the Suns once again look like one of the best teams in the NBA.
After losing three of its first four games, Phoenix has ripped off 16 consecutive wins. The Suns rank third in net rating. They score the ball efficiently and force turnovers. For his part, Paul is averaging 2.0 steals through 20 games on top of the NBA-best 10.1 assists.
The rest of the team is following CP3's lead. Mikal Bridges is making good on the contract the Suns gave him this past summer. Devin Booker's 41% mark from beyond the arc marks a new career-high, while Deandre Ayton appears to be heeding Paul's words in showing the organization why he is a max player.
Phoenix should contend for a championship. If Paul wins a ring, he'll only have a better case as the GOAT point guard, even if it feels almost impossible to unseat Magic for that spot.
Stats courtesy of Basketball Reference.