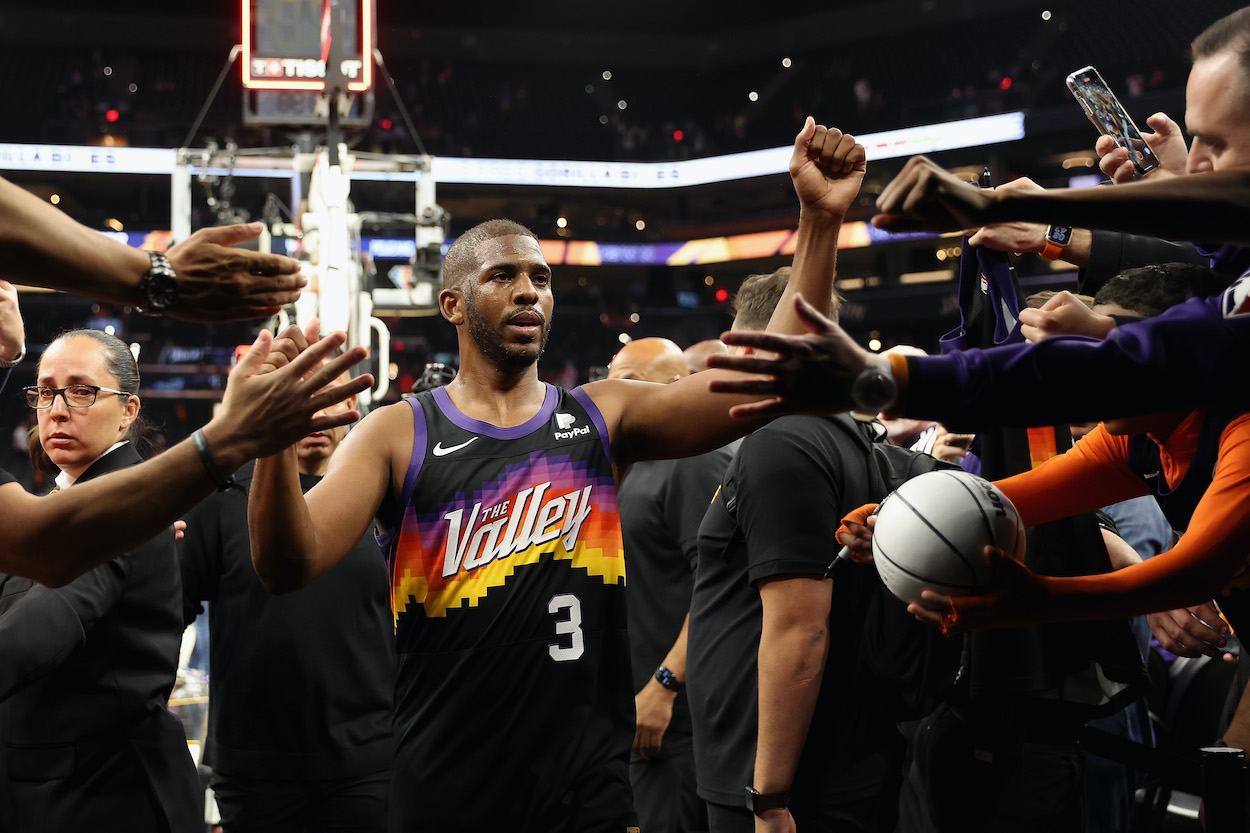 Chris Paul, Not Devin Booker, Is the Real MVP of the Phoenix Suns
The Phoenix Suns' championship hopes come down to Chris Paul staying healthy.
Devin Booker has been the best player on the best team in the NBA all season long. He leads the Phoenix Suns in scoring at 26.8 points per game and has been brilliant in the clutch to power his team to the No. 1 seed in the Western Conference. The 25-year-old was rightfully in the thick of the MVP conversation all year.
But Chris Paul, not Booker, will be the reason the Suns win their first-ever NBA championship this year, and he proved just that in Game 1 against the New Orleans Pelicans.
Chris Paul lifts Suns to Game 1 win with epic fourth quarter
When the Pelicans cut the Suns' 23-point lead to seven early in the fourth quarter on Sunday night, a nervous silence fell over the Footprint Center. Here's how the next seven possessions went for Phoenix:
Chris Paul makes two free throws
Chris Paul makes three-point jump shot
JaVale Magee makes two-point dunk (Chris Paul assists)
Chris Paul makes three-point jump shot
Chris Paul makes three-point jump shot
Chris Paul makes two-point layup
Chris Paul makes two-point jump shot
Paul also made the team's next bucket a few possessions later to push the lead back to 14 and lock up a Game 1 victory. Add it all up, and CP3 scored 17 points in a five-minute stretch to put the game out of reach. With 30 points and 10 assists in the contest, the soon-to-be 37-year-old became the oldest player in NBA history to record that stat line in a playoff game.
"That man is a true competitor and a true winner," Booker said of Paul after the game, per ESPN. "When he wants it that bad, you can see it in his demeanor and see it in his walk, so it shouldn't surprise anyone. He's built for these moments."
That he is, and the Suns will need more historic performances from Paul if they want to make another run to the NBA Finals.
Chris Paul, not Devin Booker, is the MVP of the Suns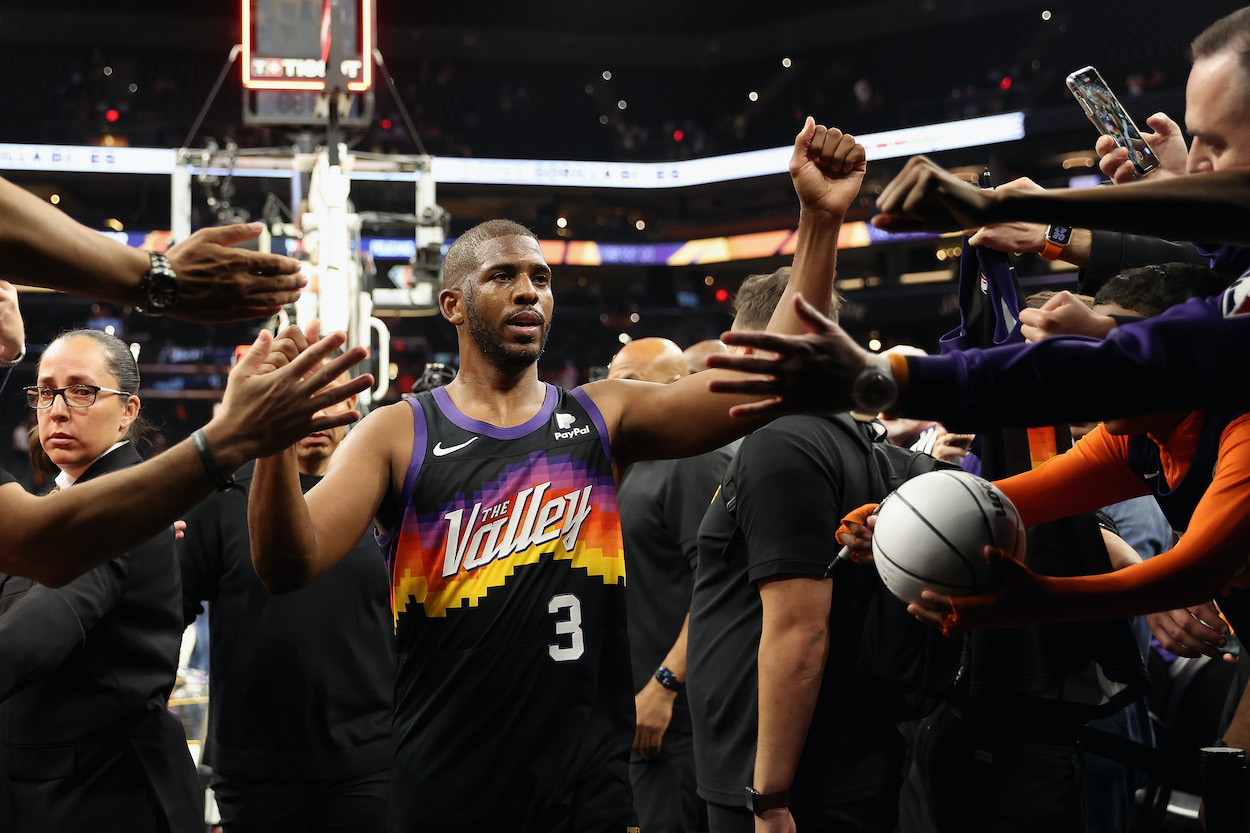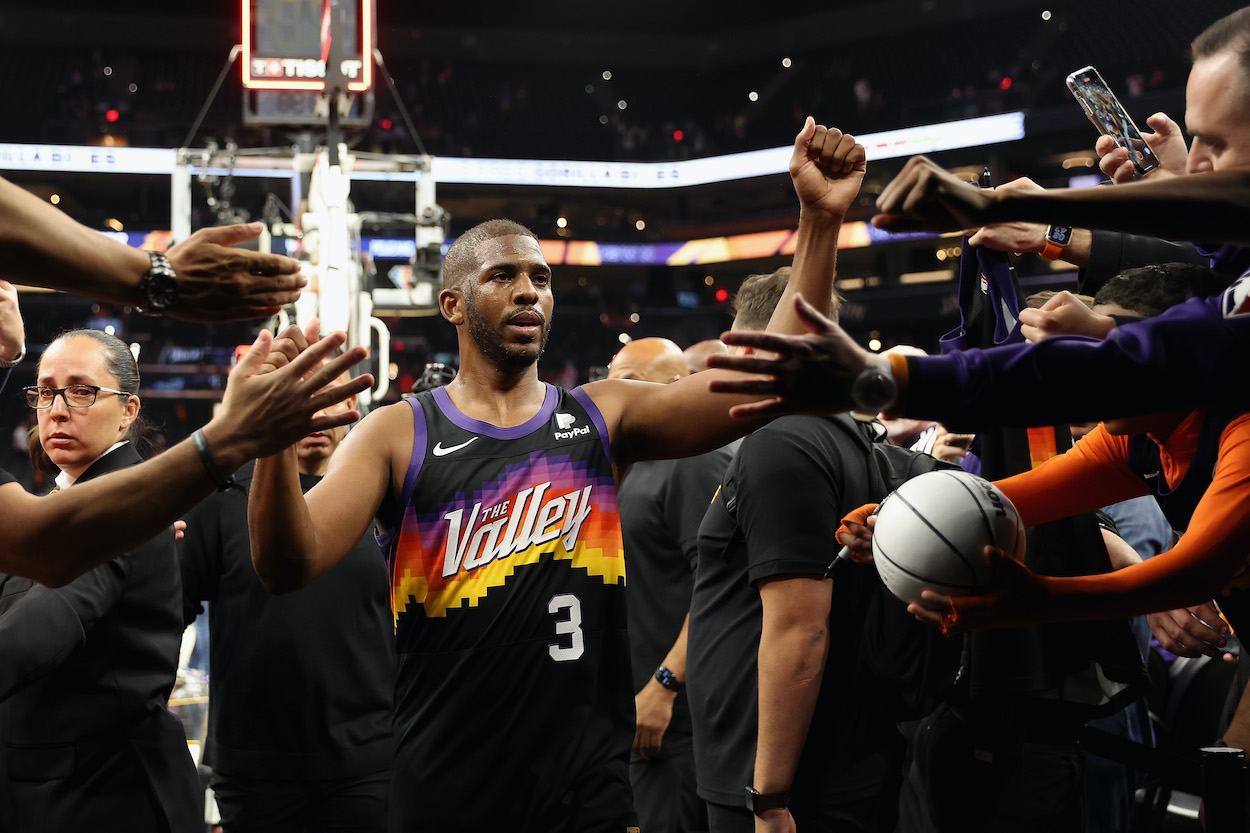 Booker has been a top-five candidate for the MVP award for most of the season. It's possible he ends up as a First-Team All-NBA guard, but he's not the most important player for the Suns in their quest to win a title in 2022.
Phoenix wasn't even close to a championship contender before Paul arrived. If you remember, Booker couldn't lead the Suns to a winning record or a playoff appearance in any of his first four years in the league. Then, Paul joined the team in 2020, and Phoenix magically went 51-21 and came just two wins shy of a title.
In Paul's second year in Phoenix, the team finished with its best record in franchise history. That's been a theme for CP3 his entire career. He's led four different teams to their best record ever, and a championship ring is the only thing holding him back from being considered one of the most prolific winners in NBA history. If you ask me, though, he's already in that conversation.
Despite playing just 65 of Phoenix's 82 games this season, Paul leads the team in win shares with 9.4. The Suns went 53-12 in the regular season with Paul on the court. And when a crucial Game 1 against the Pelicans started to slip away, it was Paul, not Booker, who took over down the stretch at 36 years of age to will his team to a victory.
Make no mistake about it. This is Chris Paul's team, and the Suns will only go as far as he can take them.
All stats courtesy of Basketball Reference.
Like Sportscasting on Facebook. Follow us on Twitter @sportscasting19.