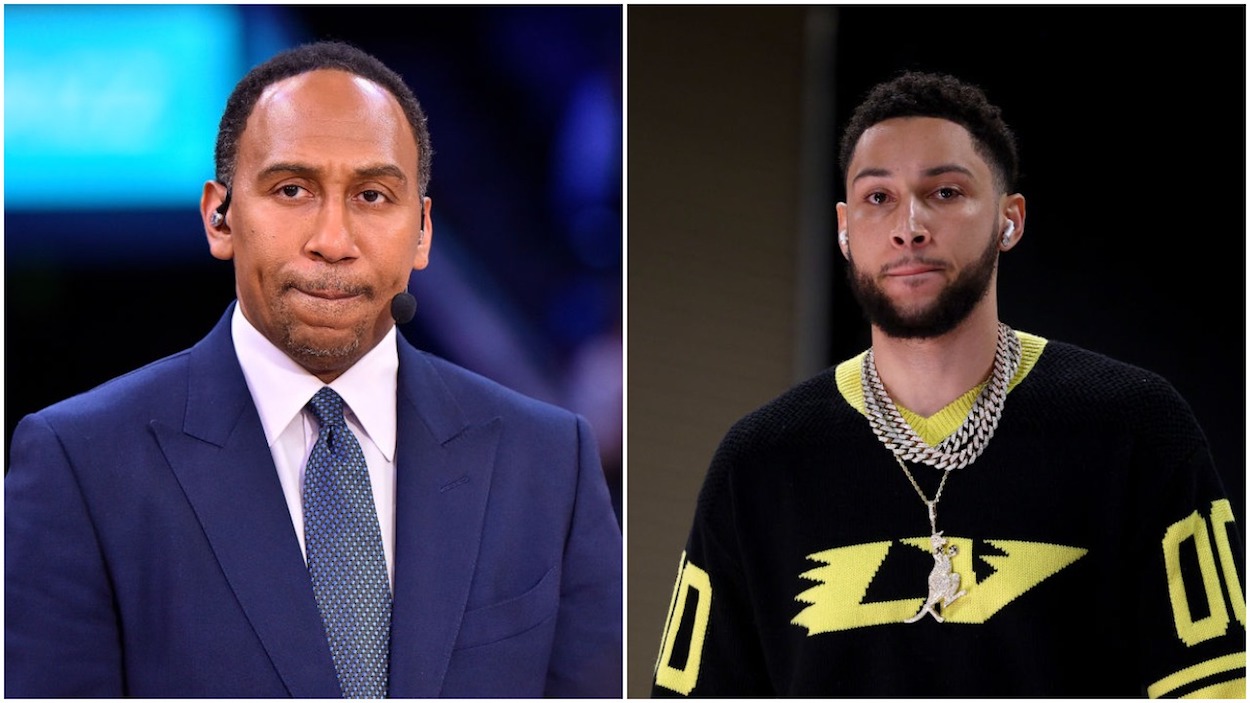 Stephen A. Smith Used His MVP Vote to Take a Cheap Shot a Ben Simmons
While there's nothing too surprising about Stephen A. Smith making a questionable comment, his cheap shot at Ben Simmons deserves to be called out.
Whether you're a veteran fan or a casual observer, you've probably seen Stephen A. Smith before. For better or worse, the ESPN employee towers over the sports media landscape thanks to his hot takes, questionable comments, and attention-grabbing rants. Just consider his NBA MVP vote as a recent example.
While there's nothing wrong with voting for Joel Embiid, Smith didn't just voice his support for the Philadelphia 76ers big man. Instead, he used his ballot to take a cheap shot at Ben Simmons and his mental health.
Given Smith's massive platform, it was a bad look all around.
Stephen A. Smith went from praising Joel Embiid to ripping Ben Simmons
One of the main storylines from the 2021-22 NBA season was the tight MVP race. While Nikola Jokic probably did enough to secure the top spot, Giannis Antetokounmpo and Joel Embiid also had legitimate arguments to earn the title. If nothing else, we know that Stephen A. Smith threw his support behind the 76ers' star big man.
On April 13, he explained his thought process on an episode of ESPN's First Take.
"In the end, I had to give my vote to Joel Embiid," Stephen A. said. "I understood that there was a slight hiccup once James Harden arrived. So I paid attention to that, right? And in those first few games [when] James Harden arrived, [Embiid] still had 34, 37, 27, two 22-point games. Right? Last 15 games or so, 43, 27, 35, 34, 35, 32. Had a 21-point game. Right? Thirty, 27, 37, 29, 37, 29, 44, 45, 30, 41. That's what Joel Embiid is doing. Sixers, limited bench. Top-10 defense."
Although his string of numbers sounded nonsensical at times, Smith did make a valid point. Even when Harden arrived, the center kept putting up massive scoring outputs. Then, things took a turn.
"You know who convinced me?" Smith asked the world. "Zoolander … Why's a male model relevant to this conversation? Ben Simmons. You see the green outfit last night? You see the ice? You understand? Looking like a male model. He's a good-looking dude, obviously. You know what I'm saying? But that's who the hell Joel Embiid had to deal with. You quit on the team. You understand what I'm saying? Had mental issues. You're there, but you're not there. You don't want to play. Alright? Joel Embiid had to deal with that all year long. Not a dude that was injured, a dude that quit."
The entire sports world, including Stephen A., needs to be more understanding of mental health
In fairness, Stephen A. Smith isn't exactly known for his subtlety. Perhaps expecting him to make a nuanced point is setting yourself up for disappointment. When it comes to mental health, however, he should be held to a higher standard.
At this point, there's no need to rehash the entire Ben Simmons story blow-by-blow. You've probably formed your opinion of the big Australian and how his time in Philadelphia ended, and I probably can't change that. It is, however, worth poking at the narrative that's taken shape.
Simmons, if we take him at his word, felt like he wasn't in the right mental position to play basketball. The Sixers pushed back, seeking more information about his treatments. According to Shams Charania of The Athletic, the guard provided the organization with the names of the mental health professionals he was working with, as he didn't feel comfortable with anyone on the team's staff. He eventually agreed to talk to someone recommended by the 76ers and, of course, left town in the James Harden trade. The guard has looked happier in Brooklyn, but he's still sidelined by a nagging back problem.
Admittedly, that sounds complicated. From afar, it's tough for us to know who to believe. That discomfort, in and of itself, highlights a larger issue.
No one would question Simmons if he said he had a bad ankle or a sore wrist. Mental pain is less visible and, therefore, less understandable. It's easy to write off as fake. There's no X-ray or MRI to confirm the problem.
To be fair, that isn't a basketball-specific issue; we've seen Naomi Osaka raise similar concerns. Instead, it's something that exists on a societal level. Mental health is still somewhat taboo. We don't really want to or even know how to talk about it. That's a larger problem, and comments like Smith's don't help.
Pretend you're another player in the NBA. You've seen how Simmons has been mocked in sections of the media. You've heard the suggestions that he faked a problem to get out of Philadelphia. You've read the tweets suggesting that he needs to toughen up because stress is the price of making millions of dollars to play basketball.
Why would you ever admit you need help if that's the reaction you'll receive?
That's how things remain taboo and under wraps. If no one feels safe sharing their mental pain, no one will. A precedent becomes an ever-growing snowball. You don't have to shower Ben Simmons with rose petals when he steps onto the court or ignore how his situation affects his team, but you shouldn't twist the knife into his back at every opportunity.
Stephen A. could have done just that. He could have made his point about Joel Embiid without even mentioning Simmons. If he felt the situation provided essential context, he could have said that the center kept his focus on basketball or didn't let a complicated situation affect his play. In a best-case scenario, he could have treated Simmons' absence like any other injury, and discussed how it affected the big man's workload or forced him to take on additional responsibilities in Philadelphia. That would have helped to normalize mental health, depicting it as something that's as understandable as a bad hamstring.
Instead, it turned into a cheap shot about a perceived weakness.
We can all stand to be better about understanding mental health, but when you're sharing your opinions on national TV, there's no excuse for dropping the ball.
How to get help: In the U.S., contact the Substance Abuse and Mental Health Services Administration helpline at 1-800-662-4357.