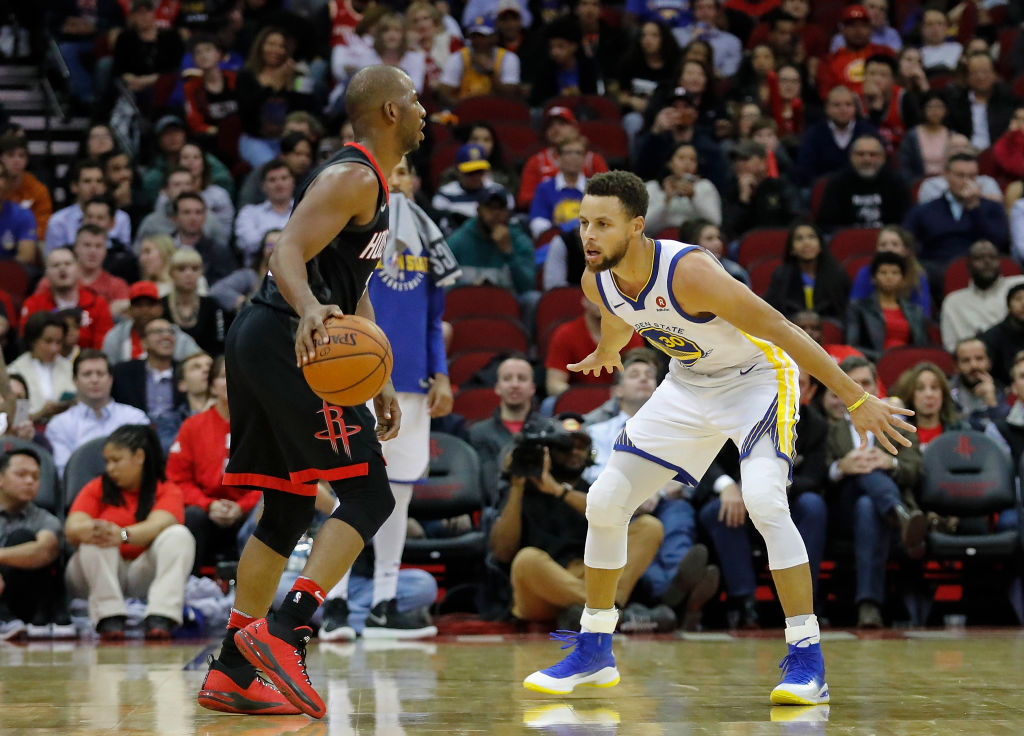 Chris Paul Was Almost Traded to the Warriors for Steph Curry and Klay Thompson
Chris Paul recently revealed the Golden State Warriors tried to trade for him in 2011. Their offer? Both Splash Brothers.
Chris Paul and the Golden State Warriors have been rivals for years. Would you believe that Paul almost played for the Warriors if not for his distaste for San Francisco? That's right, Golden State tried to trade for the 10-time All-Star in 2011, but the deal fell through. Their offer? Both Splash Brothers — Steph Curry and Klay Thompson. It's a trade that would've changed the NBA landscape for years to come and stopped one of the greatest basketball dynasties from ever forming.
Chris Paul rejected a trade to the Warriors in 2011
In 2011, Chris Paul was at the peak of his playing ability. He was in the final year of his contract with the New Orleans Hornets, and the team knew they couldn't sign him back in free agency. So, the Hornets attempted to trade Paul and acquire young talent to replace him.
Paul appeared on Bleacher Report's Uninterrupted with Paul Rivera and Maverick Carter Monday and talked about the trade offer for Steph Curry and Klay Thompson.
"Yeah, that's a true story," Paul said. "I actually never wanted to come out West. I was born and raised on the East Coast, so I never was crazy about LA and all that until I finally got out here and lived out here. But at that time, all I knew really about the Bay [Area] is because I'd been there to play the games and everything was just so hilly, and I just thought about Full House."
So there you have it. Danny Tanner blocked what could've been the most monumental trade in NBA history.
Was Chris Paul for Steph Curry and Klay Thompson a fair trade?
This trade might sound ludicrous in 2020, but it actually made sense for both the Warriors and Hornets at the time.
By 2011, Paul had cemented himself as one of the best guards in the NBA. He was just 25 years old at the time and in the prime of his career. Paul was in his sixth year as a pro, and he had already led the NBA in assists twice and steals three times.
By comparison, Steph Curry was 22 and hadn't emerged as a superstar yet. Curry showed through two NBA seasons he could be a great shooter, but not even the Warriors knew how deadly he would become in a few years.
Klay Thompson, on the other hand, was just a rookie who was nothing more than a shooter off the bench. He averaged 12.5 points per game in his rookie season.
It turns out trading two high-upside shooters for a superstar point guard was a fair trade for both teams at the time. No one expected Curry to grow into an MVP and Thompson to grow into the best three-and-d player in the league.
How would the NBA be different today if the trade happened?
With Curry and Thompson growing to become superstars, they led the Warriors to three NBA titles in four years from 2015-18. If Golden State shopped the Splash Brothers to the Hornets in 2011, it's possible none of those championships would've come to San Francisco.
As for the Hornets, they lost Paul to the Clippers in free agency the next season. Since then, they've been a largely forgotten team in the NBA. They changed their name to the New Orleans Pelicans in 2012, and the biggest splash they made since Paul left was drafting Anthony Davis or Zion Williamson.
The Pelicans have a bright future with Williamson and Brandom Ingram, but fans don't want to think about what the team could've accomplished with Curry and Thompson.
The ripple effects of this trade going through would've been immense. Would Kevin Durant have signed with the Pelicans and won two championships there? Would Paul have won a title with Golden State or would they still be a middle-of-the-road franchise? Or would the Clippers even become popular enough to land Kawhi Leonard last year? All impossible questions to answer, but they sure are fun to debate.