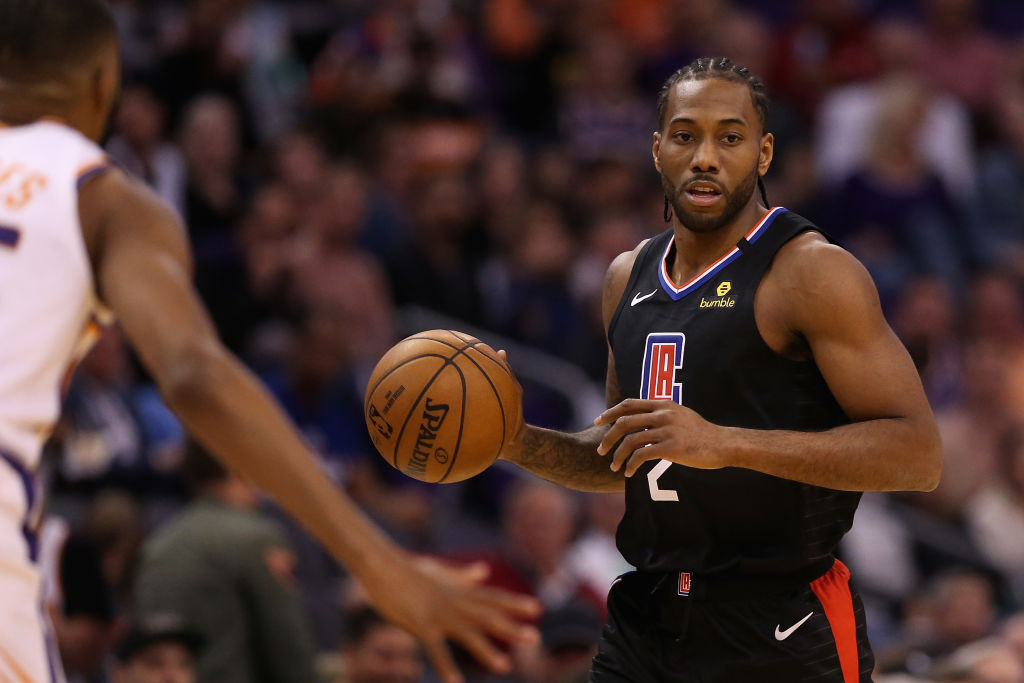 Kawhi Leonard Has Been Dunked on in a Different Kind of Court
Kawhi Leonard took Nike to court over the rights to a logo that he sketched while in college.
Even though he's averaged better than 26 points a game over the past two NBA seasons, Kawhi Leonard has always been a little bit better on defense than offense. Maybe that should have been enough to discourage him from going on the attack against Nike.
The Los Angeles Clippers star has come out on the losing end of his battle with the shoe and apparel giant.
Kawhi Leonard and Nike had a breakup in 2018
Kawhi Leonard endorsed Nike products from 2011-18 before switching to New Balance in November 2018. He followed that by filing a lawsuit against Nike last spring.
Leonard's complaint against Nike was over the company's decision in 2014 to file for a copyright on a "claw/klaw" logo that the player says he sketched while in college and Nike refined. The logo is the outline of a handprint drawn with strategic lines drawn to spell out "KL" (Leonard's initials) and "2" (his uniform number).
Nike countersued, asserting that it holds exclusive rights because the logo was produced by its "talented team of designers'' based on a rough draft furnished by Leonard. The company argued in court filings that Leonard approved the Nike design as part of his endorsement deal.
Why Nike came out on top in the dispute
Kawhi Leonard was already playing with the basketball equivalent of five personal fouls on him before losing in federal court on Wednesday. His suit was initially filed in Southern California, but a judge granted Nike's motion for a change of venue and moved the case to Oregon, where the company was founded and remains headquartered.
Nike had previously scored a win in another basketball-related case heard by U.S. District Judge Michael W. Mosman in 2015. In that case, he ruled against a photographer's claim of having taken a photo that was the basis for the silhouette logo associated with Air Jordan shoes.
In ruling against Kawhi Leonard this week, Mosman determined that Nike's version of the design was substantially different, so the company is entitled to the copyright.
Attorney Peter Ginsberg said he is looking at options in the aftermath of the ruling.
"Kawhi put his heart and soul into that design, so we are obviously disappointed the judge ruled the logo belongs to Nike and not Kawhi," Ginsberg said.
It's a blow, but Kawhi Leonard will be fine
Beating Nike in court would have put Kawhi Leonard on course to win some compensation from the company as well as unrestricted use of the "claw/klaw" logo in his deal with New Balance. Since New Balance isn't using that logo on its line of Kawhi Leonard shoes, he seemingly isn't facing any liability issues.
Meanwhile, Leonard has that New Balance deal – presumably worth at least as much as the reported $5.5 million a year Nike was offering for an extension – plus his NBA salary.
Kawhi Leonard has been selected NBA Defensive Player of the Year twice and NBA Finals MVP twice. He was averaging 26.9 points, 7.3 rebounds, and 5.0 assists a game before the current season was suspended. His career average through seven seasons is 18.6 points a game.
Leonard is on a two-year contract with the Los Angeles Clippers that averages $33.5 million a year and holds a $36 million option for the 2021-22 season. Given his career trajectory, Leonard is in line to make many millions more before his playing days are over.