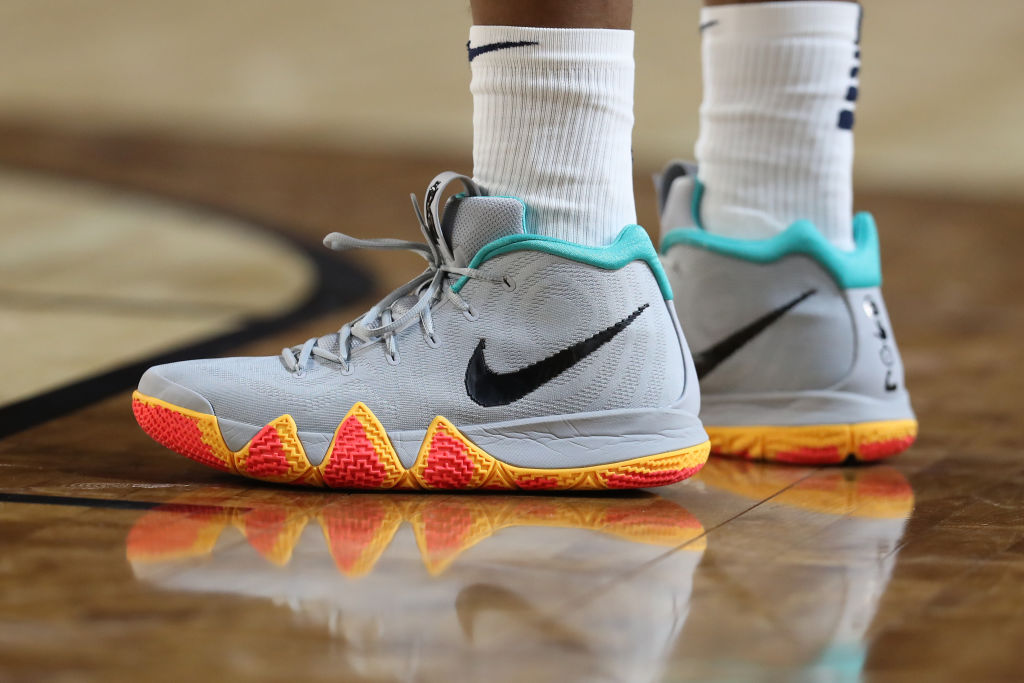 Nike Paid $35 for Its Swoosh Logo Worth Many Millions
The Nike 'Swoosh' logo that is so commonplace was designed by a college student.
Tennis star Andre Agassi famously pitched Canon cameras by telling TV audiences "Image is everything." Agassi also endorsed shoes and apparel for Nike, which thought so little of its own image that it paid a pittance for its Swoosh logo that has made it one of the most recognizable brands on the planet.
One industry publication selected the Swoosh as the most iconic brand logo of all-time in acknowledgment of its relentless marketing of star athletes like Michael Jordan, Cristiano Ronaldo, LeBron James, and Tiger Woods.
A college student designed Nike's swoosh logo
Nike was founded in 1964 by Phil Knight and Bill Bowerman as Blue Ribbon Sports, a company that imported running shoes from a Japanese manufacturer. The name change came about in 1971 when they began producing their own athletic shoes.
Nike was ready to begin making soccer and football cleats in Mexico but needed a horizontal logo that would stand out on the side of the shoe to help promote the brand. Knight gave the task to Carolyn Davidson, a graphic design student at Portland State University, where he was teaching accounting classes.
Knight offered Davidson $2 an hour to work up a suitable idea and the only guidance he gave was to convey motion and avoid similarity to Adidas' ubiquitous three-stripe logo.
Davidson focused on the wings of Nike, the Greek mythology goddess of victory, as she refined her work. Knight's reaction to the finished version of the Swoosh logo alongside the Nike name was tepid. "I don't love it but I think it will grow on me," he told Davidson. He paid the student $35 for the approximately 17 hours she had invested and rushed the design to the manufacturer so that Nike could begin production.
The Swoosh logo was patented by Nike in June 1971 and began appearing on track shoes the following year at the U.S. Track and Field Olympic Trials.
Nike later took care of its freelance designer
The company was growing rapidly by 1978 and wanted to leverage its name recognition, so Nike made the first tweak to Carolyn Davidson's design by changing the Nike name to a bolder, all-caps font. By 1995, however, Knight decided that the logo had become so well-known that the Nike name was taken off the Swoosh design.
Nike conducted its initial public offering in December 1980 and a $1,000 investment at that time would be valued at more than $50 million today even without having reinvested dividends.
Nike's defining breakthrough came when it signed Michael Jordan in 1984, and it eclipsed $1 billion in annual revenue two years later. In its most recent fiscal year, Nike took in more than $39 billion from the sales of shoes, apparel, and sporting equipment as well as its other ventures.
The success made millionaires out of some of the early Nike investors, but Phil Knight was careful to not forget his Portland State graphic design student. In September 1983, the Nike co-founder threw a surprise party at which he presented Davidson with a golden Swoosh ring containing an embedded diamond. He also granted her 500 shares of company stock, which would now be valued at more than $2.5 million.
A bizarre ending to a lawsuit
At one point a similarity was noted between the Nike Swoosh and the green "spinnaker" logo used in the marketing of the Newport brand of cigarettes.
In 2006, Nike and tobacco company Lorillard sued New York City designer Ari Saal Forman after he released a limited production run of shoes dubbed "Ari Menthol 10s." The design blended the Nike Air Force 1 running shoe with Newport's color scheme and spinnaker.
Forman said he was motivated by the desire to encourage Nike to push the limits. But printed in the shoe was a criticism of "the two brands who have taken the most and given the least."
Nike issued a cease and desist order, but Lorillard went to court almost immediately and waged an expensive fight with the designer. As a result of the lawsuit, Forman is not allowed to own a pair of his Ari Menthol 10s.