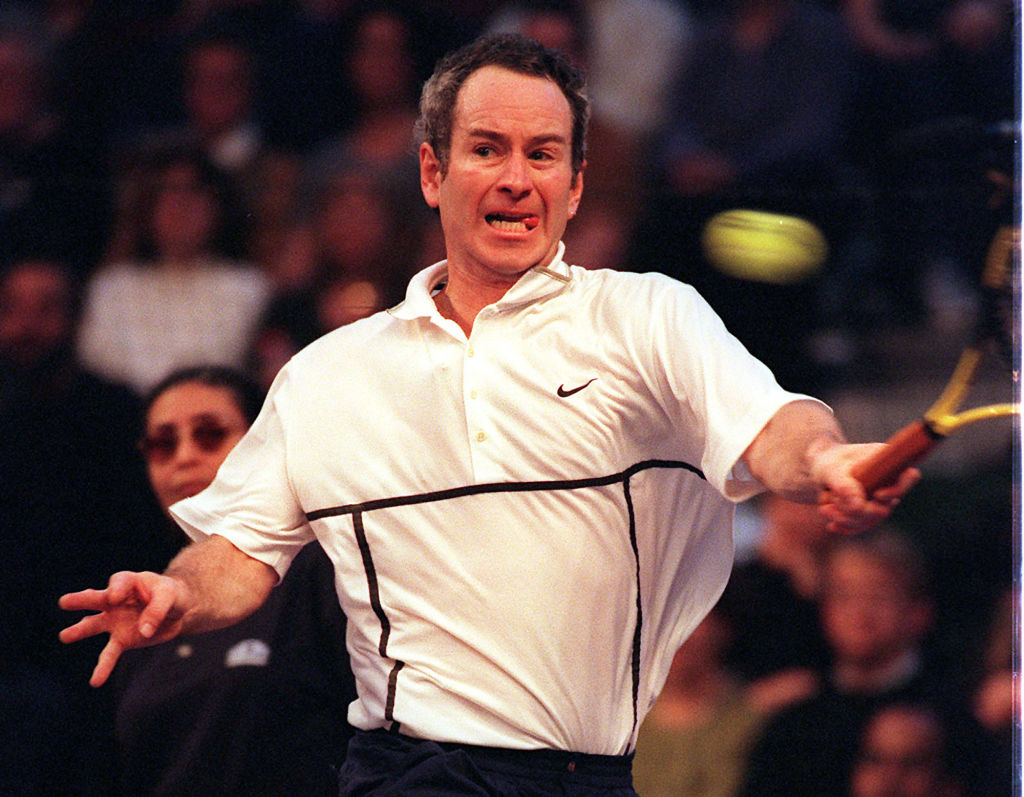 How Nike's Boss Knew John McEnroe Was Their Man
Nike co-founder Phil Knight knew he had to sign John McEnroe the moment he saw the tennis star play for the first time.
Nike thrives on controversy with ads by athletes already under contract, including Charles Barkley and Colin Kaepernick. In the case of John McEnroe, however, trouble fell into the lap of the footwear and apparel giant. The story of how McEnroe became an endorser of its products is vintage Nike.
Ilie Nastase left Nike in a bind
Athletes endorsing shoes and clothes has become commonplace, and Michael Jordan's association with Nike could be a two-semester course for marketing majors in college.
But Jordan and golfer Tiger Woods maintained relatively squeaky-clean images in their Nike campaigns regardless of what was happening in their personal lives. Contrast that with the string of tennis bad boys including Andre Agassi and John McEnroe that aligned with Nike, bringing an edge to its advertising campaigns.
Romanian tennis star Ilie Nastase was the first in that long line of tennis stars whose behavior on the court made news as often as his wins and losses did, and he was already wearing the company's shoes when Nike co-founder Phil Knight took notice:
"Now here was a top athlete already wearing Nike, and winning in it. How hard could it be to sign him? I found the number for Nastase's agent. I phoned and offered him a deal. I said I'd give him $5,000 — I gagged as I said it — if his boy would wear our stuff. He countered with $15,000. How I hated negotiating. We settled on $10,000. I felt that I was being robbed."
Just a few years later, however, Nastase switched brands and signed an endorsement deal with Adidas, leaving Nike without a top tennis player promoting its brand on the courts in the sport's biggest events.
Phil Knight discovers John McEnroe on a scouting trip
Nike co-founder Phil Knight published his memoir in 2016 as his career in charge of the massively successful company was winding down. In it, Knight told the story of losing Ilie Nastase to Adidas, which was going to pay $100,000 a year. Nike had the right to match but it declined.
"Fiscally irresponsible," Knight recalled telling Nastase's agent in 1977. "No one will ever see a sports endorsement deal that big ever again!"
In need of a new face to promote one of its most promising lines of shoes, Knight hired a tennis insider who could introduce him to people and help make connections. They headed off to Wimbledon in late June.
Knight's consultant lined up a meeting with some American tennis officials who pointed to Eliot Teltscher, who hadn't turned pro yet, and Brian Gottfried, who had already reached the round of 16 in a few grand slam events. And then one of the officials warned Knight to stay away from another young American prospect who was playing a match at that moment because the kid was "a hothead."
Wrote Knight:
"I went straight to Court 14. And fell madly, hopelessly in love with a frizzy-haired high schooler from New York City named John McEnroe."
Nike and John McEnroe were a winning team
The 1978 marriage between John McEnroe and Nike wasn't always smooth as the American tennis star agreed to wear Nike shoes and socks but resisted endorsing lucrative apparel and equipment lines early on. Still, the arrangement blossomed quickly. After McEnroe switched to their three-quarter-top shoes on the court, Nike sales grew from 10,000 pairs to more than 1 million.
McEnroe would go on to win Wimbledon three times and the U.S. Open four times from 1979 to 1984. He finished his career with 16 singles or doubles titles at those two grand slam tournaments and was also a regular on the U.S. Davis Cup team at a time when that competition enjoyed a high profile.
McEnroe won both his singles matches in the 1978 Davis Cup final to give the United States its first championship in six years. In 1982, he battled Sweden's Mats Wilander in the deciding match of a quarterfinal that lasted six hours, 22 minutes. McEnroe won, 9-7, 6-2, 15-17, 3-6, 8-6. His five-set loss to Boris Becker of Germany in 1987 lasted six hours, 20 minutes.