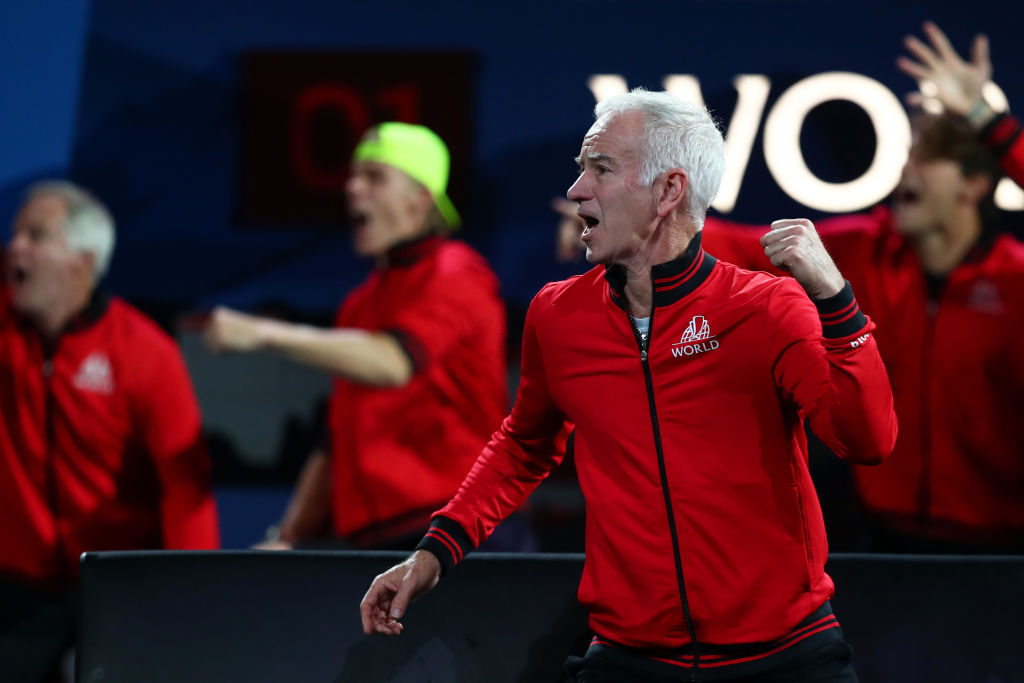 How Many Tennis Grand Slams Did John McEnroe Win?
Still, there's no denying John McEnroe's surliness toward opponents was only matched by the Grand Slam winner's prowess on the tennis court.
John McEnroe made his talent look easy, but he often undermined his skill with what became known as a "tennis tantrum." In fact, Newsweek explained his infamous outbursts as coming from a "young man who raised perfectly placed strokes to a high art form, only to resort to tantrums that smear his masterpieces like graffiti."
Still, there's no denying McEnroe's surliness toward opponents and referees was only matched by the Grand Slam winner's uncontested prowess on the tennis court.
John McEnroe's tennis career
A natural athlete in high school, McEnroe made a name for himself in the tennis world after graduation. He won the first of his 17 total Grand Slams at the French Open in 1977. Enjoying his first notable success with mixed doubles partner Mary Carillo, McEnroe intended to compete for the junior title at Wimbledon next. However, his expertise won him a spot in the men's competition where he finished as a semi-finalist against Jimmy Connors.
At 18, McEnroe was the youngest man to reach such heights at Wimbledon, and it formed the foundation for his future success. He won a scholarship to Stanford and led the tennis team to an NCAA Championship before turning pro at the end of his freshman year. The rookie led Tony Trabert's U.S. team to its first Davis Cup victory in six years. It became the first of five American Davis Cup world titles: 1978, 1979, 1981, 1982, and 1992.
The crowd-drawing rivalry between Bjorn Borg and McEnroe began during the men's singles finals at Wimbledon in 1980. While Borg was victorious, it remains one of the finest Wimbledon games ever played. Known as the "Fire and Ice" rivalry, Borg and McEnroe competed against each other 22 times. Each won 11 matches.
McEnroe's 1981 Wimbledon victory will forever be remembered by what became his catchphrase. While demeaning an official over a call made in his opponent's favor, McEnroe screams, "You CANNOT be serious!" It was an event for which he was penalized.
McEnroe's fever pitch continued on the cour. At the 1984 Stockholm Open, he was suspended for three weeks for calling the umpire a jerk. The athlete completed his turn at the French Open the same year with a loss to Ivan Lendl. It marked the beginning of McEnroe's downhill slope.
Ranked the No. 1 men's tennis player from 1981 through 1984, McEnroe slowly began to unravel. By 1985, his skirmishes on and off the court cost him valuable opportunities. He struggled to keep pace with younger competitors. Elsewhere, McEnroe's volatile behavior disqualified him from the Australian Open and U.S. Davis Cup.
With family taking center stage, McEnroe took a sabbatical in 1986. His return, however, continued to be plagued by misbehavior. In 1990, McEnroe was disqualified from the Australian Open for unsportsmanlike conduct. He continued to impress as a Davis Cup player, but by 1992, McEnroe sought a change.
McEnroe embarked on a new career as a TV sports analyst covering the 1992 French Open. In 1999, the tennis star was inducted into the International Tennis Hall of Fame.
John McEnroe's Grand Slam wins
With a total of 17 Grand Slam wins, McEnroe's illustrious record involves victories in the singles and doubles categories.
Singles
McEnroe won a total of seven Grand Slam singles: Wimbledon in 1981, 1983, and 1984 as well as the US Open in 1979, 1980, 1981, and 1984.
Doubles
One mixed-double and nine doubles tournaments were won by McEnroe. His first Grand Slam win was the mixed doubles match at the 1977 French Open. McEnroe's doubles wins at Wimbledon were all with Peter Fleming (1979, 1981, 1983, 1984, and 1992). He and Fleming also won three doubles tournaments at the US Open (1979, 1981, and 1983). In 1989, McEnroe won the US Open doubles tournament with Mark Woodforde.
Following McEnroe's ejection from the Australian Open, Sports Illustrated summed up his career: "McEnroe's seven Grand Slam titles amount to about half of what he could have won had he bothered to train properly and gain control of his temper."