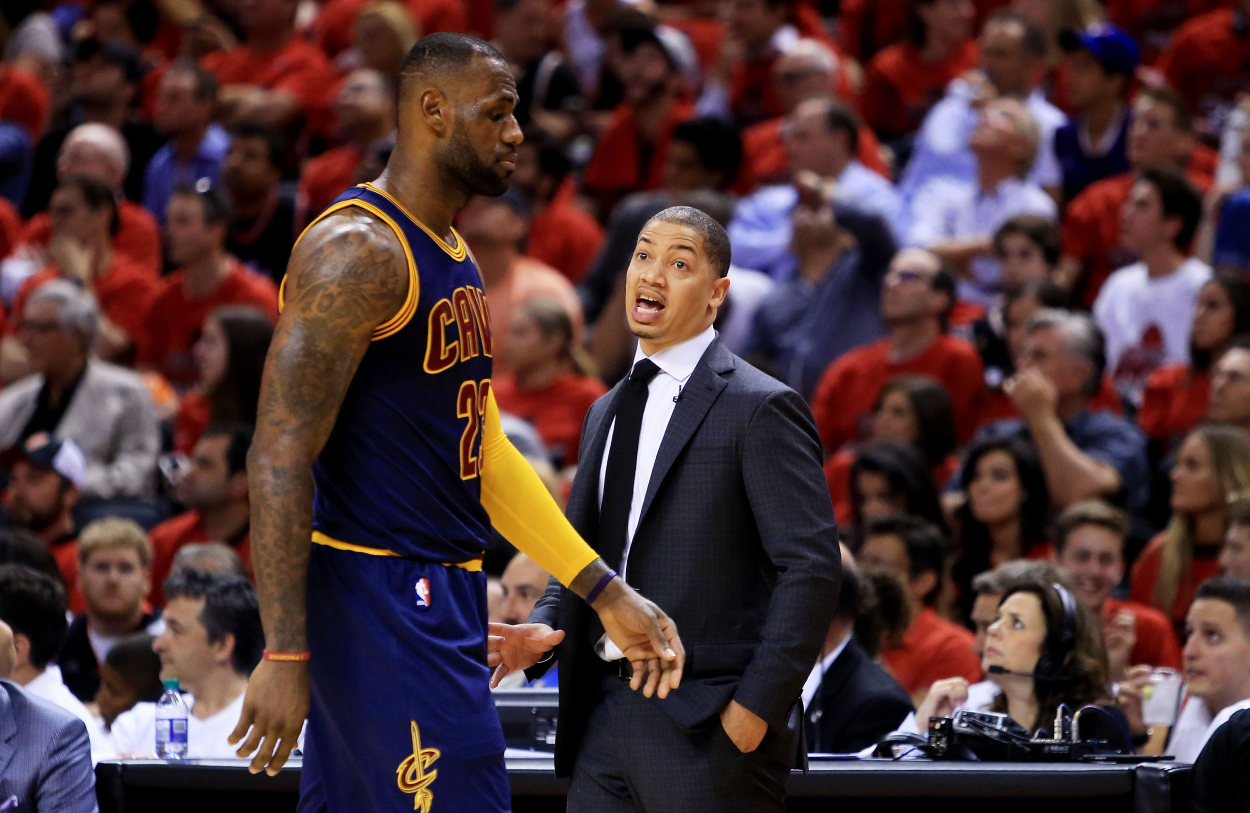 Cleveland Cavaliers: Tyronn Lue Vulnerably Admits How Hard It Was to Take Over the 2016 Cavs
Tyronn Lue won a title with the Cleveland Cavaliers in 2016. However, he almost didn't take the job that season, despite Cleveland's elite talent with LeBron James.
NBA head coach Tyronn Lue made history when he helped lead the Cleveland Cavaliers to their 2016 championship. The Cavs not only ended the city's 50-plus-year championship drought, but they were the first team to ever rally from a 3-1 deficit and win in the NBA Finals.
However, Lue almost didn't accept the job.
In a recent interview, the current Los Angeles Clippers coach revealed how tough it was to take over the LeBron James-led team in 2016, even knowing how talented it was that year.
Tyronn Lue became the Cavs head coach halfway through the 2015-16 season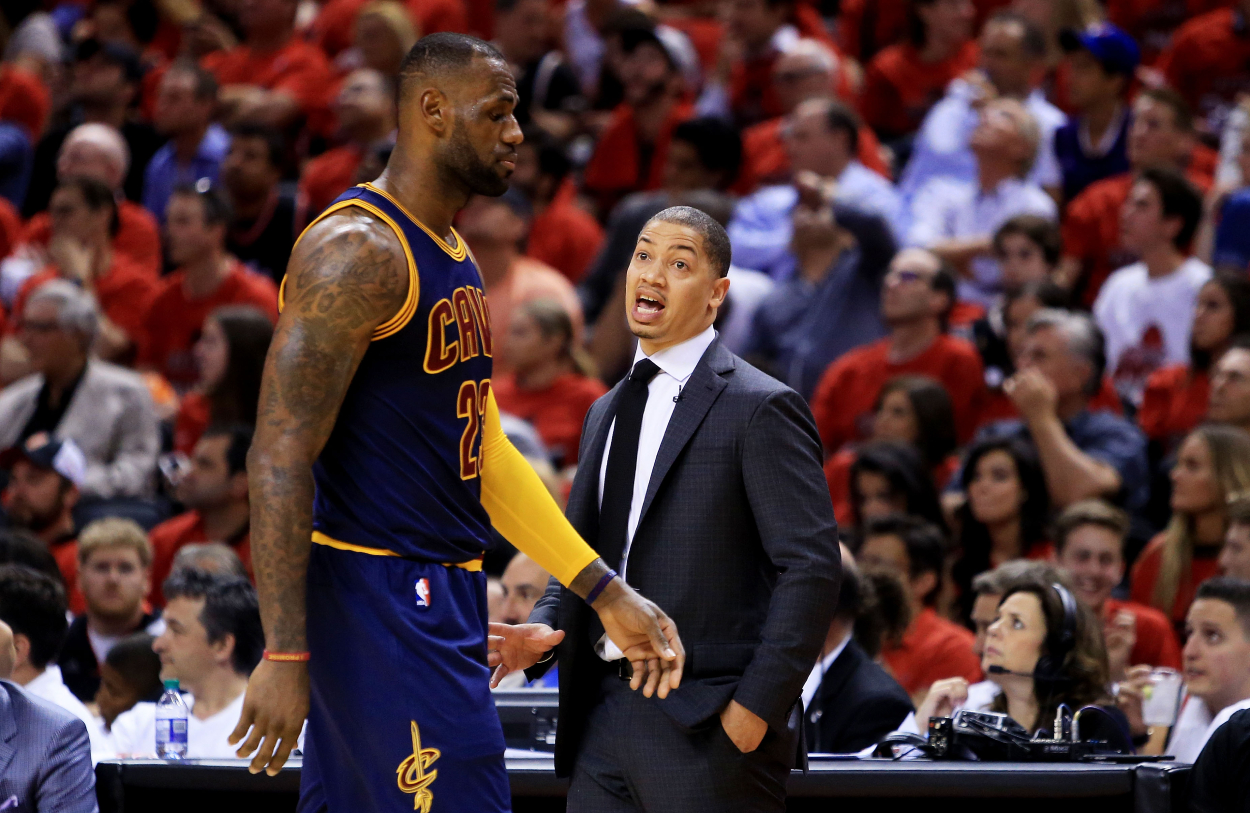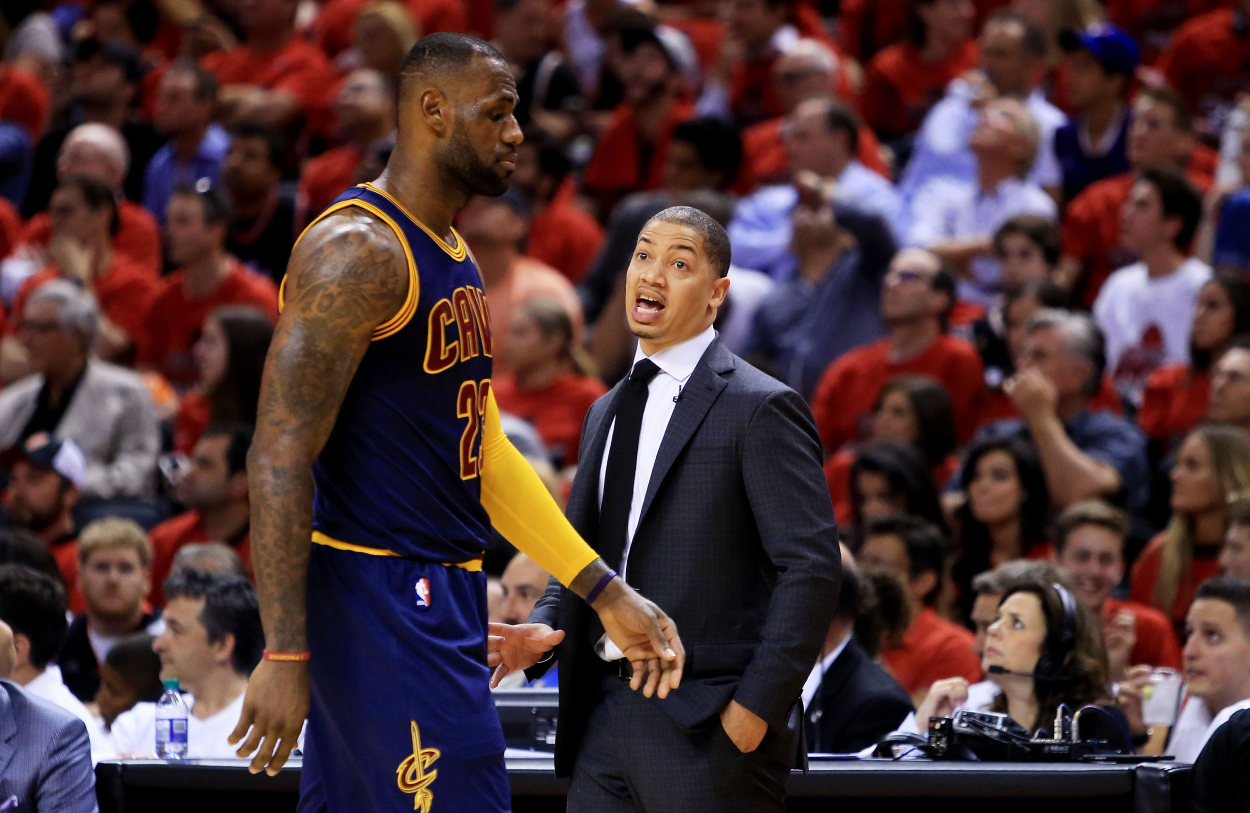 Tyronn Lue had previously served as an assistant coach on the Boston Celtics and Los Angeles Clippers. But in 2014-15, the same year LeBron James returned to Cleveland from the Miami Heat, Lue became an associate head coach under David Blatt on the Cavaliers.
The Cavs had an up-and-down season during that campaign. They started 19-20 and looked like anything but a title contender. General manager David Griffin, though, made various personnel moves and helped improve the roster centered around LeBron, Kyrie Irving, and Kevin Love. His deals then led to an epic run at the end of the season, and James and company reached the NBA Finals.
Injuries to Irving and Love kept the Cavaliers from winning it all that year, but they then started hot in 2015-16. They went going 30-11 through their first 41 games and looked ready to repeat as Eastern Conference champions.
However, they still didn't look quite as good as the reigning champion Golden State Warriors did that season. So, Cleveland shockingly chose to fire Blatt and promote Lue to head coach.
But Lue was hesitant to accept the gig.
Tyronn Lue almost didn't accept the Cavaliers' head coaching job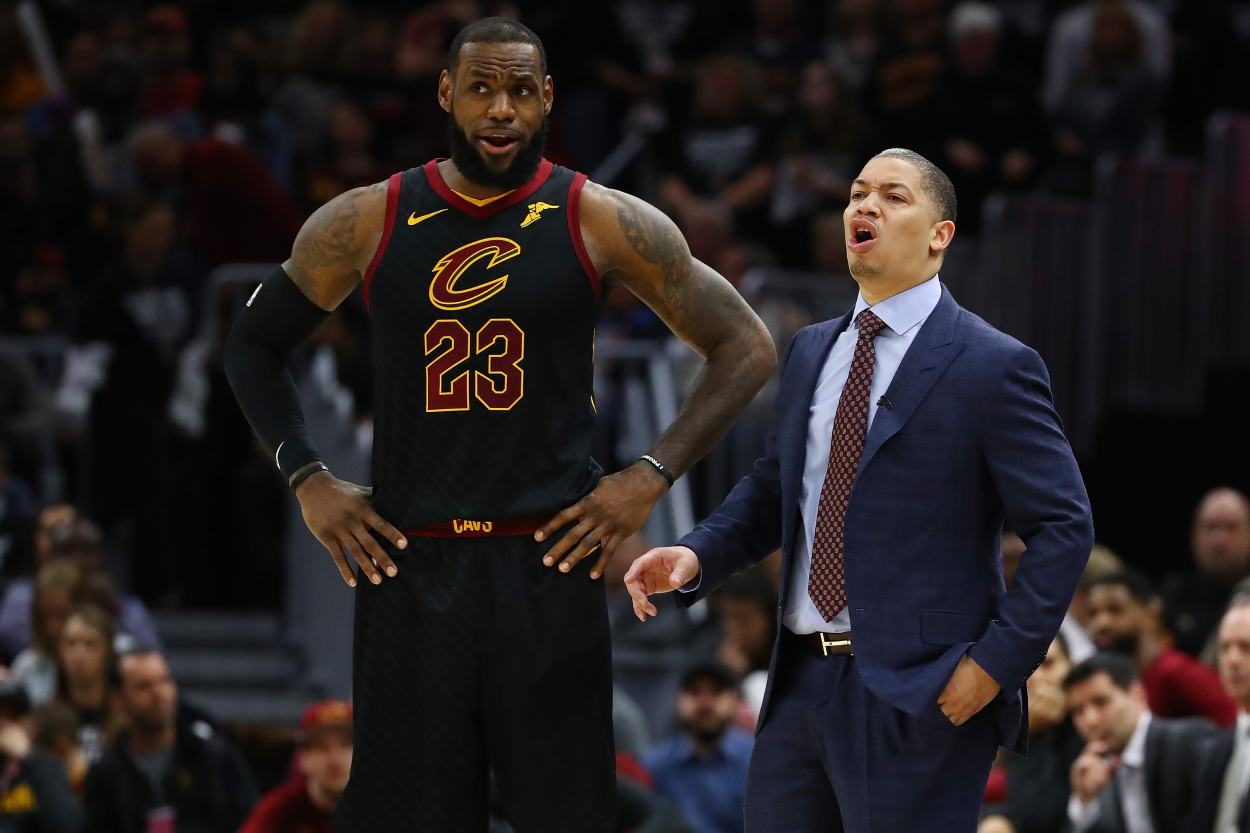 Tyronn Lue recently appeared on the Knuckleheads podcast with former NBA players Quentin Richardson and Darius Miles. He opened up about how difficult it was to take over the Cavs gig after seeing the organization fire his boss.
"Coach Blatt, he gave me the job. So, it's hard to see someone get fired in the middle of the season, and you got to take over," Lue said on the March 30 episode. "When it first happened, I was like, 'Man, I can't do this.' I called Doc Rivers; [he was] like, 'Ty, you got to take it. Young Black coaches, we don't get a chance to get a great team right away. You got to take it.' And then I called Jerry West. He cussed me out so bad."
Lue continued: "It was tough. You come into a situation where we was No. 1 in the East when he got fired. … I was nervous. I was scared, to be honest. I was scared. Having a team that just went to the Finals. We was first in the East, and then I got to take over midway through the season. You can't put your imprint on the team; no training camp. You're just doing it on the fly, and I'm learning on the fly."
The Cavs situation made Tyronn Lue the great coach he is today
Tyronn Lue admitted that the challenging season with the Cavs helped him become a better coach. And he has proven it ever since.
After seeing his squad fall behind 3-1 in the NBA Finals that year, Lue and his staff made the correct adjustments needed to rally and win the series. He then helped take Cleveland to two more consecutive Finals, even in 2018 when Kyrie Irving was no longer on the team, and the Cavs' talent level was considerably lesser than it had been in previous seasons.
Since becoming the Clippers' head coach in 2020-21, Lue has continued proving his elite leadership abilities.
LA lost its best player, Kawhi Leonard, during last year's conference semifinals. The team still made it past the Utah Jazz, though, and took the Phoenix Suns to six games in the conference finals.
This year, Lue's squad has been without Leonard and its second-best player, Paul George, for most of the season. But it has stayed afloat and is right in the middle of the NBA Play-In Tournament race. It now has a chance to go on a surprise postseason run with George back on the court and Leonard (potentially) returning.
All in all, Tyronn Lue has become a premier coach in the NBA. Who knows how good he would be, though, had he not been thrown into a challenging situation with the Cavs in 2015-16.