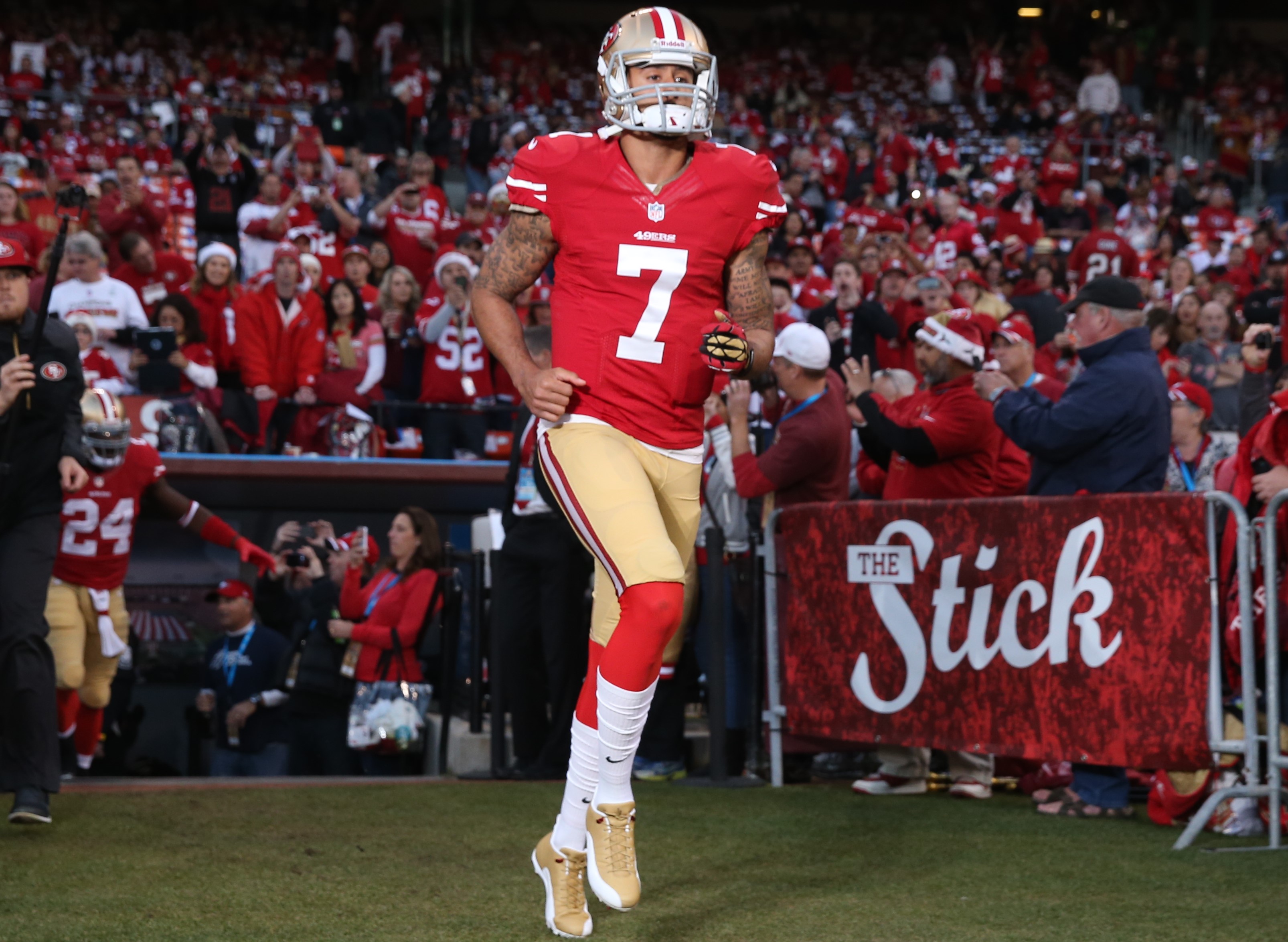 Colin Kaepernick's Letter to the New York Jets Is Just as Absurd as the Team's Decision to Stick With Zach Wilson at QB
Once again, former San Francisco 49ers quarterback Colin Kaepernick is dreaming of an NFL comeback.
At some point, Colin Kaepernick has to call it quits on an NFL comeback. It's also time for the New York Jets to pull back from the Zach Wilson experiment.
Kaepernick, the former San Francisco 49ers quarterback who hasn't played in the NFL since 2016, sent a letter to the quarterback-starved Jets, who lost Aaron Rodgers to a season-ending injury in Week 1, asking for a chance to make the team. While Kaepernick's plea is laughable, so is New York's decision to stick with Wilson as the starting quarterback.
Colin Kaepernick wrote a letter to the New York Jets asking to join the club
Just when you thought you were done hearing about Colin Kaepernick, he reappeared this week. As you may recall, Kaepernick is the former 49ers quarterback who made more noise by kneeling during the national anthem than he did throwing touchdown passes.
He played six years with the Niners, who drafted him out of Nevada in the second round of the 2011 NFL Draft. After a rookie season in which he attempted five passes, Kaepernick took over for an injured Alex Smith in Week 10 of the 2012 season and went 5-2 in his seven starts. He guided the Niners into the Super Bowl, where they dropped a 34-31 decision to the Baltimore Ravens.
Kaepernick took over as the full-time starter in 2013 and led the team to a 12-4 record. He threw 21 touchdown passes and racked up 3,197 passing yards. He also rushed for 524 yards. In his final three seasons with the team, he went 11-24 as the starter. Kaepernick hasn't played in the NFL since 2016. He hasn't played well since 2013. Yet, he's constantly trying to make his way back onto an NFL roster. He recently reached out to the Jets in a lengthy letter pleading for an opportunity.
"Worst case scenario, you see what I have to offer and you're not that impressed," he wrote in part. "Best case scenario, you realize you have a real weapon at your disposal in the event you ever need to use it. In either of these scenarios, I would be committed to getting your defense ready week in and week out, all season long, and I would wear that responsibility like a badge of honor."
Kaepernick's plea is just as laughable as the Jets' decision to stick with Wilson
Zach Wilson clearly isn't the answer for the Jets at quarterback, but that doesn't mean they should bring in a guy who hasn't played in seven years.
To be fair, Kaepernick isn't asking for the starting job. He isn't even asking to be a veteran backup, although he would "love the opportunity to fill that spot." He's looking for a spot on the practice squad so he can give the Jets defense "a truer read on the more mobile/athletic/versatile quarterbacks it will face when in weeks 4, 5, and 6 (Mahomes, Wilson, and Hurts)."
Kaepernick is 35 and hasn't played meaningful football in seven years. He made waves with his protests against police officers, and no team is going to bring in someone who hasn't played in nearly a decade and is a significant distraction.
Head coach Robert Saleh has already said Wilson is the guy the Jets are running with, something that may be as absurd as Kaepernick's request to return to an NFL team.
'We see on a day-in and day-out basis a young man who is much improved from a year ago," Saleh said of Wilson, per CBS Sports. "He's much more confident, he's much more accurate, he's got much more command of the huddle, he looks better in the pocket."
Wilson has struggled mightily in his two starts, both losses, since Rodgers' injury. The Jets just added veteran Trevor Simien to the practice squad, closing the door on any plans Kaepernick thought he had of rejoining the NFL.