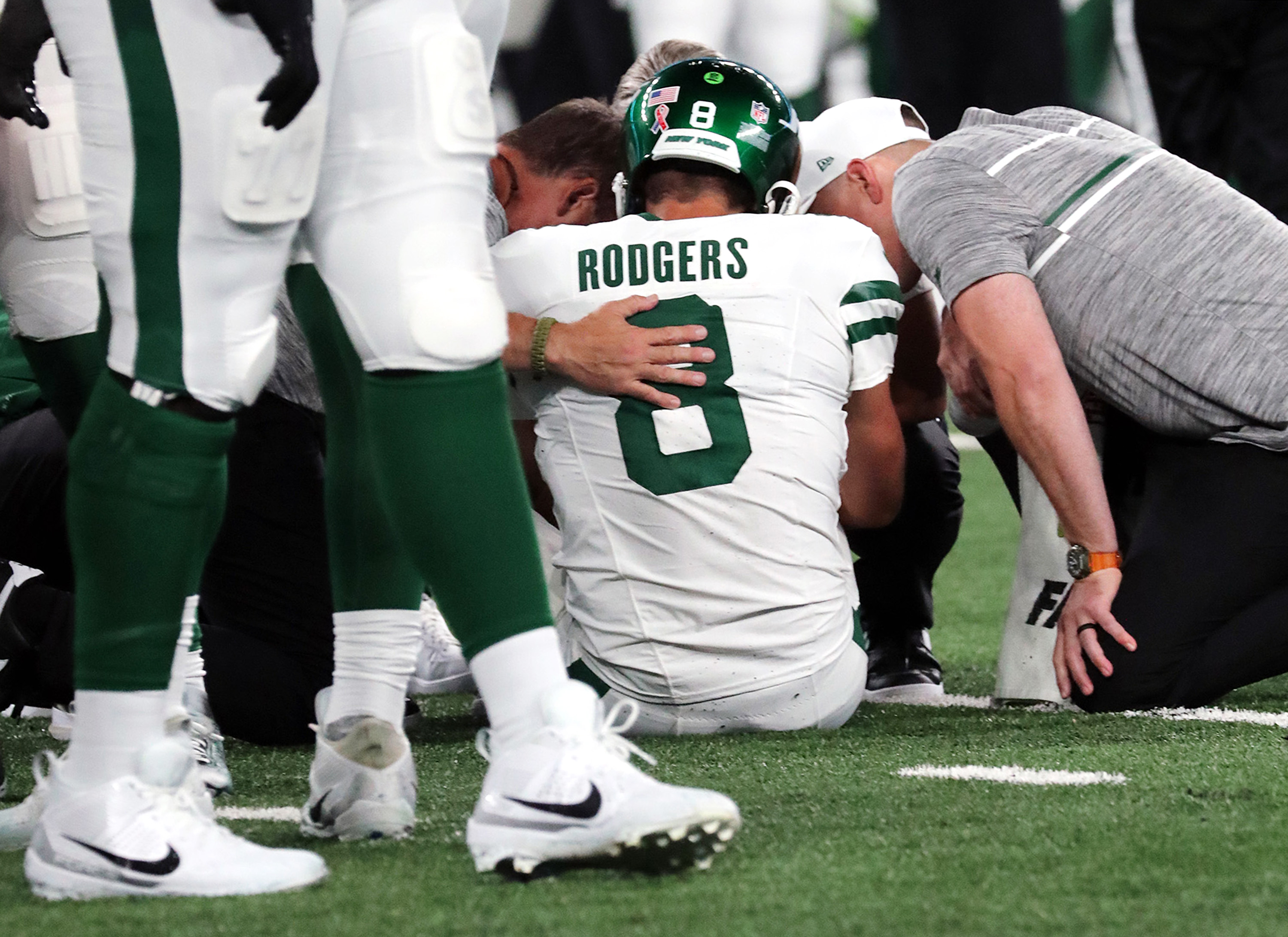 The Green Bay Packers Took a Hit, Too, When Aaron Rodgers Suffered His Season-Ending Injury
Aaron Rodgers played just four snaps with the New York Jets before going down with a season-ending injury.
Four plays. That's all we saw of Aaron Rodgers in a New York Jets uniform this season. The four-time MVP tore his left Achilles tendon on New York's first series of the game against the Buffalo Bills on Monday.
The injury quickly silenced a raucous crowd that was itching to see the veteran quarterback inject some juice into what has been a lifeless Jets offense. Although the Jets rallied for a 22-16 win behind quarterback Zach Wilson and a stingy defense, Rodgers' absence is devastating to the Jets' Super Bowl aspirations. It also has an effect on the Green Bay Packers.
Aaron Rodgers done for the season with Achilles injury
According to ESPN, Rodgers is finished for the season after taking four snaps from center with his new team. It's a brutal blow to the Jets, who had the pieces in place to make some serious postseason noise this year. Rodgers took a sack on his team's first possession. He got up and went back down to the turf.
TV reports initially said the former Green Bay Packer All-Pro QB suffered an ankle injury. When the game was over, Jets head coach Robert Saleh was somber in delivering a three-word message to the media.
"It's not good," Saleh said about the injury without knowing the full details.
With news coming out that Rodgers' injury is to his Achilles, and he's done for the season, the Jets are forced to turn to Wilson, at least for the time being. Wilson was thrown into the fire Monday and responded with a game-tying touchdown pass to Garrett Wilson with 4:55 left in regulation.
"Yeah, he'll be the guy," Saleh said.
Wilson completed 14 of 21 passes for 141 yards and his touchdown pass. He also threw an interception. Wilson, the second overall pick in 2021, lost his job a year ago after poor play. He said he had fun and learned a lot in preseason simply by watching Rodgers.
"I'm having a ton of fun — more fun than I've had," Wilson said, per the New York Post, "and I think that's just the QB room, being with Aaron. I think it's feeling like every single day there's so much to, like, learn."
The Packers also took a hit with the Rodgers injury
Rodgers and his former team, the Green Bay Packers, grew apart. That all seemed to begin when the Packers traded up to select quarterback Jordan Love in the 2020 NFL Draft. Green Bay was fresh off a trip to the NFC title game, but the Packers went out and snagged Love in a bizarre move. Rodgers then went on to win back-to-back MVPs.
The Packers traded Rodgers to the Jets before the start of the 2023 season. In that deal, the Jets received Rodgers, the Packers' 2023 first-round pick (No. 15 overall), and a fifth-round pick (No. 170) in exchange for New York's 2023 first-rounder (No. 13), 2023 second-round (No. 42) and sixth-round (No. 207) picks.
The Jets also included a conditional second-round pick in 2024, and that's where the Packers took their hit. That conditional pick would have become a first-rounder had Rodgers played in 65% of the team's snaps this season. With Rodgers out, that's clearly not an option, so the Packers will not receive New York's first-round pick in 2024.
Rodgers spent 18 years with the Packers, taking over as the full-time starter from Brett Favre in 2008. He guided the Packers to a Super Bowl title in the 2010 season and is a four-time All-Pro.