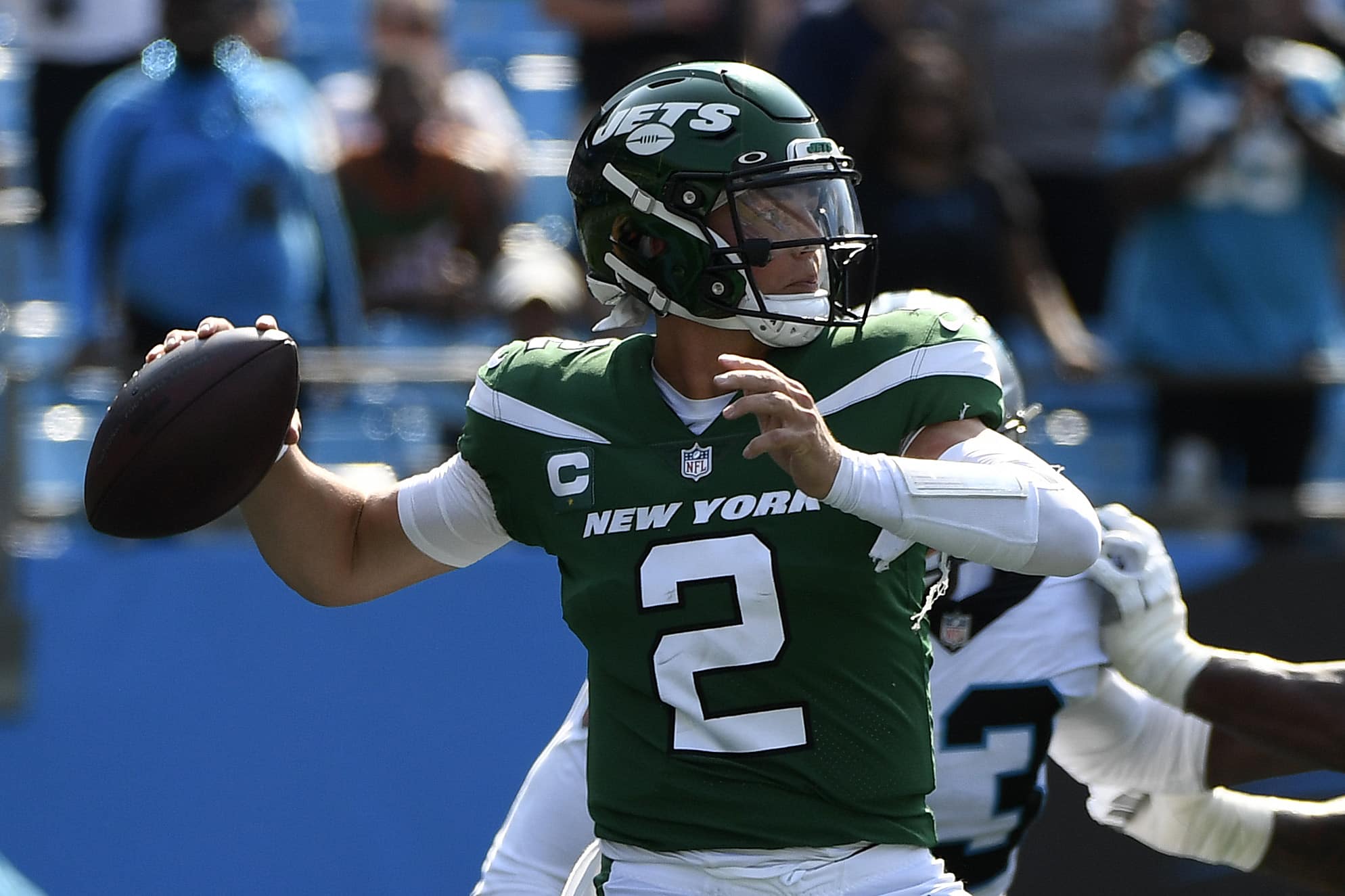 Fighting For Their NFL Lives, Zach Wilson and Kellen Mond Seek Redemption in Hall of Fame Game
Zach Wilson has plenty to prove, and it all begins Thursday in the 2023 Hall of Fame Game.
Two years ago, things looked great for Zach Wilson and Kellen Mond. They were two young quarterbacks looking to make their mark in the NFL. Wilson was the second pick in the 2021 NFL Draft and expected to help jump-start a stagnant New York Jets offense. The Minnesota Vikings took Mond in the third round that year.
Wilson struggled mightily in his two seasons as the starter for the Jets, going 8-14 in his 22 starts. Mond was cut by the Vikings right before the 2022 season began and quickly hooked on with the Cleveland Browns. Wilson and Mond will get a chance to strut their stuff Thursday night when the NFL kicks off its 104th season with the 2023 Hall of Fame Game.
Despite demotion, Zach Wilson having fun in his third camp with the Jets
Last November, the Jets benched Wilson after another ugly performance. This one came during a 10-3 loss to the New England Patriots in a game where he completed nine of 22 passes for 77 yards. After the game, Wilson was heavily criticized by the media, but he refused to accept responsibility for his poor performance.
By midweek, Wilson issued an apology to his teammates for the way he handled the media. That came after head coach Robert Saleh announced that Mike White would start at quarterback the following Sunday against the Chicago Bears. Wilson admitted the benching was tough to take, but he also admitted he wasn't surprised by Saleh's decision.
"It's tough, man. It's never fun," Wilson said then, per ESPN. "The first thing that went through my mind is I have to get to work, I have to get better. I wouldn't say (I was) necessarily surprised because I haven't been doing my job."
This year, he enters the season as the No. 2 quarterback behind four-time MVP Aaron Rodgers. Rodgers won't play Thursday night, giving Wilson a chance to prove he can still play. The Jets traded for Rodgers in the offseason to shore up the QB position. Despite the demotion, Wilson said he's having fun at camp learning from the future Hall of Famer.
"I'm having a ton of fun — more fun than I've had," Wilson said, per the New York Post, "and I think that's just the QB room, being with Aaron. I think it's feeling like every single day there's so much to, like, learn."
Mond faces a challenge in a crowded QB competition with the Browns
Like Wilson, Thursday's game means a lot to Kellen Mond. The Browns are clearly Deshaun Watson's team, but after Watson, it's Joshua Dobbs, Mond, and rookie Dorian Thompson-Robinson.
Mond enters Thursday's game third on the depth chart behind Watson and Dobbs. He's thrown three passes in his NFL career, completing two for five yards in the 2021 season.
"I'm really excited," said Mond, per The Associated Press. "First time putting a Browns jersey on in a game."
Mond knows that even if the Browns decide to go with the younger Thompson-Robinson as the third-string QB this year, a solid outing on Thursday could open the eyes of other teams seeking quarterback depth.
"When you start to get more experience in the NFL, you start to realize whatever you put on tape is going to be what people think of you and going to be your results," he said. "So every time you step on the field, your goal should be put good film on tape, play well, execute, and at the end of the day, put the ball in the end zone."
While the result of the game is meaningless to most, a strong outing from Wilson and Mond could go a long way in advancing their NFL careers.