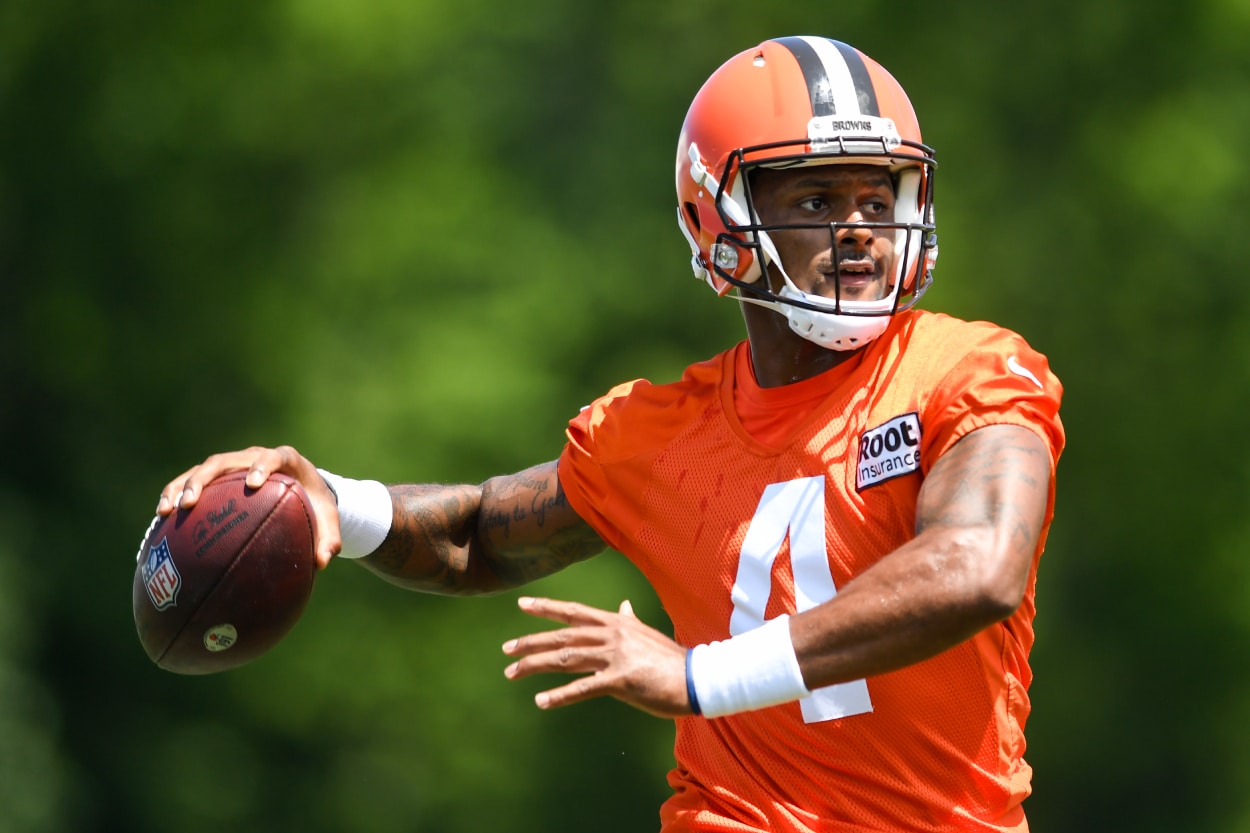 Why Isn't Deshaun Watson Playing In the Hall of Fame Game?
Cleveland Browns quarterback Deshaun Watson is ready to go, but we won't see him in Thursday's Hall of Fame Game.
The Cleveland Browns clash with the New York Jets on Thursday as the NFL kicks off its 104th season with the 2023 Hall of Fame Game. The teams head into the season with high expectations, led by veteran quarterbacks.
After spending 18 seasons with the Green Bay Packers, Aaron Rodgers takes over the reins of a struggling Jets offense. The four-time MVP replaces a struggling Zach Wilson and gives the Jets some postseason aspirations. In Cleveland, Deshaun Watson looks to put a full season together as the Browns starter. Watson was suspended for 11 games last year for violating the NFL's conduct policy. He hopes to play his first full season with the Browns this year, although he won't see action Thursday night.
Deshaun Watson and Aaron Rodgers are expected to be out Thursday
It's not uncommon for stars to sit out preseason games. Rodgers hasn't played in one since 2018. Jets coach Robert Saleh announced Rodgers, along with many starters, won't play in Thursday's game. Last year's starter Zach Wilson will start. Wilson has struggled mightily in his two NFL seasons after the Jets selected him with the second overall pick in the 2021 NFL Draft.
Watson won't play either. He will be sidelined so the Browns can watch No. 3 quarterback Kellen Mond and rookie Dorian Thompson-Robinson show their stuff.
Mond was a third-round pick by the Minnesota Vikings in 2021, but the Vikings waived him just before the start of the 2022 season. One day after his release, the Browns claimed him. On Thursday, he'll get his chance to make an impression on the Browns in game action.
"Kellen's done a great job," Browns coach Kevin Stefanski said, per The Associated Press. "There was a period of just getting to know him early in the season last year. So he's done everything we've asked him to do. I've been very impressed with him both in the meeting room and on the practice field.
"And the fun part for our players, as you know, is to play these games. So I think Kellen's excited about the opportunity."
Watson is putting in extra work with the Browns this year
Last season, Watson played in six games for the Browns, going 3-3. He missed all of the 2021 season, his fifth with the Houston Texans, after roughly two dozen women accused him of sexual misconduct. This year will be his first full year of NFL action since the 2020 season, a year he led the league in passing yardage (4,826).
Watson is going above and beyond this preseason, putting in plenty of extra work, even when many of his teammates have already left for the day.
"I think there was maybe one or two guys left on the field the other day," said Browns offensive coordinator Alex Van Pelt, per Cleveland.com. "That's really the guys that are great or the guys that are motivated to work until they've finished the day and his day didn't finish when practice was over. So you want your leaders to set that example and work extra hard, especially at that position."
Watson has been a dual threat throughout his career, using his legs as much as his right arm to move the ball downfield. Van Pelt said he has no problem letting Watson take off when necessary.
"It's a natural thing for him," Van Pelt said. "When he feels that he goes, and I think that's something that's fine with us. Always encouraging him to continue through the progression. Don't skip a step and then if you get to the last part of that progression and there's nothing there, then take off. So continue to coach through the progression and then allowing him to be special when he does escape."
Watson should be an exciting player this season, but we'll have to wait a little longer to see him in action.